A workplace can benefit from having influential leaders in place to guide employees. As a leader, your team looks to you for inspiration, encouragement and direction. You can provide this by leading by example and building a culture of trust and accountability.
In this article, we discuss what it means to lead by positive example, the benefits you can expect and ways you can lead by example in the workplace.
What does it mean to lead by example?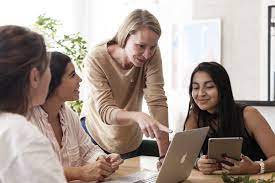 Leading by example means guiding others through your behaviors and inspiring them to do the same as you. It is a leadership style—servant leadership—where you model the behavior you want to see in your team.
When you lead by example, you provide a path to direct others so that everyone works toward a goal with the same purpose. A leader makes it natural for people to feel like they want to do the best for the organization they work for. Leading by example can accomplish this and create a workplace filled with trust, confidence and purpose.
Benefits of leading by example in the workplace
Many benefits come from leading by example whether you're an executive or a junior associate. The benefits of having someone—or multiple people—in the workplace who lead by example include:
More respect and trust
Someone who leads by example can expect to receive respect from their superiors, people who work alongside them and their employees. They can:
Inspire confidence in others

Understand the workplace and how everyone works together

Stick to their word and actively seek solutions to problems

Form a workplace culture that celebrates everyone's skill set

Involve every member of the team in projects or important decisions
Higher productivity
When you lead by example, your team will soon follow, working just as hard and accomplishing just as much as you to do their part for the organization. They will strive to make their team proud and not let anyone down by performing below their abilities.
Loyal employees
Leading by example inspires those around you to enjoy being part of the team and a company employee. They want to enjoy the people they work with, including their leader. Satisfied employees have lower absenteeism, are more positive, contribute more to discussions, volunteer to take on more projects or help a coworker.
Commitment to the organization
When there is positive leadership, employees are generally more committed to the company. They strive to help achieve its goals, develop a team mentality and work to support the company's mission, purpose and values. When a leader leads by example and works alongside their team, they inspire others to do the same.
Benchmark standards
A leader's actions set the standard for behavior in the workplace. How you act can determine how team members respond. For example, if you're always on time for meetings, your team will be more likely to do the same. On the other hand, if you don't communicate with your employees, you may notice the workplace becomes siloed and non-collaborative.
8 ways to lead by example in the workplace
How you lead can help create a productive and enjoyable workplace where all team members feel valued and do what's necessary to help the group succeed. Consider these actions to lead your team by example:
1. Follow through on your promises
One of the best ways to lead by example is by building trust. A good place to start is by following through on your promises. This shows the team your level of commitment and helps them place their confidence in you as a leader. You may find they are more willing to ask questions, take on extra responsibilities and be more engaged team members. If an employee feels they can't trust their leader to follow through, they may feel disengaged and be unproductive.
2. Come to work with energy
If you want to lead by example, come to work with a positive attitude and productive energy that translates to increased momentum and motivation as you go about your daily tasks. Your team will pick up on your attitude and naturally mirror it, resulting in a productive, supportive team that exhibits a great approach to getting the job done.
3. Work alongside your team
The most effective leaders work alongside their teams. Even if you have an office, spend a lot of time outside of it so your employees feel you're an integral part of the team. The more you work with them, the more you'll understand their skills, tasks and projects This will help you lead better, answer their questions and guide them to success.
If you work closely with your team, you'll build trust and boost team morale. Another benefit of working alongside your team is that you'll have a more intimate knowledge of any struggles. You can then work on solutions to make their job better.
4. Follow the rules
If you want your team to function at its best and be a place where everyone is accountable for their work, consider establishing rules. Rules don't have to be negative—they can help clarify expectations and responsibilities. To lead by example, follow the rules you've set and those of the organization. If you do, your team is less likely to bend or break them and instead help the workplace function more cohesively.
5. Trust your team
Start by making sure your team understands the company's vision, values and goals and how they play into its success. Remember that every employee is hired for a reason, and each brings a particular skill set and experience to the role. If you trust your team to do their work well, you'll not only gain their respect but also serve as an inspiration to other leaders in the workplace.
6. Attend workshops and training
Even leaders have room to grow. It's important to show your team that you know you don't have all the answers, but you're committed to gaining the knowledge, education, and insight to excel in your role. This will help them trust your leadership and feel inspired to find similar opportunities—like conferences and networking events—for themselves.
7. Listen to others
Listen to your employees, fellow managers and even the leaders you report to. Everyone has something of value to add to a conversation. Plus, listening to your team shows you respect them as people and for the work they do, and you want to know more about them so you can lead effectively. Interact with them in a meaningful way so they feel confident in your abilities and are comfortable coming to you about any issues. The more you listen, the more you learn.
8. Watch what you say and do
Influential leaders know their words and actions are up for interpretation. If you're leading by example, be aware of how your team could interpret what you say and do. Even in stressful work situations, try to remain supportive of your team and offer words of encouragement.
I hope you find this article helpful.