The British education system is famous for its rich history, diverse approach to learning and the unique terminology that defines its stages. For those unfamiliar with "high school," understanding the education structure and what it is called in England can be puzzling.
What is High School Called in England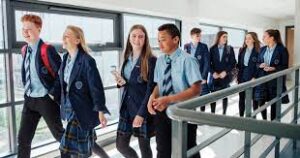 What is High School Called in England?
In England, what is commonly called "high school" in other countries is known as "secondary school." Secondary school is the educational institution that students attend after completing primary school.
This stage of education is a critical phase in a student's academic journey, typically catering to students aged 11 to 16 years old. It covers Key Stage 3 (ages 11-14) and Key Stage 4 (ages 14-16), where students study a range of subjects and often prepare for critical standardized exams such as the General Certificate of Secondary Education (GCSE) examinations.
The term "secondary school" encompasses diverse schools, including comprehensive schools, grammar schools, academies, and more, offering various approaches to education and catering to different student needs.
READ ALSO: HOW MUCH DOES IT COST TO LEARN TO DRIVE
How does the British education system differ from other systems around the world?
The British education system has distinct features that set it apart from education systems in other parts of the world. Some key differences include the following:
Specialization at an Early Age
In the British system, students begin to specialize in subjects at an earlier age compared to some other systems. For example, students in England often choose their GCSE subjects around 14, whereas, in some other countries, students maintain a more generalized curriculum until later stages.
Standardized Examinations (GCSE and A-levels)
The British education system places significant emphasis on standardized examinations. Students take General Certificate of Secondary Education (GCSE) exams at the end of Key Stage 4 and Advanced Level (A-level) exams after post-16 education. These exams play a crucial role in university admissions.
Uniforms and House System
Many British schools, especially in England, have a tradition of wearing uniforms. The "house system" is also prevalent in schools, where students are divided into different houses for competitions, events, and pastoral care.
Grammar Schools and Comprehensive Schools
The UK has a unique system of grammar schools, which admit students based on academic performance, and comprehensive schools, which admit students regardless of their abilities. This distinction is less common in many other countries.
Boarding Schools
Boarding schools are a significant part of the British education system, offering students the option to live on campus. This concept is rare in some other countries.
Diverse Curricula
In some countries, curricula are more centralized and standardized across the nation. In the UK, there's a degree of flexibility, allowing schools to make confident choices regarding curriculum content and teaching methods.
I hope you find this article helpful.