If you're applying to an event planner job or another exciting professional opportunity, you might consider incorporating buzzwords into your resume. Adding buzzwords to your event planner resume can help you pass through the initial rounds of job application screenings, highlight your best qualifications, and distinguish you as a candidate. With so many buzzwords to choose from, it may help to learn more about the various purposes of these words and the different techniques you can use to include them in your resume.
In this article, we discuss what event planner buzzwords are, explain their potential benefits, explore 86 diverse event planner buzzwords and offer advice on crafting your professional resume.
What are event planner buzzwords?
Event planner buzzwords are keywords or phrases related to the skills, experiences and traits of professional event planners. These buzzwords may connect to the latest trends within the event planning industry or specific developments within your region. Event planners often include these types of buzzwords in their application materials when applying for professional opportunities, such as jobs or certificate programs.
Why is it important to include event planner buzzwords on your resume?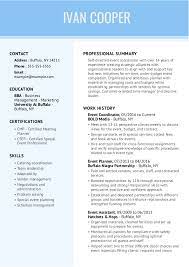 Adding buzzwords related to your event planning career throughout your resume can offer many benefits, such as:
Pass ATS software scans: Some employers use applicant tracking systems (ATSs), meaning a type of software designed to scan resumes, to help them more efficiently evaluate job applications. Incorporating event planner buzzwords into your resume can increase your chances of making it through the first round of ATS screening for job candidates.

Demonstrate that you read the job posting: Many hiring managers include buzzwords in the job posting for open event planner positions. If those keywords apply to your skills or experiences, including them in your resume can show that you carefully reviewed the job description.

Showcase your most relevant skills and experiences: Although you may have many valuable qualifications as an event planner, your resume is a concise document that typically only has the space to highlight a few of your traits and skills. With event planner resume buzzwords, you can emphasize your most developed or relevant skills and professional experiences.

Distinguish yourself as a candidate: Incorporating buzzwords throughout your resume may help to distinguish you as an event planner candidate to prospective employers.

Highlight your ability to stay current with the industry: Event planning buzzwords often relate to the latest news or trends within the industry. Adding these types of keywords to your resume may show hiring managers you're eager to learn and stay up to date with event planning development.
86 event planner buzzwords to include on your resume
Following are 86 buzzwords, separated into unique categories, that you may want to incorporate into your event planner resume:
Alternate and related job titles
While at some companies certain job titles, like event manager or coordinator, may refer to distinct positions, others might use these job titles interchangeably. There's also a range of job titles that share many responsibilities and skills with event planners. If you've previously held or currently hold a position with an alternate title for an event planner or one that relates to your event planner career, consider incorporating the following buzzwords into your resume:
Event coordinator

Meeting coordinator

Special event planner

Guest services coordinator

Meeting planner

Special event coordinator

Event manager

Conference event coordinator

Event marketing specialist

Marketing event coordinator

Hospitality Specialist
Specialized hard skills
Hard skills are abilities and sets of knowledge that professionals can develop through specialized education or training opportunities. Event planners often rigorously hone a range of specialized hard skills that can help them succeed in their chosen field. Here are some buzzwords related to specialized hard skills for event planners to include on your resume:
Event planning

Event management

Tourism

Event planning software

Conference coordination

Event promotions

Venue selection

Special events coordination

Vendor relations

Catering coordination

Service ordering

Event production

Event coordination
Transferrable hard skills
Transferable skills refer to abilities that can be useful in an array of careers and industries. Event planners frequently cultivate skills from diverse fields, such as marketing and hospitality, to help them succeed in their careers. Highlighting these transferable hard skills on your resume can help demonstrate to prospective employers your versatile skill set. Showcase your transferable hard skills through event planner buzzwords like:
Sales

Customer relationship management

Contract negotiations

Public relations

Marketing

Supplier management

Advertising

Hospitality management

Customer retention

Social media marketing

Event marketing

Project management

Strategic planning

Social selling

Hotel management

Client database administration

Budget management

Web design

Spreadsheet management

Customer service

Social media management

Graphic design

Fundraising

Word processing software
Soft skills
Soft skills are personality traits and behaviors that influence how you behave as an employee. If you possess these soft skills, consider adding the following event planner buzzwords to your resume:
Attention to detail

Time management

Leadership

Clear communication

Teamwork

Ability to work in a fast-paced environment

Creative thinking

Organization

Problem-solving

Flexibility

Delegation

Public speaking

Negotiation

Ability to remain calm under pressure
Action words
Action words refer to powerful verbs that can strengthen your resume. Action words offer specificity and can help prospective employers picture how you might display your workplace ethic and qualities at their company. Here are some action words that you may want to use in your event planner resume:
Conceptualize

Advise

Formulate

Optimize

Collaborate

Interpret

Streamline

Demonstrate

Lead

Revitalize

Launch

Determine

Advocate

Persuade

Motivate

Foster

Achieve

Coordinate

Pilot

Initiate

Mentor

Delegate

Gather

Correspond
Tips for creating an event planner resume
Here's some advice to help you write a great resume for event planning jobs or other professional opportunities:
Consider which resume format to use
Evaluate the various resume formats and think about which one might best highlight your unique skills and experiences. One of the most popular resume formats is the chronological one, which involves listing your most recent event planning experiences first. This type of resume can be a great choice for professionals who have lots of experience in event planning and want to showcase their most recent accomplishments.
Professionals who are new to event planning may prefer to use a functional resume format. This type of resume prioritizes skills rather than experiences, so it might work better for either new professionals or those transferring from a different career.
Add a resume summary
Include a professional resume summary, meaning a concise description of your primary qualifications. A resume summary can be a quick way for prospective employers to evaluate your potential as an event planner within their company. You can also use your resume summary as a place to discuss why you're interested in this specific opportunity, such as if you're excited about the type of events you might get to plan or you believe you'd fit in with the company culture.
Highlight key skills
Emphasize either your most advanced professional abilities or your skills most relevant for the unique role. Find ways to incorporate your key skills into various sections of your resume. For example, to show that you have great communication skills, you could mention that at a past job, you managed correspondence with 10 clients simultaneously. You may also want to include a separate section on your resume just for your skills. If you decide to include this section, list each of your skills as a bullet point.
Describe your training
Be sure to include any professional training experiences you've undergone related to event planning. Although there are no formal education requirements for event planners, some of these professionals choose to take courses for workshops, complete certificate programs or earn degrees. Include this information on your resume in a separate section with a heading such as "Education," "Training" or "Certificates."
Think about incorporating additional sections
Consider including additional sections that can highlight skills or experiences related to event planning that don't fit into the other parts of your resume. Since event planning is a multidisciplinary industry, professionals often draw on abilities, strategies and steps of knowledge from a range of fields. Additional sections that you might add to your resume include:
Volunteer experience: Include a section for your current or past volunteer roles if they relate to skills you use as an event planner. For example, if you help with social media as a volunteer for a nonprofit, adding that experience to your resume can show how you've honed your abilities related to marketing and sales.

Languages spoken: Event planners who can speak another language might include this on their resume. Speaking another language as an event planner can give you the ability to interact more effectively with a diverse range of clients, vendors and colleagues.

Hobbies: Adding hobbies related to event planning can demonstrate your commitment to the field. Even if your hobbies don't connect to event planning, adding this section could help prospective employers view you as a well-rounded person.

Awards and recognition: If you've received recognition for your work as an event planner from previous employers or other organizations, like professional event planning associations, consider adding these to your resume. This section can demonstrate your proficiency in the field.
Personalize each resume
For each event planning job or other opportunities that you apply to, customize the resume for that specific role. Taking the time to personalize each of your resumes can demonstrate to prospective employers that you care about the position and are interested in their unique company or offer. Make sure to save each version of your resume under a distinct name to help you keep track of which resume you send to which organization. Strategies for personalizing your event planner resume may include:
Using keywords from the job posting, such as from the sections on required or desired qualifications in a candidate, in your resume

Spotlighting professional experiences that relate to the open position's responsibilities

Researching the company's culture, mission and values to incorporate ways you align with those in your resume
Include a cover letter
When possible, include a cover letter as one of your application materials. A cover letter gives you a great opportunity to explain specific parts of your resume in greater detail. For example, if you mention on your resume increasing your client base by 15% at a past employer, you could discuss the strategies you used to achieve that in your cover letter. You can also use the cover letter to explain aspects of your resume that you think prospective employers might have questions about, like gaps in your employment history or major career transitions.
Edit and proofread
Carefully edit your resume before you submit it. Most resumes are approximately one to two pages unless the employer requests a longer one or you have lots of professional experience. Make sure that each section of your resume succinctly highlights your qualifications and conveys your information in a way that even people who haven't met you can understand. It's also important to check for minor mistakes, like grammatical errors or typos, before submitting.
I hope you find this article helpful.