Exercise physiology can be a fulfilling and successful professional path to follow. Those who enjoy learning about the human body, work well with others and have excellent analytical, assessment and listening skills may be an ideal fit for a career in this field. If you're interested in working in exercise physiology, you may be curious about which jobs you can pursue. In this article, we explain what exercise physiology is and provide overviews of seven different roles within the field, including their primary duties and national average salaries.
What is exercise physiology?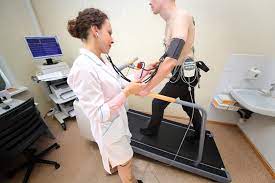 Exercise physiology is a field that focuses on how the human body responds to exercise and other types of physical movement, such as intense workouts or injuries. This field is within the larger discipline of kinesiology, which is the study of human movement under a variety of different conditions. With exercise physiology, you analyze how the human body adapts to movement over time. Exercise physiology involves studying the effect of exercise as it relates to neurohumoral systems, muscular systems and cardiovascular systems to identify issues and solutions for more comfortable and sustainable movement.
You can work in a variety of different jobs in exercise physiology, including those in sports, science, medicine and other areas of health care. Typically, you earn a degree in exercise physiology, kinesiology, biology, anatomy or nutrition to work within the field and spend time participating in internships, apprenticeships or entry-level jobs.
7 careers in exercise physiology
There are a variety of jobs that you may pursue within exercise physiology. Here are seven different careers in this field to consider.
1. Personal trainer
National average salary: $42,421 per year
Primary duties: A personal trainer is a professional who uses their expertise to instruct clients on how to move in a manner that helps them reach their fitness goals. Personal trainers often create and adhere to their own fitness and wellness plans to stay active, fit and healthy. They commonly create customized workout and diet plans, in addition to workout schedules, for their clients to follow. They also document and track client progress, offer guidance and advice on fitness and wellness practices and craft meal plans. Professionals in this role may train their clients in one-on-one sessions or group classes.
2. Exercise physiologist
National average salary: $45,952 per year
Primary duties: An exercise physiologist is a professional in the health care and sports medicine industry who creates personalized exercise programs to help clients with their overall well-being. In this role, professionals assess a client's medical history and current conditions and develop customized diet and exercise plans to help them reach their wellness goals. Typically, exercise physiologists conduct several tests on their clients, such as stress tests, cardiovascular tests, metabolism tests and fitness tests. They also measure and track their clients' health, including vital statistics, and analyze these numbers over time.
3. Physical education teacher
National average salary: $49,481 per year
Primary duties: A physical education teacher, commonly referred to as a PE teacher, creates fitness and exercise-based curriculum for students in elementary, middle and high schools. Those in this role strive to keep their students healthy and fit by creating workout and exercise plans and advising students on healthy eating habits. PE teachers also evaluate students' performance, record and track their progress and give them official grades based on their progress and improvement.
4. Chiropractor
National average salary: $70,566 per year
Primary duties: A chiropractor is a health care professional who uses their expertise and education to treat injuries, pain or discomfort. Professionals in this role use manual techniques to manipulate patients' soft tissues, nerves and bones and alleviate stress and injury pain. They typically assess patients, review health history and create detailed plans for patient recovery. They also create healing plans for patients to follow, in addition to recommending massage therapists and different types of doctors for other treatments. Chiropractors document and track patient progress and recovery over time and may see and treat their patients for extended periods.
5. Physical therapist
National average salary: $71,467 per year
Primary duties: A physical therapist, sometimes referred to simply as a PT, is a professional who's part of the health care industry and strives to facilitate the healing of a person with damage to their mobility. In this role, a physical therapist assesses their patients to determine the best way to improve their mobility and alleviate any pain and creates detailed fitness and workout plans for them.
Through hands-on care, physical therapists try to restore motor function, alleviate tension in the body, treat chronic illnesses and help with recovery after a patient's surgery or injury. They may also craft workout plans for their patients to do on their own, record and track patient progress and offer guidance and advice on meals and diet.
6. Yoga instructor
National average salary: $76,618 per year
Primary responsibilities: A yoga instructor, otherwise referred to as a yoga coach or a yoga teacher, is a fitness, health, mindfulness and wellness professional who uses their expertise to teach others yoga. In this role, yoga instructors teach their students how to do a variety of poses and stretches and help them perfect these poses. They also teach the foundations and origins of yoga, including its history and principles, and demonstrate poses and stretches.
Yoga instructors may teach their students through group classes or one-on-one sessions. Professionals in this role also strive to encourage mindfulness, peace and wellness. They also offer guidance on how to refine yoga practices and help students with improvement plans, fitness plans and diet plans.
7. Physician assistant
National average salary: $104,149 per year
Primary duties: A physician assistant is a medical professional who works alongside a licensed physician to diagnose and treat patients. As a complementing role to a physician, a physician assistant meets with patients, diagnoses them with conditions or illnesses and suggests and offers treatments as needed, all under the supervision of their superior physician. In this role, they record patient medical history, order tests and scans as needed and prescribe medicine. Physician assistants also commonly provide counseling to their patients, act as surgical staff during minor surgeries or other procedures and stitch up wounds.
I hope you find this article helpful.