Stem cells are highly versatile and have many applications in science and medicine. Conducting stem cell research can give you the opportunity to contribute to scientific advancement and create life-changing innovations in the biomedical field. By learning about some of the available job options where you can contribute to stem cell research, you can start planning your career path and exploring options in this niche. In this article, we review several careers in stem cell research and provide tips for getting started in this field.
7 careers in stem cell research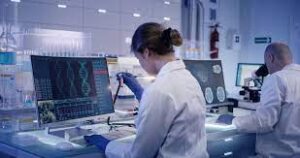 If you're interested in developing technology related to stem cells and applying it in your work, consider exploring one of these positions. For the most up-to-date Indeed salaries, please click on the links below.
1. Biomedical research assistant
National average salary: $40,659 per year
Primary duties: Biomedical research assistants help conduct research related to treating and preventing medical conditions. They may assist with stem cell research by extracting cell samples, preparing them for testing and upholding specific standards and protocols for sample storage. They review existing research, compile reports for biomedical research, interview participants in clinical research trials, enter information into databases, analyze information and prepare reports.
2. Biomedical technician
National average salary: $53,829 per year
Primary duties: Biomedical technicians are responsible for maintaining medical and laboratory equipment. When working in stem cell research laboratories, they may work with biosafety cabinets, incubators, immunomagnetic separation tools, aspiration devices, cytometers, microscopes and clinical centrifuges. Biomedical technicians install and assemble devices for research projects, test the function of each machine, develop maintenance schedules and regularly service biomedical instruments to ensure they operate correctly. They also respond to repair requests and troubleshoot each piece of equipment to identify the source of a malfunction.
3. Pharmaceutical sciences manager
National average salary: $68,759 per year
Primary duties: Pharmaceutical sciences managers are responsible for overseeing drug and pharmaceutical development. Some pharmaceutical sciences managers focus on developing pharmaceutical treatments and drug therapies that use stem cell technologies. They develop budgets and timelines for each phase of completing research, planning trials and manufacturing pharmaceutical products. They review the results of a pharmaceutical trial, assess the safety of drugs using stem cells and confirm that they meet all regulatory requirements.
4. Biologist
National average salary: $79,317 per year
Primary duties: Biologists who work with stem cells focus on studying the function of stem cells and how they can produce regenerative effects in the human body. They conduct cellular research and observe how stem cells adapt, evolve and divide in different environments. Biologists design experiments, collect research, write research papers and books and present at conferences.
5. Cancer research scientist
National average salary: $82,142 per year
Primary duties: Cancer research scientists are medical researchers who focus on developing treatments for cancer and studying how cancer cells spread. Some cancer research scientists conduct research on how stem cell treatments may help patients repair damaged cells. Others research the theory that cancer cells have their own stem cells that cause tumors to grow and conduct experiments to identify methods to halt the spread of cancer stem cells. Cancer research scientists design experiments, develop hypotheses and design potential treatments based on their findings.
6. Biomedical engineer
National average salary: $84,040 per year
Primary duties: Biomedical engineers design medical products and equipment to support the well-being of patients, ranging from DNA sequencers to artificial organs. A biomedical engineer may conduct research using stem cells to create customized gene therapy treatments for patients and develop technology that helps people with immune diseases regenerate tissue and cells. They observe the interactions of cells in a laboratory environment, create machines to influence cell behavior, test their inventions and collaborate with manufacturers to produce a safe final product.
7. Clinical trials administrator
National average salary: $94,401 per year
Primary duties: Clinical trials administrators are responsible for coordinating research trials for medical and health care settings. They serve a key role for stem cell research by locating qualified volunteers for the trial, creating trial protocols, training employees, designing and submitting documentation, scheduling trial dates and maintaining a secure database of information. Clinical trials administrators ensure researchers conduct medical experiments ethically and facilitate communication between all researchers and trial participants.
Tips for working in stem cell research
Here are a few strategies you can use to start your career and enter the innovative field of stem cell research:
Review specialties within the field
Before you start searching for jobs where you can participate in stem cell research, it's useful to understand the various applications of stem cell technology. This can help you search for jobs that interest you and gain qualifications in areas relevant to your area of interest. Here are some examples of specialties within stem cell research:
Genetic counseling: Researchers can study ways to use stem cells as a method for helping patients with a high risk for genetic conditions.

Cancer treatment: Stem cell research is prevalent in the oncology field, and there are many options for specializing further by studying specific types of stem cell treatments.

Organ transplants: Using stem cells is common when creating artificial organs, so you may choose to research more efficient or advanced applications for this practice.

Pain management: Because of the regenerative properties of stem cells, you may consider conducting research on how stem cells can help provide relief to patients with chronic pain conditions.

Neurological diseases and injuries: Traumatic brain injuries, spinal cord injuries and neurological diseases may also benefit from stem cell treatments and research.
Study molecular and cell biology
Having a scientific education is essential for conducting stem cell research. Studying biology, specifically cell and molecular biology, provides you with the technical knowledge you require to understand stem cell structures. You can use your background in biology to develop thoughtful research questions and assist with ongoing research projects.
Complete research projects as a college student
During your college education, participate in as many research projects as you can to learn about the scientific method and develop an understanding of the research process in a lab setting. Many universities have research assistant positions that you can apply for to become familiar with academic and scientific best practices. Choosing projects that relate to cell function and microorganisms can contribute to your resume when applying for positions related to stem cell research.
Look for internships in stem cell research
Search for internships that specifically relate to stem cell research to gain professional contacts and experience in the field. There are several research labs and clinics that specifically conduct stem cell research or offer stem cell treatments. Research internships in your area and prepare applications that highlight your relevant college experiences, such as research papers or laboratory experience.
I hope you fidn thid this article helpful.