Earning certain certifications can help you obtain a role or further your employment as a daycare worker. These certifications can not only improve your skills as a childcare worker but can also help to demonstrate your dedication to the industry. Many certifications help you with learning the latest safety and childcare development protocols. In this article, we discuss the importance of certifications as a daycare worker, as well as a few certifications you might consider to further your career.
Importance of certifications for daycare workers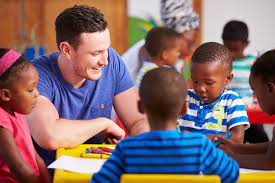 Certifications for daycare workers can help you demonstrate your dedication and commitment to your childcare responsibilities. Some daycare agencies may require workers to have certain certifications, like First Aid or CPR. Even if certifications are not a requirement where you work, they can offer you many benefits, including:
Emergency preparedness: Certifications can help you prepare for emergencies. They provide you with the skills and knowledge you need to handle common concerns.

Child safety: First aid and emergency training provide you with the knowledge you need to offer a safe environment for children.

Increased job opportunities: Completing certain certifications can make you eligible for more job opportunities and promotions. Certifications can help you stand out against other candidates.

Better wages: Some daycare agencies are willing to pay workers with certifications a higher salary because they are in higher demand. More parents will choose a daycare with certified workers.
Certifications for daycare workers
Some certifications may be a requirement for working as a daycare worker in your state. Others, however, can help you develop your skills and become a more competitive applicant. Here are a few certifications for daycare workers that you may consider:
Child Development Associate (CDA) certification
The Child Development Associate (CDA) certification is an early childhood education credential that prepares students for working with young children. It focuses on training in the emotional, physical, intellectual and social development of younger children.
Requirements: The (CDA) certification requires a minimum of 480 hours of experience with children and 120 hours of formal education in childcare. These requirements must have taken place within the last five years. Once you complete these requirements, you must submit an application with the National Association for the Education of Young Children (NAEYC). The application also requires items like parent testimonials, an observation by the Council Representative and the completion of a multiple-choice test. In some states, this certification may be called the Child Care Professional (CCP) certification.
First aid and CPR certification
First aid and CPR certifications are available through the American Red Cross. These certifications may be a requirement in some states or child care agencies but even if they are not, it is a beneficial certification to have. This certification teaches you basic first aid and CPR response in an emergency. A special pediatric First Aid certification is also available for those who work with pediatrics.
Requirements: To obtain a First Aid or CPR certification, you must complete either an in-person or online class. Upon the successful completion of either class, the certification is good for two years until renewal.
Early Childhood Education (ECE) certification
The Early Childhood Education (ECE) certification is ideal for people who want to pursue a career in daycare but who have minimal or no experience. The certification prepares you to work with young children through either its certificate or diploma program.
Requirements: You need a high school diploma to enroll in an ECE program. You can take classes online and complete the program in as little as a year for a certificate or two years for a diploma.
Advanced child care training
There are three certification classes available through the American Red Cross which include the Babysitting Basics, Babysitter's Training and Advanced Child Care Training. These certifications are beneficial for daycare workers with different levels of experience.
Requirements: Anyone over the age of 11 years can enroll in the Babysitting Basics course. Anyone between the ages of 11 and 15 can enroll in the Babysitter's Training course. Anyone who is a professional daycare employee who wants state licensure is eligible to take the Advanced Child Care Training class.
Water safety
A water safety certification is important to consider if you work with children in an area with water. You can obtain a water safety certification through the American Red Cross or by attending a class at a local YMCA.
Requirements: Aquatics and Water Certification Programs' requirements vary depending on where you take the class. Most require the completion of an in-person class, as well as a physical test.
Newborn Care Specialist Association
If you work with newborns, you might consider certification through the Newborn Care Specialist Association (NCSA). This program prepares you specifically to work with newborns.
Requirements: Certification as a Newborn Care Specialist requires the completion of an approved class or workshop, successful completion of an exam and a minimum number of hours, depending on where you attend training. Certification is available through the Newborn Care Training Academy.
Nanny basic skills
The nanny basic skills certification can help you offer services in a private care setting. This certification is available through the International Nanny Association.
Requirements: You will need to complete the International Nanny Association Newborn Care Specialist Basic Skills Assessment successfully. This is a 40-question multiple-choice test that is available online. In order to take the exam, you will need to provide proof of valid CPR and First Aid certifications.
Tips for including certifications on your resume and cover letter
It's a good idea to highlight any certifications you have on your resume and cover letter. You can do this with the following tips:
Highlight your childcare skills: In addition to listing the certifications you complete, it can also be beneficial to highlight the childcare skills you develop during your training.

List certifications included in the job description: If a job description specifically lists a certification, whether it is a requirement or recommendation, make sure it is one of the first ones you list.

Include any related training: Some certifications require that you complete training. Listing any training that you complete can further help you demonstrate your childcare experience.

Highlight an important lesson: You can make your application stand out further by not only listing any certifications you have but also by highlighting an important lesson or thing you took away from each.
Tips for discussing certifications during an interview
You may also discuss your certifications during an interview. Here are a few tips to help you use certifications in the interview to demonstrate your experience:
Offer examples of how certifications have helped in your career: Besides listing certifications, it can also be beneficial to provide specific examples of how your certification training has helped you at work.

Use the STAR method to bring up certifications: The STAR method, which is the process of answering a behavioral interview question with a specific situation, task, action and result can be a good way to bring up certifications.

Talk about your motivations for certifications: It can also be beneficial to discuss what motivated you to obtain certifications.

Discuss plans for additional certifications: You can also discuss any certifications that you plan on working toward during an interview. This demonstrates your dedication to the industry and learning.
I hope you find this article helpful.