Earning a sociology degree can prepare you to work on social problems in a wide range of rewarding positions. Depending on your focus area, you could specialize in education, social work, human resources or other fields. Learning about the jobs you could get can help you assess whether a sociology major is the right educational path for you.
In this article, we discuss careers in sociology and the most important skills for sociology majors.
What are careers in sociology?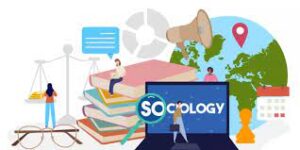 With a sociology degree, you can better understand a multicultural world and analyze issues that affect groups of people around the globe. As a sociology graduate, you can consider working in any of the following fields:
Education: You can teach others and lead educational institutions at any level.

Fundraising: You can raise money to help nonprofit organizations grow and serve others.

Human resources: You can help companies flourish and assist employees to pursue rewarding careers.

Journalism: You can research and report on complex topics that concern everyone.

Legal: You can address crime and help people thrive within their social structures.

Marketing: You can ensure that companies connect with and appeal to their target markets.

Social work: You can help people to address issues so they can live their best lives.
What skills do you need for a sociology job?
When you study sociology, you have the opportunity to learn several essential abilities. Cultivate the following skills to excel in your sociology career:
Communication skills
To excel in any sociology-related job, you must be able to speak and write clearly and listen and read carefully. When you study sociology, you learn how other people think and act, which allows you to adapt your communication skills as necessary.
Critical-thinking skills
As a sociology professional, you may need to solve problems and suggest resolutions regularly. When you study sociology, you learn how to ask effective questions and analyze information to produce successful solutions.
Interpersonal skills
Most sociology jobs involve working closely with people and building relationships. As a sociology major, you learn how to relate to people from a wide variety of backgrounds so you can create meaningful connections.
Leadership skills
Many sociology jobs require you to demonstrate leadership, but being a leader might exist in different forms. Sociology majors can lead by example by providing insights or by guiding teams and departments.
Research skills
As a sociology major, you learn how to analyze information and find reliable sources before presenting an argument. Many sociology jobs require you to use these research skills when making recommendations or leading teams.
Jobs for sociology majors
Whether you want to work in education, fundraising, marketing or another field, you can use your sociology major. Here are eight of the most popular jobs for sociology majors. For the most up-to-date salary information from Indeed, click on each salary link below:
1. School counselor
National average salary: $52,002 per year
Primary duties: School counselors evaluate students' abilities and help them acquire the skills they need to succeed academically. They provide aptitude tests and interviews to assess students' interests and skill levels. These professionals also identify problems that affect students' performance and assist with resolutions. School counselors can work at any academic level in private or public systems.
2. Fundraiser
National average salary: $30,583 per year
Primary duties: Fundraisers are responsible for helping organizations raise money. They set fundraising goals and develop strategies for earning funds. These professionals also identify and build relationships with potential donors, arrange meetings and plan events for current and prospective donors.
3. Teacher
National average salary: $23,333 per year
Primary duties: Teachers educate students and help pupils acquire essential skills. They research and plan lessons to teach students, and they present lectures for their classes. Teachers also assign worksheets and essays, grade homework and give tests. Many teachers also discuss progress with students and their parents, providing extra assistance as necessary.
4. Human resources specialist
National average salary: $49,230 per year
Primary duties: Human resources specialists are responsible for recruiting and placing people in jobs. They screen and interview potential candidates, contact references and make job offers. After hiring new employees, human resources specialists assist with orientation and training and oversee benefits distribution.
5. Social worker
National average salary: $59,923 per year
Primary duties: Social workers assist people with handling everyday challenges ranging from injuries and disabilities to addiction and illness. They evaluate their patients' needs and develop effective solutions. Social workers often collaborate with therapists, other service providers, family members and caretakers. They are also responsible for following patients' preferences and government regulations.
6. Market researcher
National average salary: $56,769 per year
Primary duties: Market researchers analyze market conditions to evaluate the possibility of selling a product or service. They are responsible for studying market trends, collecting data from potential customers through surveys and polls and using statistics-based programs to evaluate results. Market researchers also translate complex information from numerous sources into easy-to-understand formats, such as graphs and reports. They often present their findings to executives who make decisions about producing and selling the products and services in question.
7. Journalist
National average salary: $35,487 per year
Primary duties: Journalists present information and tell fact-based stories that can be published using a variety of media, including newspapers, magazines, radio, television, podcasts and documentaries. They are responsible for performing in-depth research on subjects of their choice and assigned topics, which often includes interviewing people. Journalists turn research into compelling stories designed to interest readers, bring attention to sensitive topics or inspire change. Many journalists specialize in certain fields, such as international conflicts or political issues.
8. Lawyer
National average salary: $53,833 per year
Primary duties: Lawyers help individuals as well as companies with legal issues. They build cases, gather evidence, draft legal documents, administer depositions and interview witnesses. Lawyers also represent clients during court hearings and trials, and they advise clients about the best course of action given their unique legal situation.
I hope you fidn this article helpful.