Digital media is the future of the technology era. A career in digital media often entails designing and developing content for marketing initiatives, websites, video games and animation. If you are interested in working in the digital media field, it's important to learn how to get started and what jobs you can consider. In this article, we discuss how to start a career in digital media and explore eight potential careers in this industry.
How to start a career in digital media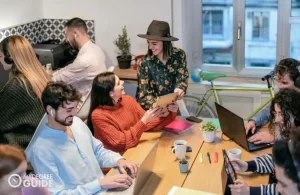 Digital media involves using technology like the internet and electronic devices to create content, such as audio and video, websites, social media and video games. Essentially, digital media is any form of content that requires electronic devices to create, distribute and view that media. This industry is continuing to grow in popularity, and there are plenty of exciting opportunities you can pursue.
Here are the steps you can follow to begin your career in digital media:
1. Learn the basics of digital media
It is essential for beginners first to grasp digital media's main components. There are many different digital media channels, and it is crucial to ensure that you can work with different tools, technologies and techniques. A bachelor's degree is a prerequisite for most jobs in this field, but disruptive technologies have led to many diverse career paths. A background in digital skills, like coding, multimedia design and programming, can give you an advantage if you do not have a college degree.
2. Become a social media expert
Digital and social media are synonymous today. Therefore, you cannot pursue a career in the digital media industry without becoming an expert in a wide range of areas, such as search engine optimization (SEO), Google Ads and Facebook. Experts learn from trusted sources, so build an online community that ensures you can commit to ongoing education. To become a social media expert, you must thoroughly understand audience behavior and develop relevant hard and soft skills to ensure that you can manage diverse responsibilities, no matter what digital media job you pursue.
3. Create an online portfolio
Establish an online presence by building your portfolio, which can be in the form of a website or blog. Digital media is practical and not theoretical. Your website offers the opportunity to apply the different techniques you learn in class into practice, even before working with clients. Get a personalized domain name instead of using a free hosting platform to make your website more professional. Many clients look beyond certification when hiring candidates for digital media positions, so a website with high rankings is an added advantage.
4. Get an internship position
An effective way to grow your experience and skills in digital media is to seek internship opportunities in established agencies. As an intern, you learn more about the best practices in various digital media careers. If you are still in college, you should seek an internship before you graduate because most agencies offer students such opportunities.
5. Stay informed and up to date
Digital media is a dynamic industry, so you need to stay up to date to remain relevant in your career. The techniques and tools used in this field change almost daily because of new updates or disruptive technologies. No matter what career in digital media you choose, prepare yourself to continue learning in order to stay updated with this fast-changing landscape. You can join online chat forums and subscribe to industry leaders to learn about the latest trends.
If you are new to the industry, enroll in a course first before sending out your resume. Learn how to make a great impression to increase your chances of getting selected during interviews. You can start a digital media career by joining a company or freelancing.
8 digital media careers to consider
Here are some well-paying jobs to start or further your career in digital media:
1. Digital media photographer
National average salary: $17.17 per hour
Primary duties: Like traditional photographers, digital media photographers take pictures and videos of people, events, places and objects. They tell stories through the images they capture. Instead of using photographic paper and chemicals to develop pictures, they capture images in a computer file format. Besides taking photographs, they also edit the images using photo editing software to create desired effects, such as adding filters and cropping and resizing images.
2. Video editor
National average salary: $3,054 per month
Primary duties: A video editor edits raw film or video footage to tell a story for online projects as well as films, TVs shows and commercials. They operate from a script when organizing footage, adding special effects, music, dialogue and animation as necessary. They gather all media into the editing software and ensure that it is all in the proper format. They typically meet with clients to create an initial storyboard for the video and to learn the purpose of its creation.
3. Animator
National average salary: $17.94 per hour
Primary duties: An animator works in television, film and marketing industries to bring images to life and create special effects with art. They work with 3D animation, modeling, storyboarding, photo imaging and interactive flash design to produce animation. Apart from creating cartoons, they can work in web and commercial advertising as well. They are responsible for brainstorming ideas and conceptualizing content through sketches, mostly for mock-ups and prototypes of new products.
4. Social media specialist
National average salary: $37,903 per year
Primary duties: Social media specialists create and administer content on various social media platforms, including Facebook, Twitter and Instagram, with the intent of building an audience. They are responsible for ensuring customer engagement by monitoring the different sites' metrics, overseeing the creative design and responding to comments. Social media specialists work with digital marketing teams to help companies create brand awareness. They also offer guidance to businesses and organizations to help them use social media to announce new products, recruit employees, advertise events and educate their followers.
5. Graphic designer
National average salary: $3,349 per month
Primary duties: Graphic designers use special software to create graphics like webpage images, newspaper ads, posters, media images, product labels and logos. They use editing, digital illustration and layout software to create new designs and update old designs for companies. They often work with businesses to help with their branding, and they meet with clients to define a project's scope and present design ideas.
6. Video game designer
National average salary: $71,003 per year
Primary duties: Video game designers create video games for a wide range of formats, including smartphones, the internet, wireless applications and consoles. While some designers may specialize in certain aspects of the game, such as the storyline or character development, others decide the game's purpose and overall layout. All game designers are responsible for brainstorming new ideas, turning concepts into playable products and ensuring that games are engaging and fun for users. They must also make sure that there aren't any bugs in the final product.
7. Web analytics specialist
National average salary: $75,835 per year
Primary duties: Web analytics specialists focus on search engine optimization (SEO) to assess the effectiveness of websites. They are responsible for evaluating customer traffic flow to optimize all website pages, increase traffic and convert leads into sales. They then use the customer traffic data to determine the latest trends. Web analytics specialists research the keywords that can offer high website rankings in various search engine results. They also analyze the factors that may affect a website's number of visits, like content and product placement, and develop solutions to improve traffic.
8. Web developer
National average salary: $76,186 per year
Primary duties: A web developer designs and creates network applications and websites. They write code for programming applications, create web links and content, develop unique software and install software programs. They can also solve computer problems, debug glitches and analyze the software. Companies depend on web developers for data flow checks, which are essential in determining the organization's strengths and weaknesses.
I hope you fidn this article helpful.