If you have French language skills, there are several career paths to consider. You can use your aptitude for French to excel in fields like language instruction, culinary arts, politics and tourism. Understanding the types of career paths available to individuals with French language skills can help you determine which of these careers is best for you. In this article, we define careers with French, provide a list of eight careers to consider and offer additional tips to help you secure employment that involves speaking French.
What are careers with French?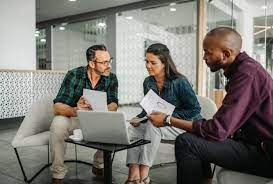 Careers with French are positions that may include knowledge and use of the French language. Careers that involve French may exist in many sectors and industries, from educations to tourism. You may use your French language skills to seek employment with local companies or organizations abroad. This skill can be a valuable trait to develop in your professional life if you're interested in linguistics, moving abroad or European culture.
Careers with the French language
Below is a list of eight careers that involve speaking French:
1. Tour guide
National average salary: $28,744 per year
Primary duties: Tour guides lead tourists around various site-seeing routes and cultural landmarks. As a tour guide in France or French-speaking locations, you may lead tour groups to visit architectural structures, natural sites, museums, vineyards and historical landmarks. Tour guides share information about the locations and answer questions from their participants. The tours may commence in French as well as English, so having a comprehensive knowledge of the French language can be useful in this field.
2. Vineyard worker
National average salary: $30,781 per year
Primary duties: Vineyard workers may work seasonally or full-time on vineyards and wineries to assist in the production of wine. France is one of the world's largest producers of wine, so many vineyard opportunities may exist for those with French language skills. Vineyard workers may be responsible for harvesting grapes, maintaining the health of the crops, storing and transporting fruit for production and bottling finished wine.
3. Flight attendant
National average salary: $33,324 per year
Primary duties: Flight attendants are important members of flight crews that ensure the safety and comfort of airplane passengers. They may inform passengers on safety protocols, serve beverages and meals and maintain the cleanliness of the aircraft. There are many international opportunities for flight attendants, including employment with French airline companies. If you're working as an international flight attendant, a knowledge of the French language can be beneficial when traveling to French-speaking destinations.
4. Pastry chef
National average salary: $37,1114 per year
Primary duties: Pastry chefs may work in restaurants or bakeries to produce baked goods and pastries. These professionals often have specialized training in culinary arts. France is one of the world's most influential countries in pastry, and many of the industry terms and techniques are of French origin. Pasty chefs may also pursue careers in France with restaurants and bakeries.
5. Au pair
National average salary: $43,832 per year
Primary duties: Au pairs are live-in childcare providers, typically from foreign countries. As an au pair in France, these professionals may provide full-time child care to children of varying ages, complete household tasks and assist with transportation to and from school. The families au pairs may work with in France may speak French in their homes. This combined with living full time in France makes French language skills an important quality for au pairs to develop.
6. Language arts teacher
National average salary: $45,705 per year
Primary duties: Language arts teachers instruct students of varying ages and proficiency levels in second languages. As a French teacher, these professionals may develop curriculum plans, instruct course, provide individualized tutoring and grade assessments. French language teachers may work in public schools, private schools or private language institutions.
7. Translator
National average salary: $46,087 per year
Primary duties: A translator is an individual who translates written and verbal communications into other languages. French translators may work in a variety of industries, from publishing to politics, in order to translate communications. They may translate French into English or another language or translate other languages into French. These individuals often have a mastery of linguistics, specialized training and advanced degrees.
8. Diplomatic agent
National average salary: $86,882 per year
Primary duties: Diplomatic agents are government officials who represent their home counties on international, political missions. They may negotiate with foreign officials, discuss trade deals, provide information about classified projects and return responses to their home counties. Diplomatic agents may travel to France and other French-speaking locations to complete their duties.
Tips for starting a career with French
Below are some additional tips for starting a career that uses the French language:
Study French culture
Many careers that involve the French language may require travel or relocation to France. It can be beneficial to familiarize yourself with French culture to more easily adjust to the French lifestyle. Consider studying French art, history, politics and modern trends to more fully understand the application of the language.
Continue your education
Continuing your education in the French language can help you develop skills that could contribute to your career advancement. The more proficient you are in speaking French, the more complex roles you may be able to pursue. Consider enrolling in language classes, practicing daily and immersing yourself in French movies, television and music to maintain your language development.
Learn related languages
Learning languages that are similar or related to French may also be beneficial during your career development. Consider studying variations of French, such as Canadian French, Creole and Belgian French. Understanding the nuances between these different styles of French could contribute to your success and allow you to accept opportunities in more French-speaking locations.
I hope you fidn this article helpful.