A community manager oversees the engagement and membership of a company's online presence and interacts with clients and customers to promote the brand and develop stronger relationships. When preparing for a community manager job interview, it's important to research the company and its interactions with its clients so you have a thorough understanding of the position. Once you explore the role and its responsibilities, practicing potential interview questions is a valuable exercise that can help you conduct an exceptional interview.
In this article, we list eight common community engagement interview questions with sample answers to help you prepare for your interview.
Community engagement interview questions with sample answers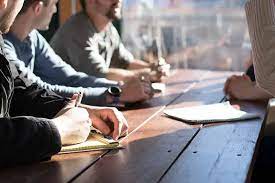 Here are some common community engagement interview questions with sample answers:
1. How would you define a community?
Interviewing managers ask this question to see how you understand a community and what some of the most important aspects are of one. Your perspective is what they're looking for, not simply a dictionary definition. They want to see how you interpret the underlying purpose for increasing and improving group engagement. Try to keep your simple and mention factors like the importance of relationship building and the pursuit of a common goal.
Example: "A community is a group with a common purpose, goal or interest, and it requires interaction and collaboration to thrive. I feel it's important to understand that an engaged community can have a significant impact on an organization. Positive group engagement can improve the brand image and increase the impact of the company. It also develops the relationship between the brand and the consumer."
2. In what type of communities do you participate?
Successful community managers have a deep understanding of the power and framework of a community. You can develop this knowledge by observing and participating in communities. Share an example of a community you're active in, describe your role in the group and discuss what drew you to the organization. This demonstrates your comprehension of a community and how it operates.
Example: "One of my favorite communities I'm involved with is my quilting guild. I appreciate the wealth of knowledge and resources the group shares. I serve on the board as program manager, and I arrange each month's program. Quilting is a creative craft I enjoy, but being active in the guild has made it so much more rewarding.
"It's also improved my skills in ways I wouldn't have been able to do without the guidance of others who have more advanced skills than I do. It's a great example of how being part of a community with shared interests improves interpersonal skills, individual capabilities and empathy."
3. What do you think makes a strong community?
When you're applying for a community leadership role, the organization wants to ensure you understand what makes a strong group as well as how to manage one. Try to use research and your experience to respond to this question. Sharing your background and insights on the subject can demonstrate your passion and ability for building a solid community.
Example: "I feel communities rely on trust and connection. Ensuring each member feels a sense of belonging really helps strengthen the community. This requires empathy, understanding and open communication. Encouraging relationships within the group is another way to strengthen it. When members share values and a clear vision for the community, the group is more productive and sustainable."
4. What are some methods you've used to successfully boost engagement within your communities?
An interviewer might ask you this to learn what tactics and methods you've used to build communities and determine how you prioritize your work. Your answer gives them insight into how you might intend to build their community and how your vision and methods align with the company's. Consider sharing a process where you've created and maintained a group, whether in a professional situation at work or a personal setting like a book club or a writing group.
Example: "Putting a process in place for building engagement is important. From the moment an individual enters the community, a framework that integrates them into the group increases participation and connection. For example, new members receive a welcome packet explaining the community guidelines and tools. There is an onboarding questionnaire to help the team connect with the new clients and answer any questions they might have. Then we introduce the new customers to the group in a manner that makes them feel welcome and valued, and this process usually helps them connect personally with other members."
5. What is one of your most successful results in growing a brand?
An interviewer might ask you this because they want to know you can generate results. Try to share specific results, such as the number of new members or retention statistics, if possible. Preparing information like this in advance can help in an interview.
Example: "At my last company, my team hosted an online contest every quarter on social media that encouraged members to share brand content. Our customers enjoyed these contests immensely, and it increased participation within the group and expanded the brand's reach outside of the community. Our membership increased by more than 10% after each contest."
6. How do you measure success regarding community engagement?
Interviewers want to see if you understand how to measure growth or success in a community and what metrics you rely on most. These factors can be important to determine the company's return on investment regarding membership. Try to share your experience managing communities and how you tracked growth and interaction in the group.
Example: "To measure the success with community engagement, it's necessary to establish clear metrics. Creating goals for growth and tracking member interactions are two ways to track the success of engagement initiatives. Comparing these results regularly can demonstrate the success of engagement activities. I also create specific metrics for each engagement campaign to target its specific goals."
7. How have you used social media to promote a brand?
The question demonstrates whether you know how to use social media as a promotional tool. The organization wants to see if you have used different social media tools, such as videos, to connect with target audiences. Consider listing a variety of digital and social media marketing strategies you use.
Example: "In my last position, I consistently created social media content promoting the community. I also created a video series that promoted the membership and increased enrollment by 400 members during the month the video campaign ran. One of my responsibilities was to manage weekly posts on three social media platforms for the brand, which entailed creating graphics, videos and short-form content."
8. How do you handle complaints from community members?
Customer service and support are an important part of community engagement. Interviewers ask this question to see how you might resolve customer complaints. The STAR method is a powerful interview technique for answering behavioral questions like this one. To use this framework, summarize the situation, describe your role or task in the situation, explain the action you took to resolve it and describe the result of the action.
Example: "I once had a member complain on social media about the group's monthly schedule of programming. As the community manager, my role was to ensure the customer felt heard and fix the problem if possible. I contacted the member and had a discussion with them to understand the situation, and we were able to resolve the issue over the phone. The individual appreciated the personal response and is still an active member of the community. They even deleted their negative post after our discussion."
Interview tips
Here are some suggestions to help you make a positive impression during your interview:
Conduct a practice interview. It can help to practice interviewing with a friend or family member to develop your thoughts and plan your answers before the interview. Let them read you these questions as you practice answering them, and ask them for feedback on what you did well or what answers you could improve.

Be genuine. Try to share your personality during the interview and some of the unique traits that make you a good fit for their community. Consider showing your passion and enthusiasm for the group's mission.

Share personal stories. Try to draw from your experience during the interview and share personal stories when you provide examples. This can be a powerful way to demonstrate your expertise and build rapport with your interviewer.

Always follow up after an interview. Consider sending a thank-you note shortly after your interview to reinforce your interest in the position. Try to be courteous, thank the interviewer for their time and mention something you discussed during the interview.
I hope you fidn this article helpful.