Attending a job fair can allow you to meet recruiters from various organizations and learn more about available professional opportunities. When taking part in these events, you must act strategically and make a positive impression so you can increase your chances of securing a suitable role. If you're preparing for a job fair, it may be helpful for you to review various best practices for attending one. In this article, we explain what a job fair is and outline eight essential do's and don'ts of such events to help you have a successful experience.
What is a job fair?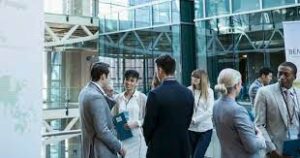 Job fairs, often called career fairs, are networking events through which employers and recruiters offer information to candidates regarding openings at their organizations. These events provide candidates with the opportunity to speak directly with hiring decision-makers at organizations that they're interested in working for and make a positive impression before applying for a position. At job fairs, candidates may hand out their resumes, ask questions about organizations and their application process, and attempt to make connections with other professionals who can provide helpful career insight.
4 do's of a job fair
There are various actions you can take when attending a job fair to maximize the opportunity and increase your chances of securing a role. Here are four essential do's to keep in mind throughout the job fair experience:
1. Do dress appropriately
It's important to make a positive first impression when meeting with recruiters and prospective employers. Therefore, try to dress appropriately when attending a job fair by wearing professional attire, such as business casual clothing like button-up shirts, slacks and longer skirts. Taking care to appear professional when introducing yourself at a job fair can help ensure that recruiters take you seriously as a candidate.
2. Do have an elevator pitch
Elevator pitches are brief speeches you can give to recruiters, employers and other professionals to solicit their interest in you as a candidate. Try to have a pitch memorized when you go to a job fair so you can speak eloquently about the qualifications, experience and skills you can offer. From here, recruiters and employers can get a better idea about your value as a professional and assess whether they want to move forward with your candidacy.
3. Do conduct some preliminary research
Before attending a job fair, it can be beneficial to conduct some preliminary research about what companies and organizations are going to be represented there. Through your research, you can learn more about each organization, including their values and what their missions are. This information can help you decide what organizations you're most interested in and create a networking plan. In addition, you can use this information when speaking directly with particular recruiters to demonstrate your enthusiasm for their organization's work.
4. Do follow up
After speaking with recruiters, employers and other professionals, make sure to follow up on your correspondence with them. For instance, you may benefit from sending thank-you notes to recruiters who represent organizations you're most compelled by so that you can remind them about your conversation. In your note, you can express your appreciation for their time, restate your interest, ask for their consideration regarding an open position and invite them to speak with you further.
4 don'ts of a job fair
There are certain actions you may benefit from avoiding when attending a job fair. Here are four don'ts to consider when preparing for the fair and speaking with recruiters that can help you make valuable connections:
1. Don't arrive late
Being punctual is a key part of maintaining professionalism, so make sure that you don't arrive late to the job fair. If you show up too late, you may risk your ability to speak with certain individuals and feel rushed throughout the networking process. Ensuring that you're on time can help you maximize your time at the event, allow you to avoid feeling stressed throughout the experience and ensure you have the chance to speak with all the recruiters or employers from organizations that interest you.
2. Don't be afraid to ask questions
While networking and speaking directly with organizational representatives can feel intimidating to some professionals, it's important that you actively engage with others at job fairs. With this, don't be afraid to ask questions to gain more information and demonstrate your genuine interest in an organization. The purpose of these events is for candidates, recruiters and employers alike to make professional connections, so make sure that you put forth an effort to learn more about organizations you're enthusiastic about and what they're looking for in candidates.
3. Don't limit your job options
Candidates who attend job fairs commonly make the mistake of limiting their options by forgoing the opportunity to speak with representatives from companies and organizations in industries outside of their own. Try to keep an open mind throughout the event by speaking with as many recruiters and employers as you can, even if the openings they're advertising don't seem to fit your current skill set. By considering all the options available to you, you might be more successful in finding a role that aligns with your professional interests and needs.
4. Don't interrupt other candidates' conversations
When attending a job fair, you may have to wait to engage in conversation with recruiters and other representatives from organizations advertising highly sought-after roles. Even though you may feel pressured to initiate a conversation and compete with other candidates, don't interrupt their conversations, as representatives may receive such behavior as unprofessional. Rather, try to be as patient as possible and wait for other candidates to finish their conversations before introducing yourself.
I hope you find this article helpful.