Job fairs are an effective means for prospecting jobs, networking with other professionals in your industry and actively interviewing for open positions within organizations that attend these types of events. If you attend a career fair, there are several things you may bring with you to increase your chances of being noticed by and making a lasting impression on potential employers. For instance, resumes and business cards are among some of these items that you may come prepared with if a recruiter requests more information about you.
In this article, you will learn about what to bring with you to a job fair.
What is a job fair?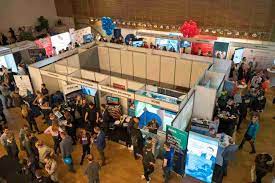 A job fair, or career fair, is an event that brings together a mix of different companies and organizations that are actively searching for new hires. A career fair can be an effective way to meet and connect with prospective employers, network with other professionals and interview for open positions. Likewise, hiring managers and staffing recruiters will usually have a booth set up where they provide job seekers with literature and other information about their company and discuss the open positions within their organization.
What to bring with you to a job fair
When taking part in a job fair, there are several items that you may consider bringing with you to help you present yourself to recruiters and hiring managers. The following list outlines a few things that you may want to take with you to your career fair so you can provide the required documents and information if a hiring manager or prospective recruiter requests it:
Extra copies of your resume

Targeted resumes

Business cards

Your professional portfolio

Notepad or paper and pens

An extra change of clothes

Application preparation materials

Your elevator speech
Extra copies of your resume
When you attend the career fair, one of the most important items you should have with you is your resume. This can be a general resume that outlines your work experience, educational background and your skills. A general resume will serve as a way for you to highlight your overall experience and skills, and you may leave a more generalized resume with a company of interest, especially if your target position is not an open job. This way, you can express your interest in the company and offer your information for future contact if your ideal role opens up.
Targeted resumes
While it is important to bring extra copies of your resume, bringing copies of targeted resumes can increase your chances of getting noticed by the organization you are interested in applying to. Targeted resumes will highlight only your work and educational history, skills and experience relevant to a specific role. Consider having a few of these targeted resumes, so you may provide a copy if you meet with a recruiter for the position you want.
Business cards
If you have dedicated business cards, you may consider bringing them to the job fair. Your cards should have your full name, phone number and email address or other contact information, and you can even include a job title, a brief mission statement or another qualifying description on your business card.
As you move through the career fair, you can distribute your business card to companies of interest and companies you are interested in but have no open positions that fit your qualifications. You can explain the job role you are looking for and ask to keep in contact if something should open. The prospective employer will then have your contact information should a job open up.
Your professional portfolio
If you have a professional portfolio, consider bringing it with you. Portfolios are especially effective and useful to have if you work in an industry where you create a variety of visual products, as you can show prospective recruiters and hiring managers how you have succeeded in your past roles. Your portfolio can highlight your hard and soft skills in completing projects. You may also consider keeping only pieces of professional evidence in your portfolio relevant to the career roles you are seeking.
Notepad or paper and pens
Think about bringing a notepad or small notebook and a few extra pens with you to your job fair. When attending interviews within the career fair, you may consider taking quick notes after each session to help you remember who you spoke with, what company they were from and highlights from the interview such as salary information, job requirements and contact information for the hiring managers you met or can follow up with.
An extra change of clothes
If you are local to the career fair you are attending, you may not need to be concerned about bringing extra business attire. However, if you are traveling a long distance to the event, consider bringing one extra change of business clothing with you. It could be helpful if you spill coffee on your clean and pressed white shirt or in case of a tear or troublesome zipper. Preparing your attire ahead of time can allow you to take precautions in case something soils your formal clothing.
Application preparation materials
You may have researched prospective job positions you are interested in interviewing for, but consider preparing yourself for job roles that might come up that you might want to apply for. Have any information ready that you might need when filling out a job application?
For instance, keep a list of references and their contact information, and names, phone numbers and other contact information for past employers. Likewise, you may have references included in your resume, and you can use that information as needed if you fill out applications during the career fair.
Your elevator speech
An elevator speech, or elevator pitch, is a quick and direct way to introduce yourself, your career objective and how you can meet the requirements for the job. Because career fairs tend to be large events with many attendant businesses, recruiters and prospective employers, practicing your pitch can allow you to be fully prepared for what you will say when you sit down to speak with prospective employers. Practice how you will introduce yourself and make a lasting impression so you can make your pitch in under 60 seconds.
Tips for attending your career fair
Besides being prepared with your professional items for attending your job fair, you may consider the following tips to help you when attending the event.
Research the attending organizations and the companies that will be there
Get prepped before the job fair by researching the companies, businesses and organizations that will be present at the event. Consider finding information on what the offered positions may be for the organizations you are interested in, who the recruiter or hiring manager is that will be attending and other information like requirements, desired skills and expectations for the job roles you are looking for.
Attend job fairs that are related or in your prospective career industry
Besides researching prospective organizations that will be at the job fair and using your time to interview for only the roles you are interested in, consider attending career fairs where the companies attending are within your respective job industry. For instance, if you are seeking a position for software development, you may want to attend job fairs that cater to the industry. Likewise, it may not be very effective to attend a job fair for the education industry if you are looking for software engineering roles.
Only interview with companies you are interested in working for
This is especially important as you enter group interviews, discussions and networking within the career fair with other professionals and recruiters. You may not only end up wasting time interviewing for irrelevant job roles, you may also risk wasting the recruiter's time. Use your time at the event to actively seek out only those positions and roles that you are qualified for and are genuinely interested in applying to.
Follow up with the companies you interviewed with
After attending the job fair and taking part in interviews with prospective employers, consider sending a thank you note or following up with an email to express your gratitude for the interviewers taking the time to meet with you. Besides thanking the professionals you interviewed with, you may also consider following up a week afterward to check the status of the hiring process and if you will be moving on to the next interview round. This will allow your potential employer to see your professionalism and your consideration, which can be an advantage during the hiring process.
I hope you find this article helpful.