During your TSA interview, the hiring manager may ask questions that highlight your skills, background and experience. Learning about some of the common questions and reading some example answers can help you better prepare for your interview. In this article, we highlight a few of the most common TSA interview questions and show you sample answers that can help you demonstrate your qualifications for the position.
General questions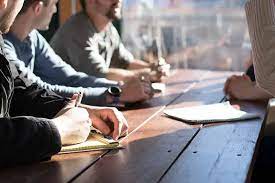 Some general questions that you can prepare for include:
How did you hear about this position?

Why are you interested in working for the TSA?

How does this position align with your long-term career goals?

What skills and qualifications do you have that make you more competitive than other candidates?

What achievement are you most proud of?

Are you comfortable working with others?

Are you able to stand for long periods?

Do you have training in conflict management?

Do you have any hobbies?

What would your goals for your first 90 days on the job be?
Questions about experience and background
Common experience and background questions may include:
Do you have past government work experience?

How has your education or previous jobs prepared you for this role?

Do you hold any licenses or certificates relevant to this position?

What is your favorite thing about your current or most recent position?

How will you use your experience and expertise to maximize the TSA's efficacy?

Describe your relationship with your most recent supervisor.

Have you managed conflicts at work before?

Would past coworkers describe you as a professional person?

Do you have any leadership experience?

What was your most recent salary, and what are your salary expectations for this position?
In-depth questions
With their in-depth questions, your interviewer is looking to get a better sense of your specific qualifications and how your experiences may contribute to your performance as a TSA screener. These questions might include:
Describe your past leadership experience.

The TSA values vigilance. What does vigilance mean to you?

Tell me about a time you provided security or protection to a person or group.

You see a suspicious piece of luggage near your checkpoint. How do you respond?

How would you handle a disgruntled passenger?

You're performing a screening on a passenger, and your line is growing lengthy. What do you do?

What would you do in a situation in which you and your coworker disagreed about a screening procedure?

How important is it to document incidents on your shift?

What qualities do you think are most important for a TSA agent to exhibit?

What strategies do you use to keep yourself and your coworkers focused during a long shift?
Interview questions with sample answers
While specific questions may vary depending on the nature of the particular TSA position you're applying for, here are some example questions you may encounter with sample answers:
1. What is your greatest strength, and how will it benefit you as a TSA Screener?
As a TSA screener, you'll likely need to maintain a high degree of professionalism at all times. The interviewer is asking you about personal qualities that will enable you to succeed in what can be a strenuous job in a structured professional setting. Take this opportunity to highlight the personality traits that make you qualified for this unique role and highlight your soft skills.
Example: "My greatest strength is my resilience under pressure. As a TSA screener, I know I'll be interacting with travelers from many different locations. I'm used to interacting with people who may be stressed, hurried or having a bad day. My security and customer service background means that I have a lot of practice responding to stressful situations with grace, and I understand the importance of keeping calm at all times as I interact with members of the public."
2. Tell us about a time you had a conflict with a coworker.
Conflict on the job can be common, especially when you work in a high-stress, highly structured environment, like an airport. By asking this question, your interviewer is trying to get a sense of your approach to conflict and understand how you will react when experiencing on-the-job tension with your coworkers. Try to use the STAR interview technique to provide a specific example for this question.
Example: "I don't often come into conflict with coworkers, but when it has happened in the past, it's usually due to a lack of communication. An example is a coworker I had at a past security job who would often ask me for assistance with tasks when I was actively assisting clients or performing other duties. While I'm always happy to support a team member, it was taking time away from my work. I resolved the issue by clearly stating my boundaries and telling them I could only assist them when I had completed my tasks."
3. Name a time you had to decide with little resources promptly.
As a TSA screener, you'll often be asked to make consequential decisions based on the limited information you have in front of you. By asking this question, your interviewer wants to understand how you work under time pressure and to see if you have been responsible for similarly critical decisions at past jobs. Make sure to highlight your relevant experience and personality traits that equip you for making these kinds of decisions.
Example: "Thanks to my experience in the security field, I have a lot of experience making decisions under pressure. I believe that the most important element for making these kinds of decisions is an in-depth understanding of the proper procedures. At a previous job, I was asked to take over for my manager at an event when they were called home to care for a sick child. Because I understood the demands of the work, I was able to effectively perform the tasks until my manager returned."
4. Name a time you had to meet the needs of a difficult customer.
Aside from their work as security agents, TSA employees are also responsible for customer service. This is a public-facing position where you may encounter people who are stressed or in a hurry. Your interviewer might ask this question to get a better sense of how you handle a stressful encounter and how you've handled similar situations in the past. Use a specific example to help the interviewer learn more about your qualifications.
Example: "At a previous job where I managed security for private events, I often interacted with customers who were eager to get through to certain restricted areas. In one instance, a person insisted I allow them to enter a VIP area, but they could not provide me with the appropriate pass. I responded by deescalating the situation and removing them from the area so we could address their concerns without disturbing other guests. Afterward, I redirected them to a more appropriate space so they could enjoy their night."
5. Tell me about your post-secondary education and how it relates to your career as a TSA Screener.
TSA airport assessment interview questions like these are a chance to give your interviewer further insight into your qualifications. Explain your academic experiences in context and describe how they qualify you as a TSA agent.
Example: "After graduating from high school, I had the opportunity to attend classes at my local community college. I used that time to study Spanish, which I believed would help me in my security career. Being able to hold conversations in Spanish means I can help travelers who might not be comfortable speaking English. I can assist my fellow agents who may only speak English and help them communicate with travelers."
6. The Transportation Security Administration includes '"integrity" in its core values. Talk about a time that you acted with integrity.
As a government agency, the TSA needs to know that its employees have values that reflect their approach to customer service. By asking this question, your interviewer wants to understand your values and see how you'll fit in as a TSA team member.
Example: "I believe that integrity means maintaining a personal commitment to act honorably regardless of the circumstances. This is a value that's very important in my life. Recently, I was at a restaurant when I realized my bill was lower than I expected. My server had forgotten to charge me for an appetizer. I pointed out the error, and they corrected my bill. Even though I ended up paying more money, I was happy I had done the right thing."
7. Name a time you had to make a decision that may or may not have negative results.
Interviewers often ask questions like these to see how you responded to professional challenges in the past and to see how you might respond in the future. In a high-stakes environment like a TSA security line, you'll often be tasked with in-the-moment decision-making. This is an opportunity to show how you'll recover from any potential mistakes with grace.
Example: "During one particularly busy evening on my security job, a manager asked me to handle the ID intakes, screening attendees to make sure they were all of legal drinking age. I had already been given other competing tasks, so I delegated this responsibility to a coworker. I could see that they were getting overwhelmed, so I reversed my decision. I took over the ID checks, while they went inside to patrol. I believe mistakes are an opportunity to learn and commit to making better decisions in the future."
8. Describe a time when you worked in a team. How did you contribute?
The TSA is a highly collaborative environment where you will often work closely with coworkers in a fast-paced, demanding setting. By asking this question, your interviewer wants to get a sense of how you function in a group setting and how your fellow screeners might expect to interact with you. Highlight the qualities that have served you in the past when working as part of a team.
Example: "Because of my security background, I understand the importance of communicating effectively with others to maintain team performance. In the past, this has been my greatest strength as a team member. I am a highly organized person who always seeks to understand the needs of others. I helped my team function effectively by asking others how I could support them and ensuring that everyone had the resources they needed to get the job done."
I hope you fidn ths articlehelpful.