Customer-focused strategies allow companies to optimize the experiences that customers have with their brands. These strategies can help businesses improve customer loyalty, achieve sustained growth and increase retention. If you're looking for ways to make your business more customer-centric, it might be helpful to view some examples of customer-focused strategies.
In this article, we explain what customer focus is and provide eight customer-focused examples to help you create a corporate culture that prioritizes its patrons.
What is customer focus?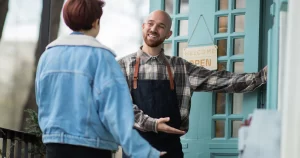 The term customer focus refers to the activities companies use to prioritize customers' needs to enhance their experience with a specific brand.
While companies can use a variety of strategies to improve customer focus, most of these strategies focus on the dual goals of establishing a customer-centered, company-wide culture and increasing customer satisfaction through relationship-building tactics.
Accomplishing these goals can lead companies to foster more loyalty among their existing customers and higher rates of customer retention. By approaching customer focus through long-term strategies, companies can also convert more leads into sales over time, boosting their overall customer base.
A shift in B2C strategy
Until recently, customer focus wasn't the norm across business-to-consumer (B2C) companies. Rather, various companies adopted this approach over the last decade. Now, customer focus is a popular approach implemented by companies throughout different industries. This shift in focus may be attributed to trends in customer expectations.
With the advent of simplified, expedient and personalized shopping experiences introduced by specific trailblazing companies, customers have come to expect such convenience from all the brands they interact with.
While it can be challenging for smaller businesses to compete with the corporations that pioneered customer focus, it's possible to improve customer focus overall.
8 customer-focused strategies
There are various strategies companies can use to improve customer focus and increase loyalty, retention and growth among their customer base. Some of these strategies will be more successful than others depending on a company's specific industry, its current market position, existing strategy and the type of consumers it engages with.
With this in mind, here are eight strategies for improving customer focus, including how each strategy can benefit a company and examples of how companies can implement them:
1. Collaborate and align departmental strategies
Customer-focused companies must align strategies across support, sales and marketing teams. This alignment can help create a more streamlined and consistent customer experience. To achieve alignment, these teams should approach customer-facing activities through collaborative efforts.
While introducing collaboration across teams can be a challenging venture that requires companies to reconfigure their processes and dedicate resources toward implementation, it can be significantly rewarding in terms of sales.
Example: The support teams and sales teams at Benchmark Solutions collaborate to introduce new leads and improve closing activities. When support agents learn customers are interested in a new product, they flag those customers' profiles in the company's customer relationship management (CRM) system. The sales team then uses this information to anticipate customer needs, develop relationships and begin forming leads.
2. Help customers feel like they belong
Companies can improve customer focus by helping customers feel at home with a specific brand. The first step in accomplishing this goal is to introduce connective data systems to a company's processes using CRM.
These data systems collect customer information including their name, account information and recent activity in a single location easily accessible company-wide. This allows teams to use relevant information to help customers feel heard and streamline processes overall through personalization.
Example: The company Pool Works has introduced connective data systems using their CRM. Within their system, team members can easily pull information about customers' names, specific purchasing activities and account information. This avoids having customers recount all this information when they contact the company and thereby introduces a seamless, personal approach to various processes.
3. Meet customers halfway
To improve customer focus, companies should help customers easily access their brand and create a convenient customer experience. One part of creating this experience is meeting customers halfway on marketing platforms they already use.
For instance, if a company's customer demographic typically frequents certain social media applications, it would be logical to introduce marketing campaigns on such platforms to reach more customers where they are. This can simplify the buying and support processes for customers.
Example: Using data gathered through social media analytics, Wax Brothers found that 75% of their existing customer base frequents a specific social media site. To improve customer focus, they introduced marketing campaigns on this platform to reach target consumers. In addition, they launched a social media commerce infrastructure that allows customers to make purchases in-app, streamlining their buying activities overall.
4. Solicit feedback and amplify customers' voices
Many companies gather customer feedback through support processes. Despite this, it's common for the same companies to allow the valuable data they collect from feedback to go to waste.
To improve customer focus, companies need to give customers a platform to share their perspectives and ideas. And, once companies solicit this type of feedback, they should take customers' suggestions seriously and change processes to adhere to feedback. This can improve customer experiences and increase loyalty.
Example: Ricki's Spa used to treat customer complaints as isolated incidents that didn't reflect on the company's processes. As they switched to a customer-focused strategy, the company realized trends were cropping up among customer complaints. To gather feedback more efficiently, Ricki's Spa sent their customers surveys and identified patterns across their responses. From here, they were able to improve customer experience by shifting their processes.
5. Develop customer-centric values through company culture
For companies to shift toward improving customer focus, it can be useful to develop customer-centric values through purposeful cultural initiatives. Every member of a company needs to align their thought processes and actions to support the overall goals associated with customer focus.
This can help all team members, regardless of whether they occupy a customer-facing role, understand how their duties impact the customer experience. To do this, companies can use various approaches, such as training team members using similar customer-facing processes or holding company-wide customer meet-and-greet events.
Example: The Fruit Project decided to revamp their team member training and development process to improve their culture. They have each new employee start their tenure by performing customer support duties for two weeks before they specializes in their role. This has connected team members under the value of customer-centrism and has given all employees, regardless of their role, insight into the customer experience.
6. Find ways to connect with customers on a personal level
To improve the customer experience and thereby increase customer focus, companies should find unique ways that their brands can connect with customers on a personal level. The way a company does this may depend on its specific industry and the type of clientele it engages with.
For example, a luxury brand may introduce a concierge service by which customers can access personalized service, support and purchasing assistance. Alternatively, a company can allow customers to join premium subscription services that offer special benefits otherwise inaccessible through ordinary memberships.
Example: The Birch Hotel was successful in improving its customers' experiences by introducing a loyalty program by which customers could access personalized VIP services. The hotel connects loyalty members to concierges through a secured SMS platform they can use to arrange reservations, get suggestions for local attractions and access special member-only services offered at the hotel. This enhanced experience increased retention and loyalty among existing high-profile customers.
7. Use tools to enhance customer retention
There are various technological tools that companies can use to enhance customer retention overall. By leveraging CRM systems, artificial intelligence (AI) and data collected through analytics strategically, companies can enhance customer retention.
Applying the information collected through these processes can help companies anticipate customer needs and implement shifts that appropriately address gaps in existing processes.
Example: The Plant Stop decided to use the feedback it collected through its CRM system by launching a chatbot. The chatbot is an AI mechanism that replies to customers' contacts, performs intake during complaint processes, files their information into the CRM automatically and presents handy solutions to customers with issues that fall into a common complaint category. This proactive process has increased customer retention by 46%.
8. Digitize your supply chain for more visibility
Innovations in technology make it easier than ever for customers to track their orders from the warehouse to their homes. With this, companies should aim to improve customer focus by increasing supply chain visibility through digitization.
Giving customers consistent updates about the status and location of products they purchase can offer transparency that enhances trust within the business-to-consumer relationship.
Example: NorthStar Pet Supply recently updated its supply chain visibility by allowing customers to track their orders from the moment they enter the production process through delivery. With increased transparency, customer complaints about supply chain processes have decreased dramatically over the past few months. In addition, NorthStar has received various compliments from customers that reflect their appreciation of the company's honesty.
I hope you find this article helpful.