A diesel mechanic is someone who works with and maintains diesel engines or diesel-powered equipment. Diesel mechanics often work in the trucking, shipping and power industries, and they manage large vehicles or diesel-powered mechanical systems. If you want to become a diesel mechanic, understanding your career options can help you earn a high-paying position. In this article, we list eight high-paying jobs for diesel mechanics, tips for choosing the right specialty in the field and the skills to consider if you want to pursue a career in these industries.
8 high-paying jobs for diesel mechanics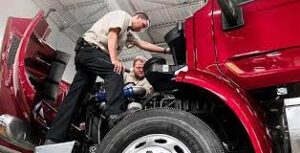 A diesel mechanic has expertise in the inner workings of diesel engines and diesel-powered systems. They conduct repairs and perform preventative maintenance and diagnostic checks. Here's a list of eight high-paying diesel mechanic positions that offer at least $60,000 per year for you to consider. For the most up-to-date Indeed and BLS salaries, please click on the links below:
1. Gas pumping station operator
National average salary: $63,770 per year
Primary duties: Gas pumping station operators control gas, electric, steam or internal combustion engine compressors. These professionals check pressure gauges and gas meters to monitor pressure, temperature and consumption rate changes. Operators also oversee and maintain the diesel machinery oil and gas professionals use to operate pipelines. They submit reports each day on facility operations to track usage and ensure compliance.
2. Fleet manager
National average salary: $62,511 per year
Primary duties: Fleet managers oversee all technical maintenance and repairs for a trucking fleet. The manager creates policies and procedures while overseeing a team of mechanics. They also organize preventative maintenance, set schedules and work with outside vendors to ensure the truck fleet remains safely operational.
3. Airport mechanic
National average salary: $66,858 per year
Primary duties: An airport mechanic performs maintenance and repairs on heavy equipment associated with air travel, such as planes, jets or helicopters. These professionals can run diagnostic checks on machinery and perform preventative upkeep on equipment, such as cranes, trucks and other industrial vehicles at the airport. Aside from engine work, an airport mechanic performs other basic maintenance and functions.
4. Sales manager
National average salary: $71,778 per year
Primary duties: A sales manager with diesel mechanic experience can work in the heavy equipment parts industry. A sales manager works with diesel mechanics or industrial and agricultural companies to sell parts for heavy equipment and diesel-powered vehicles. These professionals work with customers to get them the parts they need, quote them on prices and coordinate the delivery of their parts.
5. Diesel technician
National average salary: $72,538 per year
Primary duties: A diesel technician often works in the trucking industry to perform maintenance on diesel engines or vehicles that use them. These technicians schedule truck maintenance and conduct computerized diagnostic checks on vehicles. They also communicate with customers to better understand issues and facilitate quicker, more effective repairs. They explain to machine owners what issues exist, how they plan to fix them and how the owner can prevent the issues from happening again.
6. Lead diesel mechanic
National average salary: $72,820 per year
Primary duties: A lead mechanic inspects all incoming repair jobs and makes assessments. The lead mechanic's primary role is to diagnose problems that need repair and provide guidance to junior mechanics. The lead mechanic usually monitors ongoing repair work, checks on the status of the work with junior mechanics and helps when needed. These professionals also can create educational programs to help train new hires more quickly.
7. Gas plant operator
National average salary: $73,290 per year
Primary duties: A gas plant operator works in the natural gas industry. Diesel mechanics often perform these roles, which involve maintaining the operation of natural gas operations, performing repairs on equipment and ensuring efficient performance. Gas plant operators also might work with heavy equipment and machinery. These professionals process and distribute gas for utility companies and manage compressors to provide steady pressure on pipelines.
8. Marine engineer
National average salary: $77,535 per year
Primary duties: A marine engineer works on ships, often in the shipping or luxury boating sector. These professionals operate the diesel engines that power the ship. Marine engineers identify engine problems, perform repairs and oversee routine maintenance of the engines.
Tips for choosing a diesel mechanic job
Here are a few tips to help you choose the right diesel mechanic job for you:
Conduct research
Before applying for jobs, consider researching the different industries that employ diesel mechanics. Try to choose something that interests and aligns with your skills. The technical responsibilities for these positions can vary, so researching tasks for various roles can help you determine what specialization is right for you.
Complete education
Although there are some similarities between different diesel engine mechanic positions, there can be significant differences depending on the industry you choose. For example, a marine diesel engine mechanic has a different skill set compared to a diesel truck mechanic. Getting the right training, certification and education can help qualify you for the position you desire in the industry you choose.
Gain experience
Getting experience in an industry might help you decide whether you want to stay in it and whether it's a good fit for you. You might be able to get an entry-level position in an industry such as trucking and decide if you'd like to pursue becoming a diesel mechanic. You can consider contacting companies in various industries to see whether they have job shadowing opportunities or available internships to let you learn more about their fields.
Skills for diesel mechanic jobs
Here are some skills that might help you achieve success if you want to pursue a career as a diesel mechanic:
Mechanical ability: Diesel mechanics often work with mechanical engines. A diesel engine mechanic can use tools and perform repairs on engines and has a strong understanding of how the various parts make the whole machine function.

Engine knowledge: Diesel mechanics understand how engines function and perform. A mechanic uses this knowledge to diagnose potential engine problems and to run diagnostic tests on engines.

Attention to detail: Diesel mechanics usually have strong attention to detail and are thorough during repairs and maintenance checks. They often use small tools to take apart and reassemble machinery, which can require great focus.

Communication skills: A diesel mechanic communicates with others regarding ongoing repairs and the status of engines. The mechanic coordinates vehicles' maintenance schedules, notifies people if a vehicle needs repairs and explains potential issues and solutions to customers.
I hope you find this article helpful.