Nurses work to provide medical care to patients and strive to keep people healthy. Typically, a healthcare facility hires several nurses who work different shifts throughout the day so patients can have uninterrupted care. If you're interested in nursing as a career, it may be beneficial to know the various shifts that most nurses work.
In this article, we discuss what's it like to work eight- and 12-hour nursing shifts, explain the differences between them and provide tips to help you choose a shift length that fulfills your needs.
What's it like to work 8-hour shifts?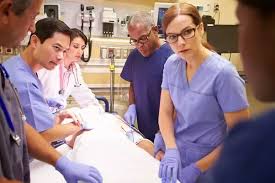 Nurses who work eight-hour shifts often work during the typical workweek and have weekends and a few hours off each day. They may work during the day, part of the night or a mix of the two. Typically, eight-hour shifts result in more shift changes for nursing teams, so nurses may work with a varied group of coworkers during their shift, as their colleagues may come to work at different times depending on their shifts. Nurses on eight-hour shifts may also take fewer breaks because they work fewer hours.
What's it like to work 12-hour shifts?
Nurses working 12-hour shifts at a health care facility often work for three or four days in a 40-hour workweek and have long weekends. A 12-hour shift typically occurs over an entire day or night but some workplaces may have more flexibility. With fewer shift changes because of the long working hours, nursing teams with longer shifts are typically smaller. Nurses working 12-hour shifts may have more breaks or longer rest periods to help them recuperate to continue working over their entire shift.
8- versus 12-hour nursing shifts
Examine the following differences between eight- and 12-hour nursing shifts to identify a suitable shift based on your needs:
Potential for fatigue
Shorter nursing shifts often result in less fatigue and burnout for nurses. Nurses working eight-hour shifts work fewer hours, so they can go home for a break. They typically get at least a few hours of rest every day. These rest periods can allow nurses to feel more energized for their next shift.
Nurses working 12-hour shifts may experience more fatigue because they work for longer periods and spend much of their free time sleeping. This gives them little time to relax and prepare for their next long shift, which may increase the chances of burnout and fatigue at work. Nurses on longer shifts also get an extra day or two off work, giving them time to recuperate.
Patient Satisfaction
Patients under the care of nurses with shorter shifts often have higher satisfaction levels with their treatment and time spent at healthcare facilities. Higher patient satisfaction is likely because nurses working eight-hour shifts typically have clearer minds, less fatigue and a better mood, as they can rest while off work and work for shorter periods each day. Working eight-hour shifts can potentially lead to improved quality of care and more energy for conversations, which can help patients relax and make them more assured of the treatment and care they receive.
When nurses work 12-hour shifts or longer at their healthcare centers, patients may receive treatment and care from the same nurses for longer periods. Longer work shifts can create familiarity and comfort for patients, as they may bond with their nurses. Longer work shifts can also enable nurses to remember important details about their patients, especially the treatment and care they provide to patients. Nurses who work longer shifts may help patients feel more satisfied with the quality of care and treatment they receive, as they can develop a closer professional relationship with them.
Success rate
The success rate of a nurse working eight hours may be higher than those working longer hours each week. Healthcare employers may measure a nurse's success rate by the number of accidents or injuries during their shift, how well their patients respond to their care and whether they can complete their duties without error. A high success rate is crucial in the healthcare industry, although each nurse's abilities and preferences can also influence these numbers.
For example, nurses working 12-hour shifts may have more fatigue, but they may also know each patient better and understand their treatment more deeply because they spend more time with their patients. Spending a longer time with patients may increase a nurse's rate of providing successful care. Nurses on longer shifts may also have closer relationships with their smaller colleagues, leading to better teamwork and emergency responses.
Work-life balance
A nurse's work-life balance depends on how much time they spend at work, at home and away from their job. Nurses working eight-hour shifts may have a more steady work-life balance because they have extra time each day for various activities, such as relaxing with their families and completing chores. They may also benefit from more hours and a better quality of sleep. Nurses working shorter shifts typically also have at least two days, usually over the weekend, to complete other activities and prepare for the following workweek.
Nurses working 12-hour shifts have less time to relax each day, but they receive an extra day or two off each week. Working 12-hour shifts often leaves less time to complete other activities during the week. Still, these nurses have longer periods to focus on responsibilities or hobbies during the weekend, such as pursuing an advanced degree or having family outings.
Flexibility
Job flexibility for a nurse largely depends on the length of their work shifts and the nature of their schedules. Nurses working shorter shifts have more flexibility with their free time during the week because they can complete more activities between going to work and sleeping. Depending on the health care facility in which they work, nurses working eight-hour shifts may also have more freedom with when they can schedule their shifts because there may be more options.
Longer shifts for nurses provide a different type of flexibility, like scheduling the days and times of their shifts more easily. Although employers typically set the shift times for them, nurses on 12-hour shifts can choose their preferred times because there's less variety and competition for the various shifts. They also commute less because of their extra days off and have more time to complete tasks they usually accomplish during normal business hours on the weekdays, such as visiting banks and doctor's offices.
Job satisfaction
Job satisfaction for nurses depends on how much each nurse enjoys their job duties, work environments and the length of their work shifts. Nurses working eight-hour shifts may experience higher satisfaction if they enjoy their work environment, coworkers and patients. The length of their shift is likely to impact their health, energy levels and overall happiness.
Nurses who work 12-hour shifts may be happier with their jobs because they have certain freedoms, rest days and the potential to form closer bonds with patients. Nurses who work longer shifts may demonstrate better performance and enjoy their work more with fewer shifts and longer hours, as they might stay more motivated and take longer breaks to rest. These factors can increase a nurse's positive feelings toward work, although nurses may perceive their job differently for various reasons.
Tips for choosing 8- or 12-hour nursing shifts
Here are some tips to help you choose between eight- or 12-hour nursing shifts:
Consider your stamina. Good stamina and health can help nurses work longer shifts with more positive outcomes and fewer errors. When determining whether to work longer or shorter shifts, consider the stamina you have to work those hours and your ability to provide quality care throughout your shift.

Think about your lifestyle. Your lifestyle may involve other responsibilities outside of work, such as pursuing an advanced degree or spending time with family and friends. Think about how each type of nursing shift can affect your lifestyle and whether you can use your free time to fulfill other aspects of your life that are important to you.

Understand your skill level. More experienced nurses may have a higher skill level so they might work for longer hours with more success. Assess how your nursing skill level and knowledge of your job duties can influence your ability to work for long periods, then try to choose a type of shift that allows you to perform your best.

Prepare to ask for help. As you adjust to a new shift length, be ready to ask for help if needed to ensure you're providing consistent, quality care to patients. You may ask your colleagues and supervisors for advice on working long hours, for the best time and place to take breaks or for assistance with performing certain duties when necessary.
I hope you find this article helpful.