Medical receptionists are responsible for creating a positive environment in the front office of a healthcare facility. They often interact with patients by answering phone calls, booking appointments and greeting visitors as they enter a medical office. If you're a medical receptionist, reviewing helpful tips to enhance your performance may be useful for you. In this article, we explain what a medical receptionist is and provide several tips to help you succeed in this role.
What is a medical receptionist?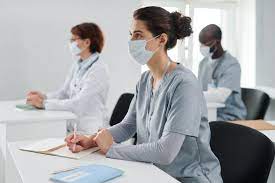 A medical receptionist performs administrative duties to help a healthcare office's operations run smoothly. They can work in a variety of medical facilities, including hospitals, clinics, rehabilitation centers and nursing homes. They often work at the front desk, and they may be the first employee that patients interact with upon entering a medical facility. It's often a medical receptionist's goal to help patients feel comfortable while scheduling an appointment or waiting for their appointment to begin.
What does a medical receptionist do?
Here are the duties that a medical receptionist may complete while working:
Answering phone calls: Medical receptionists often answer phone calls and transfer the caller to the correct department. They may also answer questions or provide information about the facility's operating hours or services.

Communicating with clients: They often greet patients who enter the reception area and ask them about their appointments, like the doctor they're seeing or the service they're requesting. They may also inform clients of insurance information or the facility's policies.

Updating medical records: They update patients' medical records to reflect the most recent treatments, illnesses or changes in their health.

Scheduling appointments: Medical receptionists schedule appointments with patients depending on a healthcare professional's availability.

Maintaining organization: They are responsible for maintaining the organization and cleanliness of a medical facility's front office. They may sanitize furniture and place materials out, like tissues or magazines.
8 tips for working as a medical receptionist
Here are some tips to help you improve your performance as a medical receptionist and provide high-quality assistance to patients and healthcare professionals:
1. Improve your phone etiquette
As a medical receptionist, you may spend a large part of your shift speaking on the phone. You may communicate with patients, insurance providers, health care professionals or administration at your workplace. Having excellent phone etiquette may help you receive a positive response from the individual you're speaking with and allow you to express information clearly. For example, if you use a polite tone while speaking, patients may feel more comfortable while asking questions or booking an appointment.
To improve your phone etiquette, try to open the phone call by greeting the caller and asking them a question that begins a conversation. Try to speak clearly and keep an even pace while speaking. Here are some questions that you may ask the caller:
How may I help you today?

Thank you for calling [office name], how can I assist you today?

How can I best assist you today?
2. Receive feedback from healthcare professionals
Consider asking for feedback from healthcare professionals on your performance to find areas of improvement. Doing so may help you enhance the facility's operations and allow for appointments and medical procedures to run smoothly. For example, a physician might discuss that they need more time in between appointments to record information and review patients' treatment plans. Then, you can keep this information in mind when scheduling appointments with patients.
3. Try to lower wait times
When patients call a medical facility, they may have an emergency or urgent question to ask a healthcare professional. You must try to lower the amount of time that callers wait on hold while trying to contact the facility. If a doctor is unavailable, instead of having a patient wait on hold, take the patient's name, number and reason for calling so that the doctor call them back when they are available. This lowers the number of callers you have on hold, which may allow you to assist more callers.
4. Update your certifications
Some employers may require medical receptionists to have specific certifications, like a CPR certification or a Certified Medical Administrative Assistant (CMAA) certification. It's important to update your certifications so that you can continue updating your knowledge of medical advancements or industry procedures for patient documentation and insurance filing. Be sure to communicate with your employer about updating your certifications since some workplaces cover employees' recertification fees.
Please note that none of the companies mentioned in this article are affiliated with Indeed.
5. Create professional goals
Consider creating professional goals that can help you advance your skills as a medical receptionist. You can create short-term and long-term goals that relate to your role. Setting goals may also help you focus on improving your performance and gaining experience in duties that you want to be more comfortable with, like taking phone calls or scheduling appointments. For example, you might set a short-term goal that involves answering 20 phone calls per day, and you can set a long-term goal that involves implementing a new filing system to increase organization.
6. Create a script
To help you answer common questions and respond quickly to callers, consider creating a general script that you can follow while on the phone. When patients call a medical facility, they may ask standard questions about a physician's availability, the office's location or appointment procedures. Consider writing a script that contains the answers to these questions. You can also include other information that you want to include during a phone call, like if you want to ask a patient about updated medical records or insurance information. Here are examples of lines that you might use in your script:
Hello, [Patient's name], this is [Your name] calling from the medical office of [Doctor's name]. I am calling to remind you of your upcoming appointment on [date] at [time].

Thank you for asking this question about [question topic] please give me one moment while I speak with our physician.

Our office location is at [Address] and our operating hours are [start time] to [end time] on [Days of the week].
7. Try to remember regular patients
Try to remember patients who visit the medical facility regularly. Doing so may show your compassion, care and motivation to provide high-quality customer service. This may also help patients feel more comfortable in a medical setting. Try to remember the first names of patients that you interact with daily or weekly. Consider creating a list of patients that you see often so that you might try to work on remembering their names.
8. Be empathetic
Empathy involves understanding others' emotions and providing support based on their feelings. While communicating with patients, try to have empathy that allows you to understand their feelings and offer encouragement. They may provide you with information about sensitive topics, like illnesses or treatment plans, and it's important that they feel safe and comfortable while sharing details with you.
I hope you find this article helpful.