Art is a field of creative expression that can evoke the senses to form an aesthetic response. Media art is a modern artistic genre that incorporates technology and digital culture, often exploring how these elements affect how people live and interact with others. If you're interested in pursuing a career related to media art, it's important to understand what the field entails and what your options are. In this article, we define media art, provide some examples and discuss some job titles in this field that may interest you.
What is media art?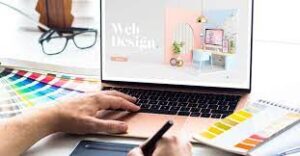 Media art, also known as new media art, is a category of artistic expression that incorporates electronic media and technology. Though precursors to the genre may have existed in the late 19th century, media art began to develop as a distinct mode of expression in the '50s and '60s. Its possibilities expanded in the '90s with the advent of the internet and evolved further in the 21st century as social media grew more widespread.
The definition of media art is constantly changing, as new technologies become available and artists strive to expand the possibilities of the genre. There are some common characteristics of new media artworks, including:
Digital technology: Media art encompasses all works of art made with, altered by or communicated through digital technology. Thus, the genre includes interactive, digital and virtual art, and media artists may use modes of expression such as film, video, audio, video games, computer graphics, animation, robotics or 3D printing.

Digital culture: Media artists often discuss or engage with digital culture in their works. One theme they often address is the effects of social media and entertainment on how we live, communicate and interact with others.

Multimedia: Multimedia refers to the combination of expressive forms and media. Media artists are known to incorporate multiple artistic, digital and physical modes in their works.

Interactivity: Interactivity is the quality of being able to interact directly with a piece of art. A media artist might, for example, use video games or social media to create artwork that allows others to play or socialize digitally as an integral component of the piece.
Examples of media art
Media art is a broad and broadening field of art, so a wide array of artistic creations may belong to the genre. The following are only a few of the forms that media art can take:
Bio art
Bio art refers to the practice of creating artwork with or through biological processes or living organisms such as bacteria and live tissue. Bio artists often incorporate methods or principles stemming from scientific disciplines like biotechnology, genetic engineering and cloning. The simplest example of bio art would be an image created through the manipulation of microbes.
Digital art
Digital art is a broad term that refers to any art created using computer hardware, software or other electronic devices. It encompasses computer-generated illustrations, paintings, videos and animations. Many digital artists, particularly computer animators, apply their talents to the entertainment industry, while many others make their living selling artwork online.
Software art
With software art, the creation or application of software serves an integral role in the production of artwork. A common example of software art is a program or algorithm that can generate artistic images. In some cases, the software itself is so advanced or sophisticated that it, too, can be considered a work of art rather than just the tool with which an artist creates.
Virtual art
Virtual art refers to artworks that immerse viewers in an artistic image or creation, allowing them to interact with it. Virtual artworks commonly use technologies such as virtual reality spectacles, stereoscopic screens, specialized clothes and accessories, 3D sound systems and tactile systems to provide viewers with the illusion of being a part of the artwork. In some cases, virtual artists create virtualized galleries of digital work that viewers can see online or with virtual reality equipment.
8 jobs in media art
The field of media art incorporates skills relating to design, creativity and technical aptitude, which are important qualities in various professions. Here are eight jobs in or related to media art for you to consider. For the most up-to-date salaries, please click on the links below:
1. Photographer
National average salary: $39,642 per year
Primary duties: A photographer is a professional who captures images using a camera. Most photographers are self-employed, although many others work for employers such as photographic services, newspapers, magazines and broadcast networks. Like media art in general, photography requires an understanding of artistic concepts, such as image composition and color theory. The duties of the job include editing images using computer software and selling images to buyers or outlets.
2. Web designer
National average salary: $49,931 per year
Primary duties: A web designer is a technology professional who's responsible for how a website looks. They select visual elements such as fonts, colors, graphics and layouts. They may also create their visual elements by using other artistic media, such as graphic design, photography and painting. They work closely with clients to ensure that the designs they create meet specifications. Other duties include mapping website structure, writing code and testing web pages on various platforms.
3. Freelance media artist
National average salary: $51,265 per year
Primary duties: A freelance media artist is a self-employed professional who creates or communicates works of art through media technologies. They're essentially small business operators who sell their works as goods and their talents as services. Aside from regularly producing work in their preferred modes, they may take on commissions—works specifically requested by patrons. The other duties of freelance media artists vary depending on the practice of the artist, but they generally include setting prices for their works and services, advertising their works and services to potential buyers and patrons and communicating with patrons about the specifications of commissioned work.
4. Multimedia designer
National average salary: $51,696 per year
Primary duties: A multimedia designer is a creative professional responsible for creating engaging content using various media, including but not limited to static images, moving images, sound and text. These professionals often work in graphic design or web design, though it's not uncommon to find multimedia designers in fields such as entertainment, video game development and advertising. The duties of the job commonly include generating ideas for content, performing research relating to a design project and creating digital images, graphics, videos or audio recordings.
5. Digital illustrator
National average salary: $52,036 per year
Primary duties: A digital illustrator is an artistic professional who creates images using computer software. The images they create often convey a feeling, tell a story or help to sell products. Thus, they commonly work in areas such as entertainment, web design, video game design and marketing. To carry out their primary duty of creating digital images, digital illustrators communicate with clients and other artistic professionals to ensure they're capturing the appearance and spirit of an idea or objective.
6. Concept artist
National average salary: $69,796 per year
Primary duties: A concept artist is a design professional who creates traditional or digital illustrations of ideas, particularly for products, characters and settings that don't exist in the real world. They often work in areas such as architecture, advertising, manufacturing, entertainment and video game development. The duties of the job may vary depending on industry and employer, but they typically include discussing concepts with clients to understand specifications and goals, presenting concept illustrations to the clients and working with other professionals to help translate concepts from the page to the intended medium.
7. Videographer
National average salary: $82,869 per year
Primary duties: A videographer is a professional who uses a video or film camera to capture footage. Their work often contributes to projects such as commercials, television programs and movies, and people often hire their services for events occasions such as weddings, promotions and live events. Like photographers, they aim to apply their understanding of image composition and other artistic concepts to the capture of appealing footage. They also establish shots through the use of lighting, edit the footage they capture and adjust the associated audio.
8. Art director
National average salary: $97,270 per year
Primary duties: An art director is a creative professional who's responsible for the overall visual style of a publication, a product or a creative endeavor such as a film or television program. They oversee the work of other creative professionals to ensure they realize the artistic vision of a project. The primary duties of the job include assessing the requirements of a project, determining how to represent ideas through a visual medium, selecting artistic elements to use for the project, managing members of the design staff and reviewing their work.
I hope you find this article helpful.