Companies and individuals alike make numerous challenging financial choices that impact their futures. Opportunity cost is an excellent tool to calculate the benefits and downsides of each side of a choice by assigning a value to both options. By understanding the true financial cost of each outcome, you can make more logical and beneficial decisions.
In this article, we discuss what opportunity cost is, including how to calculate it, when to use it and eight examples of using opportunity cost to make decisions.
Key takeaways:
Opportunity cost is the value of what you forgo when you give up one choice in favor of another.

Businesses can evaluate the opportunity cost of a decision to improve the financial outcome.

Opportunity cost examples involve any scenario requiring the individual or business to determine what value a decision requires them to miss.
What is an opportunity cost?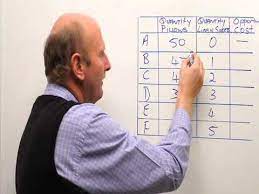 Opportunity cost is the value of what may be lost when making a decision. It involves both implicit and explicit costs. An explicit cost is the time or money choosing one option costs. An implicit cost is typically happiness or satisfaction with the decision costs rather than a tangible effect on you or a company.
An example of opportunity cost might be when you choose between two brands of bread at the grocery store. If you buy one loaf that costs seven cents more than another, that difference of seven cents is the opportunity cost of buying your preferred bread. At a savings of just seven cents, it may not be worth choosing the less expensive brand over your preferred brand.
How to calculate opportunity cost
To calculate opportunity cost, determine the cost for each choice and find the difference. If one is more expensive than the other, you can determine what you might use the additional money for or whether the higher cost was worth the benefits of your choice.
For example, a twenty-count box of basic 13-gallon kitchen trash bags without the drawstring closure costs $2.12, but a twenty-count box of 13-gallon kitchen trash bags with the drawstring closure costs $7.07. The opportunity cost of using a drawstring to close your trash bag is $4.95. But you have to decide how much it's worth not to have to tie your bags by hand. The formula for opportunity cost is:
Opportunity cost = Cost of alternative outcome – cost of chosen outcome
When can you use opportunity cost?
Opportunity cost can be an excellent way to decide how to invest or spend money. It's most useful when reviewing two situations with similar risk and predictable costs. But opportunity cost doesn't typically account for intangibles, such as emotional benefits or time spent. Situations that involve these variables may use opportunity cost as one part of the decision-making process, but you may wish to consider the other effects of your decision in this case.
Examples of opportunity cost
Opportunity cost can be used to make decisions in numerous situations for both businesses and individuals. Sometimes, decisions can involve some intangible benefits or variables, but when someone makes a choice based on financial consequences, opportunity cost can often help find the best solution.
Here are some examples of how to calculate opportunity cost when you consider two options:
Example 1
Below is an example of an organization that wants to add a new location to improve its business:
Fran's Fountain Pens wants to expand and add a new location because their business is doing well. If they rent a storefront on Main Street, the rent is $3,000 per month. A storefront on Maple Street costs $2,500 per month in rent. According to their calculations, they'd attract the same number of customers in either location, so the opportunity cost of renting on Main Street is $500. 
In this situation, Fran's Fountain Pens chooses a storefront on Maple Street to save on costs. If the foot traffic was much heavier on one of the storefront locations, it might have made more sense to go with that location in hopes of a higher sales volume. 
Example 2
Below is an example of someone who's calculating the opportunity cost of two different degrees:
Ray is trying to decide if he wants to study architecture or business. He can attend the same school for both programs, meaning his tuition and living costs are the same. He wants to pursue a bachelor's degree in his chosen area of study so the overall cost of his degree doesn't change. Ray finds his expected earnings in both fields to calculate the opportunity cost. He finds that a career with a bachelor's degree in business earns a salary of $50,000. Comparatively, a bachelor's degree in architecture earns an average of $55,000 per year. 
This means that if Ray studies business, there's an opportunity cost of $5,000 per year for the rest of his working life. If Ray is deciding based solely on salary, he may most likely choose to study architecture. Ray also accounts for his happiness. At an opportunity cost of $5,000 per year, Ray chooses whether he might enjoy a career with a business degree to the same extent he might enjoy a career as an architect.
Example 3
Below is an example of someone calculating the opportunity cost of different savings and investment options:
When Sam turns 21, she receives $1,000 as a gift from her grandmother. She currently earns enough money to pay for her living expenses, so she wants to create an investment with the money from her grandmother. After researching her options, Sam decides to put the money in a high-yield savings account or a certificate of deposit (CD) with her local bank. The high-yield savings account has an annual interest rate of 5%, while the CD is 7%. Sam may calculate her opportunity cost in percentages or dollars to determine the better choice.
If she invests her money in the high-yield savings account, her opportunity cost is $20 ($1,070 – $1,050) or 2% per year (7% – 5%). In this case, Sam should invest her money in the CD if she's certain she can lock it into a CD for a year without needing access to it. If she puts her money into a CD and finds that she needs to access that money before the year is up, she incurs an early withdrawal penalty that could erase the gains of choosing the CD over the savings account. 
Example 4
Below is an example of an organization that wants to start a new product but wants to know the opportunity cost of the decision:
Molly's Mattresses wants to start a new line of mattress toppers. Its factory is currently operating at capacity, so the company has determined it requires an expansion or opening a second factory. After some research, they estimate the cost of building a new factory is $45,000, and the cost of expanding their current factory is $20,000.
If the company expands its current factory, it loses two weeks of production, which costs around $17,000. So, the total cost is $37,000 if it expands its factory. In this situation, the opportunity cost of building a new factory is $8,000 ($45,000 – $37,000). Even with the cost of closing the factory for two weeks, Molly's Mattresses saves money by expanding its factory instead of building a new one.
Example 5
Below is an example of someone who wants to know the opportunity cost of visiting two of their family members:
Gavin wants to spend a year visiting his uncle in Kansas or his cousin in California. He's equally happy to visit either of them, so he has researched the cost of both trips to decide which one he wants to take. If he travels to Kansas, he estimates he might spend about $10,000 for travel and the cost of living. Visiting his cousin in California might cost him $20,000. Working part-time for a year in Kansas allows him to make $13,000, while he makes around $26,000 in California. 
Now, Gavin can calculate the cost of both trips. Because he earns money working with both relatives, he can't simply review the cost of the trips alone. His Kansas trip earns an overall profit of $3,000. In California, he would end the year with $6,000. This means his opportunity cost is $3,000 if he visits his uncle in Kansas. Even though the trip to California costs twice as much, the wages are higher. Gavin's most financially sound decision is to visit his cousin in California.
Example 6
Below is an example of opportunity cost that accounts for other factors beyond the monetary gains and losses:
Sometimes, you consider more than just the money you spend when calculating opportunity cost. For example, suppose you choose to go to a movie with your friends and spend $20 on the tickets and popcorn. You could spend that time working instead, so you include that when calculating the opportunity cost. In this situation, you choose to spend $20 when you might have used that same time to earn $45 by completing work at home. In this case, the opportunity cost is not $20. It's $65 because you've spent $20 and missed out on earning $45.
You might also ask yourself which scenario makes you the happiest. Is a movie with your friends worth the $65 cost?
Example 7
Below is an example of an organization using opportunity cost to decide between developing a current employee or hiring a new one for the same task:
A company wants to decide between hiring a part-time employee to run a social media campaign or sending a current employee to a seminar on social media. If the seminar costs $500 and a raise for the current employee's expanded responsibilities costs an extra $6,000 annually, they might estimate the cost of one outcome as $6,500.
The company knows it costs $2,000 to hire and train a new employee and that new employees receive $15,600 annually. The opportunity cost of hiring a new employee is $9,100. Therefore, the cost-efficient choice is to train the current employee and offer a raise. Training an existing, reliable employee also has intangible benefits because you never know what type of employee a new hire may turn out to be.
Example 8
Below is an example of an organization that calculates the opportunity cost of two possible upgrades to its systems:
A company decides between two new computers. If both computers perform at the same level, the company simply calculates the difference in cost to find the opportunity cost. If one laptop costs $299 and the other costs $339, the opportunity cost is simply $299 subtracted from $339. So, purchasing the more expensive laptop leads to an opportunity cost of $40. Before purchasing the $299 laptop, the company considers the durability rating of each. While both computers may perform at the same level, one may be more durable to withstand employee use.
I hope you find this article helpful.