If you're considering going to pharmacy school, there are some specific requirements for gaining entry into any pharmacy program. It's important to understand these basic requirements. This can help you better prepare for a career as a pharmacist and to take the first step in your journey.
In this article, we explain the basic pharmacy school requirements so you know how to prepare for your new career path.
8 pharmacy school requirements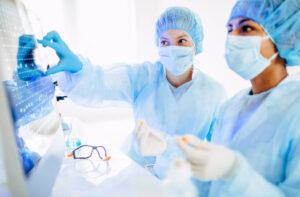 There are several key pharmacy school requirements to consider before you start your career path. These eight steps can help you fulfill those requirements to work toward a pharmacy degree in the most efficient way possible:
1. Complete prerequisite courses
Much like other healthcare programs, there are certain courses to complete before graduation from high school. Pharmacy is a field that requires extensive knowledge of science and math. Some main prerequisite courses include chemistry, biology, physics, mathematics and statistics. The specific courses needed vary from school to school. It's a good idea to research different pharmacy programs so you know what to expect. Ask other pharmacy students what they recommend, or ask a school advisor for guidance on proper courses.
2. Meet undergraduate requirements
The path to obtaining a Doctor of Pharmacy degree differs from that of other medical pursuits. Completion of a bachelor's degree is not required before applying to a pharmacy school, but you likely need at least two years of undergraduate study before you submit your application. The majority of students have at least three years of college completed.
Some schools have programs called "0-6 programs" that accept students upon high school graduation. You can earn your undergraduate and pharmacy degrees within six years this way. Only a certain number of institutions offer this option, so it's important to know and meet your program's specific requirements.
3. Gain experience working with patients
The candidate pool for such programs is typically very competitive, consider volunteering or obtaining an entry-level medical job that provides you with direct patient experience. This experience can help improve your resume and show that you immersed yourself in the industry. Check with your local pharmacies or hospitals to see which opportunities are available to you. Working at a pharmacy provides a realistic view of how it operates. You may even consider a few different pharmacy settings so you can compare which ones you like the best.
4. Job-shadow pharmacists
A great way to get hands-on experience is to job shadow a professional. You want to become a pharmacist, so shadowing one may help you understand what it takes to enter the industry and what your daily duties might be. This differs from having a job at a pharmacy because it means you can focus solely on the pharmacist's role and watch how they work. You learn how to handle specific situations and make important decisions. These can become important skills later because you learned them directly from experience and not in a classroom.
5. Acquire letters of recommendation
Part of the application process includes obtaining letters of recommendation. At least three letters are typically a good number, but it's a good idea to check with your college to be sure. These are critical components of your application as they support your ability to achieve success in graduate school and lend credibility to any skills you profess to have. You might ask professors, colleagues or the pharmacist you shadowed or apprenticed for a letter of recommendation. Typically, pharmacy programs require letters from professionals, not family or friends.
6. Take the Pharmacy College Admissions Test (PCAT)
The PCAT is required for admission to pharmacy school. It's an exam that determines your proficiency in pharmaceutical sciences, patient care and medical ethics. Research the websites of the schools you're targeting for an idea of acceptable test scores and minimum GPA requirements. Research test-taking tips and study ahead of time for a better chance at a passing score. You have five chances to pass the test before there are restrictions placed on your registration. Here are a few tips for success:
Understand the four sections of the test. The PCAT is a four-hour test that includes four sections: chemistry, biology, reading comprehension and quantitative ability. Make a plan to devote time to studying each section.

Finish coursework. Because much of the test includes material related to the prerequisite courses for pharmacy school, ensure you've completed those courses to gain the required knowledge.

Review study guides. Many online resources can help you study for the PCAT. Some are free and some cost money, but all of them can help you achieve a better test score.

Focus on hard material. Some areas of the test may be more difficult than others, preparing for them ahead of time may help you work through those sections more easily. Devoting the majority of your study time to those harder areas might help increase your score.

Develop great study habits. Make a simple plan to study consistently, such as taking an hour each day to review prep materials. You can contact some of your fellow students for a study session to increase effectiveness.

Give yourself ample time. Start preparing for your exam well ahead of time to ensure you can achieve the level of preparation necessary to succeed. Get plenty of sleep the night before the exam to be refreshed and ready.
7. Submit your pharmacy school application
There isn't a standard pharmacy application, although most schools refer to the PharmCAS application. The application period opens in mid-July every year, so watch for the specific deadlines that allow you to start school when you're ready. Here are the important components of your application:
PharmCAS application form

Your statement

Letters of recommendation (at least a month before the deadline)

Academic experiences and achievements

High school and/or college transcripts

Your PCAT score
Once you've submitted the appropriate documentation to support your interest in the pharmacy program, you can wait for a response.
8. Complete assessment interview
Someone might contact you shortly after submitting your application, or up to several weeks later. Ensure you're ready to respond and accept the invitation for an interview. Just like a job interview, preparing ahead of time can give you an advantage. Practice what you might say with a friend and pick out a professional outfit to wear the day before your interview. Here are some examples of questions you might hear:
What inspired you to become a pharmacist?

Do you have any family members who are doctors or pharmacists?

Why have you chosen our pharmacy program over other programs?

Why do you deserve a spot in our program?

Are you mentally and physically prepared to take on the rigorous demands of our program?

How do you spend your free time outside of school?

Do you follow the most recent industry trends? What have you noticed lately?
I hope you find this article helpful.