Most aviation-related jobs require certifications because of the highly specific skill sets that the respective professionals need to have. Regardless of the aviation-related role you're after, earning an appropriate certification can significantly improve the odds of you finding a job. Knowing what some of the most popular aviation certifications are is a good place to start and you can do it by researching the subject. In this article, we discuss what an aviation certification is and list eight professional certifications for aviation-related professions.
What is an aviation certification?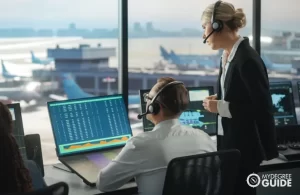 An aviation certification is a permit that certifies that an individual is properly qualified to practice a specific aviation-related role. These certifications refer to specific roles within the aviation industry, like flying various types of aircraft, monitoring and repairing aircraft systems and managing flight departments and businesses that use aircraft. Aviation-related certifications act as proof that the person holding them can perform the respective role at the required standards and are therefore usually required for job candidates.
8 professional certifications for aviation-related professions
Consider these eight certifications for various aviation-related roles:
1. Certified aviation manager (CAM)
Earning a Certified aviation manager certification is proof that you're capable of managing and organizing private and commercial airports and airlines. Some of the most popular jobs for those who earn the CAM certificate are maintenance manager, operation director, aviation director and other roles that require the certified professional to act as a link between airports and airlines. The National Business Aviation Association (NBAA) offers this certification and the exam consists of five subjects: technical and facilities services, personnel management, business management, operations and leadership. Candidates who pass the exam need to renew their certification every three years.2. Aircraft electronics technician (AET)
The aircraft electronics technician certification demonstrates the knowledge base required to work as an advanced aerospace technician, as well as the integrity, safety and professionalism standards expected in such a role. Earning the certificate shows that you possess skills like fundamentals of equipment maintenance, common maintenance practices, basic electronic facts, terminology and principles and basic aircraft fundamentals. The National Center for Aircraft Technician Training (NCATT) offers the certification and the exam is open to all individuals, regardless of their level of education, training and experience. The written exam is administered in person at a testing site.
3. Certified aerospace technician core
The certified aerospace technician core certificate is an entry-level certification that demonstrates general knowledge in aerospace, basic electricity, test and measurements, materials and processes, applied mechanics and aerospace safety. Eligible candidates must meet one of four criteria that show their relevant experience and knowledge. The exam has six subject areas and if a candidate scores less than 70% in one or two of them they then have to also pass an oral exam. If the score is less than 70% in more than two subject areas, the candidate has to retake the certification exam.
4. Private pilot
The private pilot certificate is the most popular of the available pilot certifications. Most private pilots can fly any single-engine land airplane if they also have the necessary ratings and endorsements for specific types of aircraft that fall under that category. A private pilot is not allowed to fly for any commercial purpose or receive compensation for their services as a pilot. The certification process involves passing a written knowledge test administered by the Federal Aviation Administration and a practical three-hour flight test. Successful candidates must also have an appropriate medical certificate and 40 hours of logged flight time.
5. Air traffic controller
Air traffic controllers coordinate air traffic in airports, monitoring arriving and departing plains and guiding their pilots during various maneuvers. The Federal Aviation Administration handles the certification process and eligible candidates need to complete an FAA academy training course by the age of 31, pass medical and background checks, and be U.S. citizens. Candidates need to complete an approved air traffic collegiate training initiative (AT-CTI) before being eligible to take the Air Traffic Selection and Training exam. They can then apply for air traffic controller jobs and later complete their training at the FAA Academy.
6. Airframe and Powerplant (A&P) mechanic
Earning an airframe and power plant certification shows that you have the knowledge and skills to inspect, maintain and repair various types of aircraft, such as general aviation aircraft, helicopters, antique aircraft and any other type approved by the FAA. Candidates specialize in either a particular type of aircraft or in a certain part of an aircraft's operating system, such as the electrical or hydraulic part. Eligible candidates need to graduate from an FAA-approved school, complete the Joint Service Aviation Maintenance Technician Certification Council (JSAMTCC) training course or work in a relevant position for at least 18 months.
7. Unmanned aircraft systems (UAS) maintenance technician
UAS maintenance technicians maintain and repair components of unmanned aircraft systems, including unmanned aerial vehicles and ground control stations. They also know data transmission between vehicles and satellites and how computer networks help unmanned aircraft systems remain functional. Eligible students need to have the Airframe and Powerplant (A&P) certification. Most successful candidates become drone pilots, after passing an FAA-approved test that shows their theoretical and practical knowledge.
8. Certified flight instructor (CFI)
Flight instructors teach others how to operate various types of aircraft. Certifications in the field can refer to teaching others how to pilot single-engine aircraft, or multi-engine aircraft or teaching them instrument flying rules, which are sets of regulations regarding all aspects of civil aviation aircraft operations. The main eligibility requirement is holding a commercial pilot license and applicants must pass two written exams regarding general aviation fundamentals and specific knowledge regarding the category of aircraft they want to specialize in.
I hope you find this article helpful.