It's likely that you may encounter negotiations in your personal and professional life. During a negotiation, it's important to know which questions you can ask to find a compromise that suits both parties. Understanding how to negotiate properly may help you create agreements that benefit everyone involved. In this article, we discuss eight questions that you can ask during a negotiation to ensure that the agreement meets the provisions of you and the other party.
Why is it important to develop negotiating skills?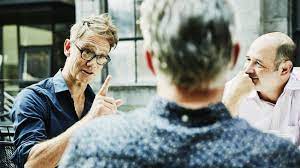 Here are several reasons why it's important to develop negotiating skills:
Resolve conflict: Negotiating skills help you resolve conflict with others. These skills may help you see the other individual's perspective of the argument and express your opinions in a constructive way.

Find a mutual agreement: If both parties can't decide on an agreement, negotiating skills may help you change your expectations so that you can find a compromise that works in the favor of both individuals.

Improve patience: Having excellent negotiating skills may increase your level of patience for others since you can take the time to understand their side and work through steps to find a compromise.

Build healthy relationships: Negotiating skills can lead to building healthy relationships since both parties can express their opinions and find positive compromise. Individuals who use negotiation skills may feel more open to communicating their ideas and feelings with others.

Avoid future conflict: Negotiating skills may help you avoid future conflicts by using healthy communication to identify potential issues and solve problems using compromise.
8 questions to ask during negotiations
Negotiations are common in the workplace, among family members, and between friends. Here are several questions that you may ask during a negotiation to better understand the other party's perspective and foster healthy communication:
1. Why do you feel this way about the situation?
It's important to understand the other individual's feelings about a situation. Asking this question can give you insight into their experiences and preferences regarding the situation that involves the negotiation. Once you understand their position, you can understand the areas that you may find a valuable compromise. For example, if a sales associate negotiates a price with a customer, the customer may ask the associate why a specific product is a certain price. By asking this, they can understand why the sales associate priced the product that way and what benefits the product offers.
2. Are you willing to find a compromise?
This question allows you to gain insight into the extent of the other parties' willingness to compromise. If they are willing to offer a large amount of compromise, you may negotiate more easily. If they are unable to compromise, though, then you may find that it's more challenging to come to a decision that's mutually beneficial for both parties.
3. What are your suggestions for a compromise?
By asking this, you can brainstorm ideas for compromise and determine which idea is best. Asking them for their compromise also allows them to have some level of control over the negotiations. This may allow them to feel more confident in coming to an agreement or signing a contract with you.
4. What aspects of this negotiation are most important to you?
The other party may have specific aspects of the negotiation that are most important to them. It's important to understand their priorities in the negotiation and which elements they are unwilling to compromise on. For example, if a job applicant is negotiating a job offer, they may prioritize the hours they work and their rate of pay, which means they may negotiate with their employer until they come to an agreement that works. It's important that the employer ask the applicant which aspects of the job offer are most important to them so that they understand which factors to negotiate.
5. What specific provisions are significant?
It's useful to understand the other party's specific provisions that are essential for them to make an agreement. Upon learning their provisions, you can adjust your own provisions, share your ideas, and create a strategy that's based on both of your important provisions. Understanding their provisions may help them feel supported, which can help you negotiate more easily.
6. Are you facing any challenges with my provisions?
After giving them your provisions, ask them if there are specific provisions that they find challenging to accept. This allows you to understand which specific areas of your agreement the other party may have issues with. Upon learning their challenges, you may adjust your provisions to better suit their needs, or you can find a new compromise that helps both parties feel comfortable with the agreement. Try asking them why they feel hesitant to accept your provisions and ask them if they have ideas for provisions that you both can agree upon.
7. Can you provide documentation of your position?
If you're negotiating a contract or written agreement, it's important to have proof that validates the other party's position. It may be useful to request written proof of their position before signing a contract or agreeing to specific terms. Ensure that they provide thorough details of their provisions and information about the agreement.
8. Are there any other parts of the agreement that are important for me to know?
Before making a decision and coming to an agreement, it's essential to have all information about the negotiation. Asking this question ensures that the other party informs you of all relevant information so that you can make a well-informed decision. It's also a good idea to provide the other party with any other details about your provisions.
Tips for Effective Negotiation
Here are some tips to keep in mind to help you conduct an effective negotiation:
Remain open to compromise
Throughout a negotiation, it's important to remain open to compromise. It's important to understand that compromise comes from a mutual agreement, so be sure to remain open-minded to different negotiation ideas. To open yourself up to compromise, try brainstorming ideas with the other party for an agreement that you both find fitting. Brainstorming ideas together may help both parties feel more willing to determine a mutual agreement since it keeps both parties in control of the negotiations.
Understand their side
In order to avoid conflict and allow for healthier communication, try to understand their side of the negotiations. To do this, ask detailed questions about their provisions to gain insight into their reasoning. For example, if the other party requires a specific provision that they're unwilling to compromise on, ask them why they require that provision and how they may fit that provision into your agreement.
Take breaks
While negotiating, it may be helpful to take breaks periodically so that both parties feel refreshed. Taking breaks may also minimize the chance of feeling overwhelmed throughout negotiations. Try creating a negotiation schedule that both parties can stick to. For example, if a company is creating a contract with a client, they may meet with the client each day for an hour until they come to an agreement.
I hope you find this article helpful.