If you're looking for a rewarding job where you get to work with children, becoming a preschool teacher can be a great option. Preschool teachers use their creativity, compassion, and patience to teach young children and prepare them to succeed in elementary school. Learning about what a preschool teacher does and the advantages of this career can help you decide if it's the right job for you.
In this article, we explain what preschool teachers are, their valuable skills, eight reasons to become one and their salary.
What is a preschool teacher?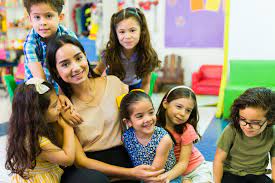 A preschool teacher is an educator who specializes in working with children who haven't started their grade school education yet. Many of these teachers can find roles in public, private, Montessori and faith-based schools and daycare centers. Preschool teachers typically work with children between infancy and five years of age. They help young children work toward meeting their developmental milestones while also establishing the foundation for their academics.
Preschool-aged children learn important skills related to their physical, social, emotional and academic development, which means preschool teachers have the important job of giving their students a strong academic foundation. Preschool students gain skills that help them transition successfully into elementary school.
What skills do preschool teachers need?
Here's a list of important skills for preschool teachers to have and develop:
Patience
Preschool teachers often need patience to work well with young children. Patience involves allowing children to take the time they need to learn. For example, allowing children to try things for themselves without feeling pressured or rushed is important for helping them learn new skills and improve their self-confidence.
Additionally, having patience and empathy for children struggling to control their feelings allows teachers to guide them carefully through managing their emotions. For example, an excited child may talk excessively or have trouble sitting still. Teachers show patience while reminding their students of classroom expectations so they can calm themselves.
Communication
Good communication is an important skill for teachers to develop. Children have different communication needs than adults. They often need clear and specific instructions to follow, and because they're still developing their ability to communicate, it's important for teachers to role model their expectations.
In addition to communicating effectively with students, preschool teachers also communicate with the family members of their students. They update students' family members about their progress and classroom behavior and work with them to help students meet their goals.
Planning
Teachers plan lessons and schedule their workdays to help students meet their academic and developmental objectives. Good planning allows teachers to create lessons that keep students engaged while helping them learn key concepts. When planning lessons, teachers determine what concepts students will learn, skills they'll practice and materials they'll need. Preparing and organizing lessons makes them easier to deliver while helping teachers monitor student progress toward the educational objectives.
8 reasons to be a preschool teacher
Being an early childhood educator can be a great job for those who love working with young children. If you're considering a career in this profession, here are some reasons to become a preschool teacher:
1. Active and hands-on career
Being a preschool teacher can be a great option if you prefer a job where you're active and on your feet for most of the workday. Teachers spend time playing with preschool children, escorting them between activities, cleaning up with them and standing while delivering lessons. Since many preschools emphasize learning through play, teachers get to be hands-on while enjoying time with their students. They may make art with students, build with blocks, perform simple science experiments, play on the playground and facilitate classroom games that keep kids engaged while teaching life skills and academic lessons.
2. Allows creative expression
For those who enjoy being creative in the workplace, being a preschool teacher allows many opportunities for creative expression. Doing art projects and crafts with students is a great way to encourage their creativity, help them develop fine motor skills, learn about sharing materials and improve their problem-solving skills. Crafts help students learn to follow directions by having them complete the project step-by-step.
In addition to choosing art projects for students, preschool teachers can use creativity to arrange and decorate their classrooms. Teachers can also be creative with planning lessons that keep students engaged.
3. Fulfilling and rewarding work
Working with children can be a rewarding career. Watching students grow, learn new things and become more confident over the school year can be emotionally fulfilling. Teachers spend many hours a day working with their students.
They spend a lot of time getting to know their students as individuals, which allows them to appreciate their students for their strengths, weaknesses and unique personalities. If you love working with kids, being a preschool teacher can be fulfilling as you watch the students in your class gain new skills and develop a strong academic foundation.
4. Flexible scheduling and good work-life balance
There are many different types of preschools, so you may have options to choose a school with a schedule that aligns with yours. While some schools operate for a full school day, others may have half-day programs.
Working for a half-day preschool can be a great option if you have other obligations, such as caring for your family. This allows you to balance your personal and work lives while working a job you love. Additionally, many preschools have after-school care programs, which can be convenient if you have kids of your own who need supervision until you finish work.
5. Minimal entry-level requirements
Preschool teachers can qualify for their roles with an associate or bachelor's degree in early childhood education or a related degree. It takes an average of four years to earn a bachelor's degree and two years to complete an associate degree. In addition to these requirements, most states require preschool teachers to become licensed or certified by passing an exam.
These requirements ensure that preschool teachers understand the basics of child development and teaching so they can provide a high-quality education for their students. Earning a two-year degree can make it quick and easy to start your teaching career.
6. Encourages personal growth
Preschool teachers can learn a lot about themselves from their time in the classroom. Through their interactions with their students, teachers can learn new things about their appreciation for working with young children and what preschoolers need to grow. Since each child has unique needs, preschool teachers continuously learn new things about their students and new ways of working with each child.
Additionally, they must often pursue professional development and training opportunities to maintain their credentials. For those who love learning new things and applying their creativity every day, a preschool teacher career can be a great option.7. Positive job outlook and advancement opportunities
According to data from the U.S. Bureau of Labor Statistics, the job outlook for preschool teachers is likely to increase by 15% from 2021 to 2031. This increase may reflect the growing demand for early childhood education services and a greater need for child care during the day as many parents work outside the home.
8. Opportunity to become a lifelong role model
Some individuals pursue a career as a preschool teacher because it allows them to have a positive impact and become mentors or role models. Preschool is a time for children to develop social and emotional skills and practice them with their peers. Teachers have the opportunity to create a positive environment that fosters support, friendship and community. You may also be a central role model in a student's life, contributing to a young child's personal and academic development.
What is the average salary for preschool teachers?
Preschool teachers earn an average salary of $46,913 per year. This average salary can vary depending on your geographic location, employment setting, level of education and years of experience.
For example, a preschool teacher working in a private center may earn more than one working in a public or part-time facility. Additionally, some preschool teachers can earn more if they work in a specialty. Preschool teachers with advanced credentials that qualify them to work with special populations, such as students with learning disabilities, may earn more because of their additional specialty.
I hope you find this article helpful.