A career in recruitment can be a fulfilling choice for individuals interested in talent acquisition, client services and career development. Recruiters may find opportunities as regular, full-time employees with a single organization or may tend to a portfolio of clients to fulfill their hiring needs. Understanding the benefits of a career in recruitment can help you determine if this career is right for you. In this article, we define recruitment and offer a list of eight reasons to pursue a career in recruitment.
What is recruitment?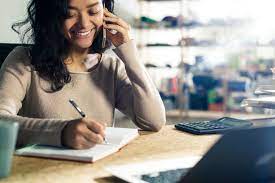 Recruitment refers to the overall process of identifying, selecting, interviewing and hiring candidates for an open position. Careers in recruitment may include in-house positions, but typically, recruiters work on a consulting basis to fulfill their clients' hiring needs. They may work independently as recruitment contractors or as part of a recruiting agency. Recruiters often have advanced knowledge of talent acquisition, screening and interview practices and the hiring process. Recruiters may work closely with their clients to understand their desired candidate qualifications and requirements before beginning the recruitment process.
Why choose a career in recruitment?
Understanding the benefits of a career in recruitment can help you determine whether this profession is right for you. A career in recruitment can offer many benefits, including:
1. Career development
A career in recruitment can provide you with valuable opportunities to develop skills that could contribute to your professional growth. Skills like communication, critical thinking and organization could apply to future positions and help you advance your career in the industry. Often, recruitment agencies choose to promote their employees internally, instead of seeking external employees to fill management and leadership positions. Developing your skills and gaining experience as a recruiter could increase your chances of internal career advancement.
2. Entrepreneurial opportunities
There are many aspects of working as a recruiter that can prepare you for starting your own recruiting business. Many recruitment tasks require self-management, organization and managing a portfolio of clients. All these skills could prepare you to offer your recruitment services as an independent contractor, providing an exciting entrepreneurial opportunity.
Additionally, the nature of recruitment often provides you with flexibility in your workday. This flexibility can provide you with a greater sense of work/life balance, increased productivity and time to pursue other professional and personal ventures.
3. Earning potential
The earning potential of a career in recruitment is another notable reason to pursue this profession. The national average salary for recruitment specialists is $52,874 per year. Recruitment specialists are often entry-level positions, making the earning potential for management and senior-level recruiters even more impressive. The national average salary for recruitment managers is $68,441 per year.
If you decide to begin your own recruitment business or offer your recruiting services as an independent contractor, your earning potential may be even greater depending on your entrepreneurial methods, range of clients and size of portfolio.
4. Diversity of tasks
The variety of tasks associated with recruitment professions is another benefit of this career choice. Your daily tasks as a recruiter may vary, depending on your current clients, the size of the portfolio and the stages of the hiring process. This diversity of tasks can help you maintain engagement with your work, remain motivated and contribute to your fulfillment and emotional satisfaction at work. Common tasks recruitment professionals may complete daily include:
Identify current and future hiring needs

Source candidates through databases, networking sites and social media platforms

Screen candidates through primary calls and assessments

Discuss interview dates and times with hiring managers

Perform employment verification checks

Discuss roles and job descriptions with candidates

Post and update job advertisements
5. Innovation
The technology used for recruitment efforts continues to evolve and update. Social and professional networking sites, as well as candidate databases, have become valuable recruitment tools. Working as a recruiter can allow you interesting opportunities to use new, innovative methods to match candidates with your clients. Messaging systems and video call services have also made interviewing and screening candidates easier, regardless of their location. This can help you source candidates from a wide range of applicants by considering remote candidates or candidates willing to relocate for the position.
6. Friendly competition
The recruitment industry can be a competitive field. Many recruiters may feel this friendly competition is a powerful motivator to complete their tasks and fulfill their client's expectations. Competition can also encourage you to continually reflect on your performance, update your methods and learn from others in your field. Doing so can help you reach your fullest potential as a recruiter, provide new opportunities and contribute to your overall success in this industry.
7. Positively impact others
As a recruiter, you may have the opportunity to make a positive impact on the lives of others. For your clients, you can help them select and hire qualified candidates who can add value to their organization. For your candidates, you can help pair them with positions and employers where they'll succeed, feel valued and enjoy professional fulfillment. Contributing to the happiness and success of others can help you feel more fulfilled and emotionally satisfied with your career and could contribute to your productivity, success and wellbeing.
8. Employee benefits
Another notable benefit of pursuing a career as a recruiter is the benefits you may receive in this career. If you're employed with a recruitment agency, you may enjoy full-time benefits from your employer. This could include health insurance, dental and vision insurance, employer-contributed retirement and savings plans, paid time off, and paid holidays. If you decide to pursue an independent career as a contractual recruiter, you can also include these benefits in your contractual agreements. For example, if you have a client with several or long-term hiring needs, you may request to enroll in their employee benefits programs.
I hope you find this article helpful.