Search engine optimization (SEO) is a strategy implemented to increase the visibility of a website on the search engine results page (SERP). It's important to consider SEO as part of your marketing strategy because the higher a website is on the SERP, the more clicks and traffic there can be on your site. Understanding the type of certifications available for SEO can help you decide which one is right for you to pursue. In this article, we discuss eight SEO certifications that can be beneficial to your career and a few tips to use for choosing the right certification for you.
8 SEO certifications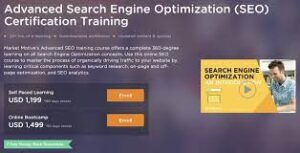 Here's a list of eight SEO certifications that can help you improve your skills and further your professional growth:
1. Hubspot SEO Certification
Hubspot offers two free SEO Certification Courses in SEO. The first is meant to be a course for beginners and covers all SEO basics: How search engines work, on-page, keyword research, link building and reporting, giving a good starting point for those starting in an SEO role.
Users can take this course for free and have access to seven lessons with five quizzes and 26 videos. Completing the course can take around four hours. It gives a comprehensive overview of topics ranging from social media promotion, lead nurturing and inbound marketing fundamentals.
The second, SEO II, covers more in-depth topics for those who have some experience in the field: Page Experience, Core Web Vitals, SEO Migrations and more.
2. Blue Array Technical SEO Certification
Blue Array is a well-known British SEO agency and they offer several online courses in SEO, including a free Technical SEO Certification. The course has 14 modules and over seven hours of content spread over 70 videos. The course curriculum includes topics such as crawling, schema, on-page, images, security, tools, how to carry out a technical audit and more. They also offer an SEO Manager Certification, eCommerce and an SEO Summer School.
3. SEO fundamentals course
Semrush offers a free, in-depth course in SEO fundamentals curated by Greg Gifford, an experienced SEO consultant, useful for those new to SEO. The course comprises eight modules with 31 lessons in four hours teaching the basics and technical skills of SEO, website and mobile device SEO optimization, international and local SEO practices and how to apply link building properly. Linking building is applying several related internal links to a single webpage or article. Search engine basics, technical SEO, link signals, on-page signals, SEO for mobile, other ranking signals, international SEO and local SEO are the titles of the eight modules.
4. Moz SEO Essentials certificate
The Moz SEO Essentials certificate requires a registration payment of $595 to access the six hours of course content. The six hours of course content comprise videos to view and five exams to pass. Within the course, professionals can learn the essential details of SEO and gain the knowledge they can use to apply to their SEO campaigns effectively. Topics of the course can include SEO fundamentals, how to develop keyword strategies, how to optimize webpages for the SERP, how to use link building properly and how to use reports from analytics of webpages.
5. Directive Institute
Directive Consulting offers an SEO certificate course with its Directive Institute program. It's a digital marketing course directed at an array of professionals, such as those just starting in marketing and wanting to advance their skill set, business owners, students and in-house and agency marketers. The course teaches how to develop marketing skills and ways you can apply them to real-life situations. It comprises theoretical instructions combined with exercises to complete using what they just learned.
The course is broken down into four modules, including SEO, PPC, CRO and Analytics. The SEO module has ten lessons created for beginners and experts to advance their SEO and marketing skills for an enrollment fee of $99/month. Students can choose to complete four lessons for free before paying for the whole course.
6. Clickminded SEO training
The company Clickminded offers an SEO training course for certification created for startups, agencies, entrepreneurs and students. Within the training, the course introduces the essential SEO tools, how SEO works, and how to implement what the course teaches to SEO strategy. Additionally, the company offers training in paid advertising, content marketing, email marketing, web analytics, social media and sales funnels. Clickminded designed the course for those just beginning their learning in the technical skills of SEO. The program costs $997 for only SEO training. To add the additional training costs $1,997.
7. Yoast Academy
Yoast Academy is an SEO certification program offered to professionals by the Yoast company, well-known for its WordPress plugin. The courses are sold in one package of $99/year and give access to all Yoast Academy and its 15 courses covering topics such as all-around training, international SEO, keyword research, e-commerce, local, structured data, copywriting and several specific WordPress training. A few courses for beginners, covering SEO, WordPress, structured data and webinars are available for free.
8. Advanced search engine optimization certification training
Market Motive offers an advanced SEO certification training program to help marketing professionals master their skill sets. The course teaches how to attract traffic to a site organically by explaining how to conduct keyword research, SEO analytics and website optimization. Marketers can set their schedule for taking the course or enroll in the boot camp format, and it comprises over 30 hours of videos, over 15 hours of live instruction videos and 20 projects that relate to real-life marketing circumstances. To take the self-paced course costs $599. The online boot camp course costs $999.
Tips for choosing the right certification
Here are some tips to help you choose the right certification course for you and your career:
Understanding your goal: Before choosing to pursue a certification course, paid or free, write a list of goals you want to achieve from the courses. Understanding what you want to learn can help you narrow down your search and pick the one right for you.

Figuring out who is paying for the course: Some employers encourage their employees to take courses to expand their professional development and provide them with reimbursement. If your employer doesn't, make a financial plan on how you're going to pay for the courses or if you want to take ones that are free.

Planning to advance your career: If you want to advance your career by taking a certification course, research the ones that can help you gain the skills needed to move up. This can help you refine skills you already have, gain the necessary skills, and learn more about your industry.
I hope you find this article helpful.