As a company's digital reach expands, it can take advantage of various digital channels and platforms to advertise to consumers. Depending on your business or company size, some digital channels may be more successful than others. Knowing which to use can help you in your professional career in the marketing and advertising industry.
In this article, we explain what digital marketing channels are and explore a list of nine top digital marketing channels that can help you grow in your marketing career.
What are digital marketing channels?
Digital marketing channels are online platforms and placement opportunities that companies and businesses can use to reach consumers and advertise a brand, product, or service. You can use marketing channels to connect with your existing client base or capture new customers within your target audience. Aside from traditional television, radio, and print advertising, these marketing channels offer you a way to connect with a large audience of consumers.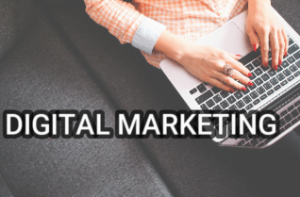 Factors to consider when choosing a digital marketing channel
Here are six factors to consider when choosing which digital marketing channel to use for your business, company or advertising campaign:
Budget: The costs associated with various digital marketing channels vary, from free options to ones with fees, so your budget is an important factor to weigh when choosing which channels to use for your campaign.

Aim: Your goal is one of the top considerations in choosing a digital marketing channel that can deliver results, like whether you want to increase brand awareness, conversion rates, revenue percentages, lead generation or return on investment.

Competitors: Consider researching which channels your competitors use and whether you want to compete on the same digital marketing channel or via another one.

Audience: Review your buyer personas and existing customer base to learn which platforms they use most and where they are active. This can help you select an option that lets you engage more with your target audience and craft content they will connect with.

Integration: A smooth integration from one digital marketing platform to another, like email links to a website, can help improve the likelihood of success in your marketing campaigns. Consider using marketing channels that offer this feature for a great customer user experience and higher conversion opportunities.

Features: Depending on your marketing needs and company size, some functionality and features of a digital marketing channel may not be necessary for your goal or advertising campaign. Compare and contrast the options to decide which one has the features you need to meet your specific goal.
9 effective marketing channels in the digital space
Here are nine effective digital marketing channels to consider for your marketing career:
1. Websites
A company website is one of the most important digital marketing tools a business can have, regardless of its size, as it serves as your main content marketing source. Your website is a dedicated platform to showcase your goods and educate customers about them. Using content marketing effectively on your primary website requires a firm understanding of your target audience, buyer personas, and online marketing strategy.
Your website can feature videos, images, infographics, customer testimonials, and more, and you can cross-promote content by including your website link in email marketing and on social media accounts. A website digital marketing channel offers two key benefits:
Increasing organic traffic: Organic traffic happens most with websites, where consumers search for a product, service, or goods and click on a website link. You can grab their attention with quality design, relevant information, and insightful content that encourages a customer to learn more or make a purchase.

Generating leads: When consumers visit a website, it implies they are interested in learning more about your brand, product, or service and are potential leads for new customer acquisition.
2. Banner ad
A banner ad, or display ad, is a digital marketing channel you can use on your own website or other websites, within emails, on social media platforms and mobile apps, or with other online ad placement opportunities. A banner or display ad allows you to share images, audio, video or copy that inspires, encourages, and drives your customer base to engage with your brand.
You can increase your brand awareness and drive sales and conversion rates through banner and display ads by targeting and tracking users. For example, if a consumer visits your website but doesn't make an initial purchase, cookies allow you to share another display ad later on to target the customer again. Two key ways to use banner ads include:
Showing off your unique selling position (USP). Tell customers what your company offers that can help them and differ from your competitors. Whether that's your price, value, brand recognition, or level of customer service, highlighting your unique offering can compel them to choose you over someone else.

Using call-to-action (CTA) phrases with the customer in mind. Use a CTA to encourage a customer to act immediately to take advantage of what you have to offer. Focus on the needs of the customer and include a CTA button like "act now" or "click here."
3. Email
Email digital marketing is a versatile advertising channel that can have a high return on investment, particularly now that many consumers likely use email through their mobile devices. With continued advances in personalization, customization, and consumer reach, this low-cost method can generate leads and increase revenue. You can use market research to find out how often your customer base wants to hear from you, what creative email subject lines generate more email opens and which email design layout and language generate more sales. Email digital marketing allows you to:
Create brand awareness and grow your customer base: You can create content tailored to readers that further showcases your brand, product, or services in a way that encourages a consumer to convert to a buying customer.

Nurture potential customer leads: You can continue to create trust, brand recognition, and lead conversion through your email deployment and campaign strategies. Sending a series of emails to convert a customer is still a small cost compared to the potential gain you can make in creating a new repeat customer for your business.
4. Social media
Social media marketing is one of the growing concentrations in the advertising and marketing field, as almost every platform is an opportunity to advertise to its users. Most often, social media is used to establish relationships with customers, clients, and target audiences rather than selling directly on the social platform and often directs people to your company website, for example. Two ways social media marketing channels can improve your advertising efforts are by:
Driving engagement: Engagement is the biggest digital marketing tool social media offers, and you can interact with customers through posts, comments, and direct messages. Companies often hire employees to monitor social channels and connect with customers by answering questions, replying to comments, and sharing consumer sentiment with leadership.

Growing a wider audience: A company can expand its target audience reach through social media channels, particularly when customers share a post or when you use hashtags that allow others who follow a specific keyword the chance to see your content.
5. Mobile applications
With many consumers using their mobile phones to use social media, browse the internet, and make online shopping purchases, creating a mobile application for your business is often a worthwhile investment that lets you market within the application to your audience base. Many brand applications feature orders, payment and shipping information, store locator features, customer loyalty programs, purchase receipts, and more. Because apps often require customers to input personal information, you can create:
Geographical promotions, like a game day discount

Personalized promotions, like a free birthday item

Customer loyalty programs with unique offerings

Shopping history log to promote repeat sales
Another form of mobile marketing is a short message service or SMS text messaging. Companies can send promotion offers, reminder text messages, or interactive sign-up options for newsletters, for example.
6. Search engine optimization (SEO)
When a customer makes a search engine inquiry online, the closer your company's page or site is to the first page of search results, the more likely a customer can be to click on your page. You can boost your company's SEO rating and ranking through factors that influence the algorithms that generate search results. By researching keyword data, comparing A/B testing, and analyzing traffic reports, you can gain more website traffic and earn higher ranking results in online searches to help advertise to potential customers.
One way to general local SEO is to market your business to your community and surrounding areas by listing your company name, location, and phone number across your website and other platforms. The contact information acts like keywords and can help consumers find your business or prompt your page to show in search engine results pages.
7. Paid search engine marketing (SEM)
Another way to use search engine results pages is through paid search results. These sponsored ads generate at the top of the results search before all the others, and you pay per click. SEM is a great tool to interact with consumers who may know your brand but haven't purchased from you before. You can also create special landing pages specifically used when someone clicks on an SEM link to customize the experience, gain their personal contact information, or offer an incentivized offer, like a promotional discount or free shipping. Paid searches offer two key benefits:
Increased brand awareness: With your ad showing at the very top of a search engine results page, you can gain instant brand exposure and increased brand awareness, even if a customer does not click the link.

Higher conversion rates: An SEM ad offers a customer instant results with little work involved on their behalf. Your ads can target already motivated buyers who are looking for a specific item, are geographically located in a certain area, or have a need your product provides a solution for.
8. Affiliate marketing
Affiliate marketing can be a way to get others to advertise for you while paying a small commission for generating traffic or sales. It often works best with affiliates who have a large following on their marketing channels. You can connect with your existing customer base to make affiliate marketer connections or find ones in your industry to review or rate your products.
For example, a paint company might partner with a home renovation blogger to sponsor a room makeover featuring their paint products with links for followers to click on for special promotions. The renovation blogger then receives a small portion of sales made from their affiliate link.
9. Video Marketing
Video marketing in the digital age can showcase a brand's personality, influence and persuade customers, promote organic user reviews, and spread word-of-mouth advertising through individual shares on social media platforms. You can use video marketing on your company website, within email marketing, on social media platforms, and on video-sharing websites. Consider generating new video content often and keeping the video short to encourage viewers to watch through to the end.
I hope you find this article helpful.