As technology continues to grow, a job in the industry is a viable one for many people. Technology gives you the opportunity to grow in your career, as it's a field with many sectors that give professionals the chance to grow their knowledge and abilities. However, it's also a very skilled field that usually requires you to adapt to changing technologies and complete important projects on behalf of your organization.
In this article, we describe what a tech job is and the benefits of working in the technology industry, explain what you need to get a job in tech and how to enter the field and provide a list of careers you may consider.
What is a tech job?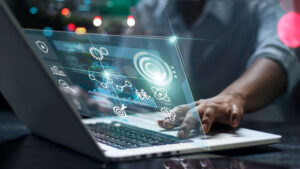 A tech job is a role where you'll be responsible for using tools and programs to complete technology projects. There is a wide range of jobs in the industry, however, this means that your interests can guide the career you work toward. You may specialize in software development, information security, web development, work in digital communications or train in another part of the field. Tech jobs are usually constantly evolving as new software becomes available and trends emerge.
Benefits of working in the technology industry
There are many benefits you can expect from working in the tech industry. Here are just some of them:
Work-life balance: Most jobs in technology don't follow a standard work schedule, so you may find you have more time to enjoy your personal life and build a schedule that works for you.

Flexibility: You may be able to work remotely, sign up for different shifts to accommodate your personal needs like schooling and child care and complete freelance projects outside of your regular business hours.

Valued work: The tech industry introduces you to work that employers value because you're helping the business succeed, solving user problems and building networks and software from which organizations can truly benefit.

Constant evolution: Jobs in tech are always changing as new technologies and trends emerge, meaning that you can vary the work you do and even take on more challenging work that increases your job satisfaction.

High pay: It's common for these positions to pay more than many other industries, even for more entry-level roles in the field.

Advancement opportunities: As you become more skilled, and because there are plenty of high-level positions in the field, you'll likely find plenty of advancement opportunities if you start your career in tech.
What do you need to get a job in tech?
The specifics of what you need to get a job in tech can vary by employer, but you may increase your chances if you can communicate that you possess important skills for the industry. While there are some more solitary positions in the field, you may also need to work with a group, interact with end-users of programs and work untraditional hours. Here are some soft skills to develop and reference in your resume and job interview:
Communication

Organization

Passion

Resourcefulness

Time-management

Adaptability

Problem-solving

Collaboration
An employer may also want to see that you have the necessary technical skills to succeed in the industry. You may mention if you have coding skills, are familiar with certain programs, tools and software and have contributed to open-source projects before.
The more related experience you have in the industry, the more likely that a hiring manager will contact you about their open position. However, it's also important to prove your abilities if an employer conducts an assessment or asks you specific questions about the skills you've included on your resume.
How to get a tech job
The tech industry has for some years now been considered to be that of opportunity and great earning potential. If you want to enter the technology industry, consider these steps to a successful career:
1. Earn a college degree
While you may not need to have a college degree for a hiring manager to select you for an opportunity, and some companies may even communicate the preference for experience, you can stand out from the competition if you have a degree in a related field. Think about your interests and what your ideal career path looks like, then consider a degree that will help you secure the position you'd enjoy. Some more popular degree options include information technology, web development, cybersecurity and game design.
2. Complete an internship
An internship can provide you with the opportunity to gain even more experience in the industry. During an internship, you'll likely need to complete a project or have a set of responsibilities that you can later showcase on your resume or speak about during an interview with a hiring manager. You'll also gain valuable contacts who may write a letter of recommendation to a potential new employer.
Consider completing multiple internships if you aren't sure which sector of the technology industry you're most interested in, as each can give you varied experience and build your skill set in different ways.
3. Join industry-specific networking groups
When you join networking groups, you're becoming involved with others who have similar interests. You can learn from other professionals, attend conferences and networking events and possibly find a mentor who can help guide you through your career.
4. Build a personal website
Depending on the sector of technology you want to build your career in, it's helpful to have a portfolio to show your work to a hiring manager. If you are entry-level, explore how you can build a portfolio to showcase your abilities. For example, you can include projects you completed in school or even any practice projects you did yourself.
5. Take supplemental courses
Because technology is constantly updating, there can be a lot to learn, no matter how many years you've spent in the industry. To increase your chances of getting a job in tech, seek out the different skills you can master. Research the certifications you can earn or new tools, procedures or trends with which you should be more familiar. It may give you an edge over the competition if you're able to communicate to a hiring manager that you'll start your new job with a strong knowledge base and willingness to learn new things.
6. Build your network
Your network can vouch for your work and introduce you to professionals in the industry, including hiring managers. You may find someone in your network who you can go to with questions you may have or who keeps updated on which companies are hiring for specific roles.
7. Customize your resume for each application
Although you may apply for multiple positions in the tech industry, remember that each company, hiring manager and role is different. Before submitting your resume, read over the job description again to make sure you understand the essence of the open position.
You may even consider using the same keywords from the job description in your resume. Applicant tracking systems (ATS) scan through applications and filter out those that fit best for the open position, so if you include strong keywords and names of programs and tools in your resume, you may benefit from the ATS's work.
8. Research the company where you're applying
Think about researching each company you're applying with before you go into an interview. Many hiring managers want to know that you've done your research and are familiar with the organization. To gauge this, an employer may ask you what prompted you to seek employment at their company or how you would improve a certain process of theirs. If you've done some research ahead of time, you can answer these types of questions with ease and confidence.
Tips for getting a tech job
Follow these tips to increase your chances of getting a job in tech:
Learn what you can about the tech industry
Because technology can be a specialized industry, you can stand out from other candidates by having more knowledge about the technology field. Consider subscribing to industry blogs, signing up with industry-specific associations that provide training to members or listening to a podcast from a recognized industry expert.
Volunteer
If you're a recent college graduate or otherwise have a brief related employment history, you'll especially want to explore volunteer opportunities. Although these are unpaid positions, you can still build your knowledge and skill set. Volunteer positions also introduce you to professionals in the industry who can recommend you for full-time paid positions and give you the chance to add something new to your portfolio.
Complete freelance projects
If you sign up for freelance projects with clients, you should be able to build your portfolio and have real experience to show a hiring manager.
Tech jobs to consider
Learn more about the careers in tech by exploring this list of jobs:
1. Technical support specialist
National average salary: $43,904 per year
Primary duties: A technical support specialist is responsible for providing technical support to users. They may address issues and concerns with software and hardware like computers, printers and digital phones. Technical support specialists also install software, perform basic computer repairs, clean equipment and instruct users on how to perform certain actions.
2. Computer programmer
National average salary: $48,295 per year
Primary duties: A computer programmer creates computer programs by writing code. They also debug existing programs, troubleshoot errors, perform tests on their program and evaluate a program's effectiveness. Computer programmers may also write code for mobile applications and create documentation to advise users on how to use the program.
3. Web developer
National average salary: $76,737 per year
Primary duties: A web developer is responsible for creating websites based on specifications from the website owners. They optimize the website for search engines, install programs and tools to equip the website to handle a certain amount of visits and employ methods to increase the speed of the website. Web developers may also create content for the website and later measure the navigability of the page and the length of time visitors stay on the website.
4. Information security analyst
National average salary: $94,661 per year
Primary duties: An information security analyst installs software and develops processes to keep networks secure. They may establish disaster recovery plans, train other employees to recognize cybersecurity issues and perform regular tests on the databases and systems to make sure they remain safe from online attacks.
5. Database administrator
National average salary: $97,612 per year
Primary duties: A database administrator is responsible for maintaining a company's databases and making sure they run appropriately. They organize data, design the database, grant users access, migrate data from one database to another and perform data backup efforts. Database administrators may also need to retrieve data and write reports for upper management.
6. Information technology (IT) manager
National average salary: $99,956 per year
Primary duties: An information technology manager oversees the technology needs of a company. They make sure that users have the hardware and software they need to perform their jobs, maintain the IT budget and manage operating systems. An IT manager also hires candidates and trains staff.
I hope you find this article helpful.