Many businesses find success and then purchase the shares and ownership of another company to meet goals through operations expansion, product line offers and more. Many times, stakeholders of one business evaluate the success and resources of another company to determine if this business move is a vital one to increase the success of the organization. As an employee, you may work for a company that is purchased by another, and it's important to understand what this means and what you can do in this situation.
In this article, we explain what being acquired means and provide some reasons for this change in company status, plus provide a list of steps you can take if the organization you work for is acquired by another.
What does it mean when a company is acquired?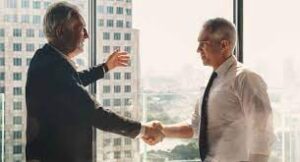 When a company is acquired, it means that another company has purchased it to have control over the organization and form a single business entity. With this change, company stakeholders can make business decisions that can help the larger organization succeed in meeting its goals.
Why may a company be acquired?
There are many reasons why one company may want to acquire another, including:
Increased earnings potential: A company that is acquiring another may do so to realize more earnings, whether that's for the shareholders or the company in general so it can expand operations or increase value to appeal to investors.

Portfolio growth: A company may use an acquisition to grow its portfolio so it can offer more products and services to customers. For example, if one company sells bicycle helmets and other equipment and another company sells bicycles, but not any of the accessories, one company may choose to acquire the other so they can offer more to customers.

Greater market share: Two companies that compete in the same space will likely benefit from one of them acquiring the other because they can then realize greater market share with all products and services falling under one company.

Asset acquisition: If one company has developed unique software that identifies leads for a business, for example, another company may want to acquire it for access to the software. This asset acquisition can help an organization succeed and become an industry leader.

Tax liabilities: When one company has a higher taxable income, leaders may choose to acquire another business that has more tax losses, which typically leads to less tax liability when the two companies combine.
8 things to do if your company is being acquired
If your company is going through an acquisition, consider taking these actions:
Review your job description
One result of company acquisitions is sometimes layoffs. Owners and leaders may choose to layoff any employee, especially if there are overlapping job responsibilities and position titles once the two companies combine. It's important to be keenly aware of what is in your job description so you can make sure you're performing your tasks as you should and so you're able to accurately and adequately explain to management what you do each day and the responsibilities you're carrying. While you're going through this process, make sure to note any specialized skills you've acquired during your time working for the organization.
Make a list of suppliers and vendors
Senior leadership for both companies will likely start looking for ways to consolidate to save money and make sure they aren't spending double on items that come from the two different companies. One way you can help management with this task is to make a list of suppliers and vendors that you use in your work. They can evaluate each one to see which they have repeats of, then decide which supplier they'll continue to do business with.
Plus, as long as your employment contract allows for it, you may be able to use your list in the event you're laid off. You can excel immediately someplace new with a list of companies you are familiar with.
Continue to be productive
Although an acquisition can make employees nervous that they'll go through a layoff or that management will monitor their work more closely, it's important to remain productive. Continuing to produce the same quality and quantity of work will show members of the executive team that you're serious about remaining an asset to the organization and that you're a worthy employee for the value you bring. Your willingness to continue your job as expected will make a large difference in how newcomers to the organization view you as an employee.
Ask questions
If you have any concerns about the acquisition, ask your manager or a human resources specialist for insight. While there may be topics they cannot discuss with you or don't have the answers for, you may also find solace in their response and more confidence in your organization and the business decisions that leaders make. Consider asking about your stock options and benefits, as these are two items that may change during an acquisition. It's likely the company purchasing your business provides different benefits to employees and so executives will need to decide how to handle these subjects.
Attend required meetings
You may find that management wants to hold company meetings to discuss ongoing projects, find out more about your department's work or communicate company news and updates about the acquisition. Do your best to attend all the meetings so that you can contribute when necessary and also receive the important information you may need to understand the acquisition better. Plus, your attendance at these meetings shows your management team that you're serious about your role and invested in company news.
Stay positive
Morale is an important part of any company culture, so try to stay positive amid an acquisition. Discover ways to connect with your coworkers and managers, both those you've worked with and newcomers to your organization, so you can keep open communication and contribute to a company culture that's collaborative and enjoyable for everyone to be a part of. Executives are also more likely to notice positive attitudes because these are usually the same individuals who improve the workplace and treat everyone fairly.
Be cooperative
Executives likely expect a certain level of cooperation from all employees, so continue to provide it as they figure out the next steps for the newly formed business entity. Comply if managers ask for a progress report, details on a project or if they pair you with a peer for a task. Give them feedback when they ask and encourage your team to do the same.
Seek employment elsewhere
If your company's acquisition makes you uncomfortable or you no longer feel the same level of loyalty toward your organization that you once did, you may want to apply for alternate positions. Before taking further action, consider if you've completely processed the company's acquisition and made your decision based on factors that are important to you. Speak with your manager or someone in human resources about your decision to see if they can provide additional insight that may change your mind.
I hope you find this article helpful.