When you make healthy eating choices at work it can improve your productivity and performance. It can also help you sleep better at night, boost your immune system and stay focused during the day. Learning strategies for healthy eating at work can help you make wise food choices and develop routines to maintain high levels of energy throughout your workday. In this article, we discuss why it's important to eat healthy at work, some strategies to incorporate healthier choices into your diet and answers to some frequently asked questions about healthier eating.
Why is it important to eat healthy at work?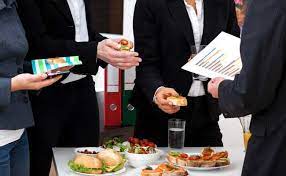 It's important to eat healthy at work because what you eat directly affects your performance. Research shows that eating healthfully helps employees have better concentration, focus, creativity and memory. Healthy eating also can help to improve mood and energy levels while simultaneously reducing stress and anxiety.
Strategies for eating healthier at work
Here are some strategies you may want to implement for healthy eating at work:
1. Eat a healthy breakfast
Before beginning your work in the morning, it's important to take time to eat breakfast. If you are someone who tends to be rushed in the morning, consider preparing food the day before to make it easy to take your breakfast with you when you leave. You could also simply opt for a simple, easy-to-make option like whole-grain toast with peanut butter or yogurt with fresh fruit.
2. Educate yourself about the best foods for the workplace
Educate yourself about the nutritional value of different foods and the impact they can have on your energy levels. For example, foods like apples, bananas, brown rice and eggs can provide a sustained source of energy. It's best to avoid high-sugar, high-fat snacks and meals that will leave you with low energy.
3. Create a routine
Plan and develop a healthy eating routine so you're prepared with healthy meals and choices. Purchase healthy snacks like nuts, seeds and vegetables to reduce the likelihood that you will buy something unhealthy from the vending machine mid-day. Also, get in the habit of making healthy food decisions before you're hungry.
4. Leave your desk to eat
Many employees eat from their desks while they work. Get in the habit of taking a lunch break and finding a quiet spot where you can enjoy your lunch. By focusing on your food, you'll be more likely to notice the fullness cues from your body, reducing the likelihood of overeating. By taking a break from work to enjoy your lunch, you may also be more productive later. That time away can help you feel more creative and improve your overall productivity.
5. Eat regular meals
It's important to eat regular meals and avoid the temptation to skip a meal if you find yourself particularly busy. By eating meals on a regular schedule, it may be easier for you to maintain high energy levels, concentrate on your work and reduce the likelihood that you will overeat during your next meal. Skipping meals also can impact your mood, which will ultimately affect your overall performance.
6. Drink water
For maximum productivity and cognitive abilities, it's important to make sure you're hydrating properly. This means drinking water and avoiding sugary drinks and too many caffeinated beverages that could leave you dehydrated and impact your sleep.
7. Pack the ideal lunch
The right lunch choices will provide you with sustained energy for the remainder of your day and for most people should contain a balance of protein, fat, carbohydrates and other nutrients. Avoid lunches that are high in carbohydrates, such as cereal or pasta, since they may provide you with an immediate burst of energy followed by fatigue that will impact your focus and motivation.
Also, consider adding both fruits and vegetables to your daily lunch. In some cases, the more fruits and vegetables a person consumes, the more engaged, creative and happier they are.
Dinner leftovers can be a great option for lunch. If they aren't available, pick up vegetables, a complex carbohydrate like brown rice and a lean protein and combine them for a healthy, balanced lunch. You may also want to consider keeping tuna, crackers and fruit on hand for a healthy, easy-to-grab lunch option.
8. Snack frequently
Eating between meals can help you avoid becoming overly hungry, increasing the likelihood that you will make positive choices. When you are ready for a snack, take time to get out of your chair and away from your desk. Take a short walk or do some office-friendly exercises or stretching. This small amount of movement will help you feel refreshed and more productive when you sit back down.
Frequently asked questions about healthy eating
Here are some answers to a few of the most frequently asked questions that people have about healthy eating in the workplace:
How does food affect productivity?
Healthy eating can have a significant impact on productivity in the workplace, increasing energy and alertness and improving sleep, which will lead to better focus. It also helps to build a strong immune system, which reduces absenteeism at work. It also helps you to maintain a healthy weight, which makes it easier to take part in physical activity.
What is the best advice for eating a healthy diet?
Many people find that a healthy diet includes lots of fruits and vegetables and more fish, including a portion of oily fish like salmon, herring, trout or sardines. Also, consider cutting back on saturated fat and sugar and be mindful about the amount of salt you consume. Pay attention to food labels, as many foods have high quantities of salt. Do your best to maintain a diet that consists primarily of whole foods and limit your intake of heavily processed foods as much as possible.
How can you encourage healthy eating at work?
There are several steps you can take to encourage healthy eating in the workplace, including:
Encourage lunch breaks. Encourage people in your office to eat away from their desks to reduce the likelihood of over-eating and make it easier for them to get mid-day exercise.

Provide healthy snacks. Make sure your office is stocked with healthy food choices like fruit and healthy bars.

Put the dedication to healthy eating in writing. Make sure employees know your company is serious about the importance of healthy eating by creating a written plan for providing healthy food choices. This could mean offering a weekly, healthy lunch for your team or making sure that healthy meal options are available on-site.
I hope you find this article helpful.