Dental hygienists work with dentists and dental assistants to clean teeth, communicate with patients about oral health, and organize equipment. They use many tools to help patients maintain their oral hygiene and health. If you're interested in becoming a dental hygienist, learning more about the tools they use can be beneficial.
In this article, we explain what a dental hygienist does, list and describe various tools dental hygienists use and provide helpful tips for working in this role.
What does a dental hygienist do?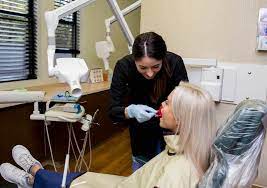 A dental hygienist is a professional who assists dentists in providing oral health care to patients. This can include cleaning teeth and communicating with patients about their oral health care habits.
Dental hygienists collaborate with dentists by getting them tools and preparing patients. These are some responsibilities a dental hygienist manages daily:
Perform thorough teeth cleanings

Examine oral care and medical histories

Note symptoms of oral disease

Organize, clean and sterilize dental tools

Educate patients about preventative care

Collaborate with dental assistants

Assess lymph nodes for swelling

Check gums for signs of disease

Operate X-ray machines safely

Provide fluoride dental treatments
8 dental hygienist tools
Dental hygienists choose tools based on the procedures patients require. These are eight dental hygienist tools they may use during a normal day:
1. Cotton forceps
Cotton forceps are extraction tools that dental hygienists can use to place and remove items from the mouth. They may use this to insert or remove cotton or other material. They're useful for positioning materials in ways you might not be able to otherwise.
2. Curette
A curette is a metal tool with two ends. Each end resembles a small hook, and dental hygienists can use them to remove calculus and perform root planing and curettage. Their size and length can vary depending on the patient.
3. Hatchet
Dental hygienists use hatchets to cleave and plane enamel walls to prepare for cavity procedures. The hatchet is a small metal tool with hooks on the end like a curette, but the hooks have closer to right-degree angles than the curette. Depending on the hatchet, the tip of the tool may be flat or round.
4. Mirror
The mirrors dental hygienists use are often at the end of a longer tool. This way, the hygienist can place the mirror inside a mouth and inspect the insides of the teeth. Mirror tools help the hygienists examine areas of the mouth they may not otherwise be able to see.
5. Polisher
The polishers dental hygienists use resemble small electric toothbrushes. They have a handle and a small piece at the tip that rotates. Hygienists can apply polish to these tools and use them to remove stains. Dental hygienists are careful about using polishers to ensure they don't remove enamel from a patient's teeth.
6. Probe
A dental probe is a metal tool with a short handle and long, slender ends. Dental hygienists may use the tool to measure the depth of a tooth pocket, which is the area between the tooth's enamel and your gums. Hygienists need to measure this area because if it's too wide, it can lead to infection.
7. Scaler
Hygienists use dental scalers to remove plaque from the teeth. They often have curved ends that hygienists run along the surface of the teeth to remove tartar and plaque. Scalers differ from curettes because scalers are triangular, while curettes are circular at the ends.
8. Suction
A dental hygienist may use suction tools to remove saliva from the area in which they're working. When cleaning or polishing teeth, it's common for patients to experience a build-up of saliva. To improve visibility for the hygienist and comfort for the patient, the hygienist may use a small tube to remove saliva or water.
FAQ about dental hygienists
These are the answers to common questions about dental hygienists:
Where do dental hygienists work?
Dental hygienists work in places where they can help to clean teeth and provide oral care. This can include private organizations, dental offices, managed care, public health clinics and long-term care facilities. Some dental hygienists may also work in schools or hospitals.
What is the work environment like for a dental hygienist?
Hygienists work closely with dentists, assistants, and patients. They wear protective materials like masks, gloves and gowns. Depending on the office or environment in which they work, they may spend many hours on their feet during the day.
How much do dental hygienists earn?
How much a dental hygienist can earn depends on factors like education, experience and performance. The average national salary for a dental hygienist is $85,015 per year. Other factors, like location, can also affect how much they earn. For example, the highest-paying city in the United States for dental hygienists is Washington D.C., where they can earn $98,478 per year.
For the most up-to-date salary information from Indeed, click on the link(s) provided.
Tips for working as a dental hygienist
These are some tips for working as a dental hygienist:
Focus on continuous learning: Dental hygienists attend school to learn how to clean teeth, promote oral hygiene and maintain a clean environment. It can help you improve your performance to focus on continuous learning and pursue new advancements in the dental field.

Build your professional network: To find new professional opportunities and learn more about the field, you can build your professional network. Consider attending dental conferences and contacting other dental professionals to improve your network.

Improve your communication: Communication is important for dental hygienists because it allows them to educate patients and collaborate effectively with dentists. To improve communication, consider focusing on active listening and positive gestures, expressions, and other nonverbal cues.

Invest in a good pair of shoes: Depending on where you work. you may spend a lot of time standing as a dental hygienist. By investing in a comfortable and supportive pair of shoes, you may be more comfortable throughout the day, which may increase your mood and productivity.
I hope you find this article helpful.