If you want to help patients take care of their oral health, you may consider pursuing a career as a dentist. As a dentist, you can choose different specialties, including a specialty in pediatric care or periodontics. Learning about the different types of dentists can help you decide which career path to pursue.
In this article, we list eight types of dentists, including their primary duties, educational requirements, and average salaries, to help you in your career search.
8 types of dentists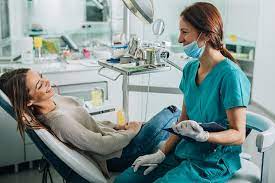 Here are eight types of dentists to consider as you begin your career research.
1. Periodontist
National average salary: $192,601 per year
Primary duties: A periodontist specializes in diagnosing and treating diseases that occur in patients' gum tissue. Periodontists may treat patients by performing scaling, gingival grafts and root planing and debridement. Some may also specialize in placing dental implants.
Requirements: This type of dentist completes a bachelor's degree, dental school, and an additional three years of advanced training in gum disease. States require licensing to practice in this field.
2. General Dentist
National average salary: $214,569 per year
Primary duties: A general dentist examines patients' teeth for cavities, misalignment and signs of other conditions. They may review dental X-rays and medical history to create a tailored treatment plan. If a patient's case is too severe to handle on their own, a dentist can refer the patient to a specialist dentist for additional treatment. Dentists may also perform root canals, pull teeth and perform other procedures to fix and treat teeth.
Requirements: Dentists complete a bachelor's degree before going to dental school. Although programs may accept students from various undergraduate backgrounds, a degree in biology, chemistry or another life science can help prepare them for rigorous and advanced medical study. After completing dental school, they earn a Doctor of Dental Surgery (DDS) or Doctor of Dental Medicine (DDM) and pass a licensing exam to practice in their state.
3. Prosthodontist
National average salary: $226,294 per year
Primary duties: Prosthodontists improve patients' mouth, jaw and teeth function and their teeth and mouth appearance. They typically make molds of patients' mouths, create prosthetics like bridges with replacement teeth, place prosthetics and adjust as necessary over multiple appointments to ensure treatment is working and patients are comfortable.
Requirements: These dentists earn a bachelor's degree, complete a doctoral dental program and go through specialized courses and training to develop in-depth knowledge of the head, mouth, neck and spine to adequately treat patients. They may also need to earn a license in their practicing state.
4. Endodontist
National average salary: $231,418 per year
Primary duties: An endodontist specializes in diseases and conditions in the tooth, such as decay. They may provide treatments like performing root canals or surgeries to repair traumatic dental injuries, infections and decay.
Requirements: This specialized dentist completes a bachelor's degree, four years of dental school and two or three years of additional training in endodontics. They may also need to pass a licensing exam for their state.
5. Pediatric Dentist
National average salary: $236,325 per year
Primary duties: A pediatric dentist specializes in examining, treating and educating young patients. They review X-rays, take molds of teeth, fill cavities, recommend treatments like braces or retainers and educate children and families on proper oral hygiene practices.
Requirements: Like general dentists, pediatric dentists complete a doctoral dental program and pass state board and licensing exams. They also complete advanced training in a pediatric dentistry residency, which takes two to three years.
6. Orthodontist
National average salary: $266,793 per year
Primary duties: Orthodontists specialize in diagnosing and treating misaligned teeth, jaws or other severe alignment issues that cause patients discomfort or impact oral hygiene. They review the patient's medical and dental history, take and review X-rays and fit patients for treatment options like braces, headgear and retainers. Depending on the patient's condition, they may devise treatment plans to deal with extra teeth, crooked teeth or missing teeth. Additionally, they follow up with patients to adjust equipment as necessary and remove it when treatment is complete.
Requirements: Orthodontists complete a bachelor's degree, a DDS or DDM program and a postgraduate residency that focuses on orthodontics.
7. Oral and maxillofacial surgeon
National average salary: $298,173 per year
Primary duties: These dental surgeons are responsible for invasive procedures like removing wisdom teeth and preparing patients' mouths for extensive or complex implants. They typically review referral documents from a dentist that include the patient's medical and dental history, X-rays and molds, and then consult with the patient to determine the best course of treatment.
Requirements: These dentists complete an undergraduate degree, dental school and a two- or three-year residency that focuses on surgical techniques.
8. Dental anesthesiologist
National average salary: $327,107 per year
Primary duties: A dental anesthesiologist specializes in oral pain relief and anesthetic for complex or lengthy dental procedures, such as impacted wisdom teeth removal. They first consult with the patient to learn their medical history to ensure they give a safe dose. They also explain the process to the patient to prepare them for the anesthetic. Before surgery, they administer the anesthetic and monitor the patient's vitals during the procedure, adjusting and intervening in case of an emergency. After the procedure, the dental anesthesiologist helps the patient safely wake up and recover.
Requirements: Dental anesthesiologists complete a two-year residency that focuses on dental anesthesiology after earning a bachelor's degree and completing four years of dental school.
Other types of dentist office roles
If you want to pursue a career in dental health care but don't want to work as a dentist, here are some other supporting roles to consider:
Dental assistant: Dental assistants help dentists during appointments by sterilizing and setting up equipment, preparing patients for procedures and recording patients' dental and relevant medical history. They also usually deal with patient billing and appointment scheduling.

Orthodontic assistant: Orthodontic assistants clean and organize equipment, prepare patients for procedures like getting braces and collect X-rays and intraoral photos for the orthodontist to provide effective treatment.

Dental lab technician: Using molds that dentists and orthodontists create, dental lab technicians take measurements and craft prosthetics like dentures, crowns and bridges that match the patient's mouth for comfort and stability.

Dental hygienist: Dental hygienists clean patients' teeth, examine and diagnose signs of dental or mouth disease, take X-rays and impressions, apply topical anesthetics and coordinate with dentists on treatment plans.
I hope you find this article helpful.