Blog posts have quickly become a prominent platform for businesses to connect with their customer base. Many professionals have also made a career out of blogging. As you develop a larger following, blogs become a more lucrative marketing strategy that builds trust and credibility. In the long term, businesses have successfully converted high-quality leads into sales and other forms of profit. In this article, we cover what blog posts are, describe when to use them and list the eight types of blogs you need to know about.
What are blog posts?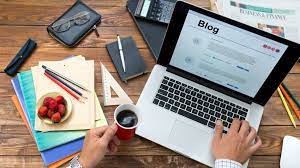 Blog posts are informative articles that you can publish on your blog page, e-commerce channel or company website. In the early days of blogging, blog posts were diary-style entries that individuals shared to voice their opinions on pressing issues. However, today blog posts have become notably diverse. It has quickly transitioned into an effective medium to market your products and communicate with your audience. Since blogs support multiple content formats, including photos, videos and infographics, they have also gained traction with audiences from distinct backgrounds. Currently, blogging culture is rapidly growing with companies adopting them to maintain their relevance.
When to use blog posts
The purpose of a blog post is to connect with your target market. It's a communication tool that increases your visibility and might act as a secondary stream of income for your organization. Running a blog can help you tap into a new customer base whose interests align with the content you produce. If you continue to invest in your blog and publish engaging content, it can also be a powerful tool that boosts your search engine ranking.
Blog posts are also effective lead-generation devices. They attract quality leads who are more likely to convert from potential buyers to actual customers. Thus, you can also employ blogging as an integral marketing and sales strategy. The method positions you as an authoritative figure in the industry. Your presence online makes your business appear more credible, leading to more traffic online and perhaps more sales too.
Eight types of blogs
The type of blog you choose will largely depend on your brand's interests and mission. You can use it as a platform to share research and information, debate complex issues and even advocate certain values. Here are eight types of blogs for you to consider:
Personal blogs
Personal blogs are a platform for you to express your opinion on anything and everything. Since personal blogs are an extension of your personality, you can create your own unique set of rules and content guidelines. With many blogging websites to choose from, you no longer have to face the barrier of setting up your own website. To build a successful personal blog, be open, and vulnerable and feature other bloggers who share similar hobbies.
As a professional, a personal blog can also give you an edge over other job candidates. It proves your passion for your industry. A blog is an effective device to display your communication skills and work ethic.
Business blogs
Business bloggers can be business owners or an individual a business employs. The purpose of business blogs is to gain exposure, website traffic and high-quality leads. Essentially, these are readers that will engage with their business. Unlike personal blogs, business blogs focus on their products and industry news. They create content to attract customers to interact with their brand.
For a business blog to be successful, you need to identify the preferences of your customers, so that you can write relevant content. A business blog should also have call-to-actions, such as links to product pages, email subscription lists and lead forms. This way, you can efficiently capture more leads.
Professional blogs
Professional bloggers produce content as a full-time profession. They treat blogging as a business, profiting off their large and highly engaged audience. They monetize their content through paid partnerships with brands and by selling display ads. Many professional bloggers focus on a niche market to generate revenue. This positions them as credible thought leaders that other companies can also benefit from.
Niche blogs
Niche blogs focus on a specific topic, such as food, fitness or beauty. In the digital age, many ordinary writers have turned their passion into a small business through a niche blog. For you to be successful in this style of blogging, you need to pick a topic that you are knowledgeable and passionate about. By choosing a niche interest, you can differentiate yourself from others, making it difficult for others to replicate your expertise and success.
Here are some common niche blogs:
Fashion blogs review the latest fashion trends and designer collections. These bloggers use their eye for detail to give styling tips and fashion advice. High fashion brands may also partner with popular fashion bloggers to promote their outfits and accessories.

Health blogs share tips on fitness and nutrition. They publish exercise videos and recipes on their social media platforms to inspire and mentor their followers as they make major lifestyle changes. Health bloggers are role models of high-level human performance. They inspire others to invest in their health and advocate its importance.

Sports blogs deliver the latest news on sporting events and competitions. Often these blogs will focus on a specific sport, such as football or motor racing. Popular sports bloggers may also interview or produce engaging content with star athletes. This way, sporting bodies can continue to drive hype around their teams and win the loyalty of their fans.

Politics blogs come in two forms. The first type of political blog acts as a forum for politicians to connect with their supporters, while the second type acts as a platform for pundits to discuss the current political discourse. Despite their differences, the primary purpose of these blogs is to increase public awareness on key issues and rally support for their views.

Cooking blogs showcase delicious recipes that home cooks can replicate in their home kitchens. These blogs use videos, photos and text to provide detailed instructions that their viewers can easily follow.

Technology blogs feature reviews and recommendations for mobile phones, laptops, and gaming consoles, among other digital devices. These bloggers break down complex technical specifications into bite-sized bits of information that their audience can understand. They often partner with technology companies to build hype around their products in order to maintain a competitive advantage.
Reverse blogs
Reverse blogs or guest-host blogs depend on content supplied by the public. Instead of one individual contributor, it uses a team of moderators who enlist writers with interesting backgrounds to share their stories. This type of blog leverages the reputation of other bloggers to gain a following of its own. To successfully begin a reverse blog, you need to attract guest content creators with a sizable following. They also need to have a unique perspective that adds value to the topics your followers are concerned about.
Affiliate blogs
Affiliate blogs review and recommend products to educate consumers about which products or services they should purchase. The third-party opinion makes these bloggers a trusted source of expertise. Popular affiliate blogs may also partner with brands to feature their products in exchange for a commission. They post affiliate links to their client's product page to encourage their readers' purchasing behavior. Affiliate marketers also have extensive mailing lists to guarantee sales for their partners.
Media blogs
Media blogs follow a specific content style. For example, if you are talented in filmmaking, you can become a vlogger. Similarly, if you enjoy photography, you can create a photoblog or art blog. Many bloggers also host their own podcasts and share the audio files of each episode on their blogs. Since content creators package their skills and ideas in multiple formats, blogging has also become a much more diverse platform that accounts for these differences.
Freelance blogs
Freelance bloggers get paid to write content for other businesses and services. They can work with a range of clients on a variety of topics or market themselves as experts in a particular niche or industry. To become a freelance blogger, you will need to build a portfolio that shows your content creation skills. You will also need to network with businesses to gain clients. As you become more in demand, you can secure bigger contracts and earn a living as a full-time freelancer.
I hope you find this article helpful.