A business often has ambitions that its employees are helping them work toward. It can consider the steps required to reach those ambitions by determining their needs. Understanding the different types of needs there are for businesses can help you determine what your organization requires to achieve its goals. In this article, we discuss what business needs are and provide a list of eight essential business needs you can use as a reference when assessing what your company may require.
What are business needs?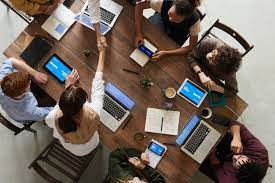 Business needs are what resources or methods organizations require to reach their business goals. You can identify an organization's needs through analysis and critical thinking. Identify where the business is at, what it needs to achieve its goals and if there are any challenges it's encountering that may prevent the company from improving. Understanding the target objectives can help you make decisions to maintain the efficiency of the business. Here are a few questions you can ask when determining the needs of a business:
What are the goals and objectives of each area in the business?

How do you imagine the results or outcomes of the goals and objectives?

Are there any challenges you're encountering? How can you resolve them?
8 essential business needs
Here's a list of eight essential business needs:
1. Data and information
Businesses often require several forms of data to help them operate their company efficiently. They use database systems to collect and organize large sets of data for them to analyze. Data helps companies decide crucial information, such as planning their budget or creating marketing strategies. For example, professionals in sales can use data to help them forecast sales for their future seasons. Forecasting sales means they can estimate, based on previous sales data, what they can expect their revenue to be during their next round of sales. Here are some different types of data businesses use:
Internal data: This type of information is all the data stored in a company's database. They can use this information to gather insight about how the company is doing and how they can improve its efficiency.

External data: External information is all the data generated outside of the company. This type of data can include government information on the company, tax records and police reports.

Time-stamped data: This type of information describes when and how long a consumer interacted with the company. An example of how a business can use this data is when they're analyzing how long consumers stayed on a webpage on their site.

Structured data: Structured information refers to organized data within a company. An example of structured data is organizing data into tables or may even be as simple as a list.
2. Systems
Systems use software that automates work for businesses to reduce time and streamline productivity. When a business uses automation systems, it can help reduce errors, increase revenue and increase productivity. It may reduce errors because employees can program the systems to complete the task exactly how they want it done. Automated systems also increase revenue and productivity because the system may produce work faster with increased accuracy, so the product or service spends less time in the production phase. Here are a few different automation systems you can use:
Information technology: Information technology can include artificial intelligence and databases. Businesses can use this type of system to secure their information, troubleshoot challenges and increase efficiency in the company.

Workflow: Workflow includes employee involvement and automation systems to help streamline production, especially within a project. Employees can interact with the system to find relevant information related to their tasks.

Robotics: Robotics is machines a company can use to help assemble products automatically with sensory preceptors. Often, these machines can complete a wide variety of tasks to help put products together faster.

Event processing: Event processing is a type of technology that filters through data to look for actionable events. When the system finds actionable events, it sends a notification for someone to attend to the alert.
3. Applications
Companies can add applications to their software to help increase productivity. Applications can include having programs with project timelines on them so employees can monitor their progress, which allows them to stay on schedule to meet their deadlines. Other types of applications can include email programs for employees to communicate with each other inside the office and with clients that they're working with on a project. There are several types of applications you can add to a company's software that are free online or others you can pay for depending on what your organization requires.
4. Infrastructure
Infrastructure refers to the buildings and systems for a city, state and country. A business' infrastructure can include its physical building, software and systems, like its computers. You can also consider systems such as IT services, transportation and energy that can help the business operate more smoothly and efficiently.
5. Processes
There are several processes you may use in a business, such as processing orders, creating the products and shipping the products to customers. In a business that doesn't fulfill sales, they can use processes such as scheduling appointments for their clients and ordering supplies for their office. Processes help keep a business organized for employees to adhere to a routine. Creating a routine using processes allows employees to help their company achieve its goals.
6. Customer experience
A positive customer experience can help improve your business. Customer experience includes customer service in-store or over the phone. Satisfied customers can help your business achieve its goals because a happy customer is more likely to return to your company. They may also recommend your business to their friends and family, which can help increase your brand visibility and revenue. Brand visibility is how many consumers know that your company exists. To improve your customers' experience, you can offer more training to your employees in customer service.
7. Marketing strategies
Marketing strategies are helpful for nearly every company that wants to grow. A marketing strategy can comprise how you plan to make consumers aware of your business and what you can offer them. In this strategy, you can include your social media accounts, email marketing and advertisements, either digital or print. Creating a marketing strategy can help achieve business needs, especially if you want to increase your revenue and new potential leads. Potential leads are consumers who are likely to purchase a product or service from a business.
8. Products and services
Products and services give value to your customers. If you want to improve your products or services, you can ask your customers what they may like to see from your business. You can do this by sending out surveys for them to take anonymously to share their opinions.
I hope you find this article helpful.