A CDL allows you to drive large, commercial vehicles for companies and organizations. There's a variety of positions and industries you can enter as a professional with a CDL. If you have your CDL or you're considering pursuing it, learning more about the types of careers where you can use it can be beneficial. In this article, we explain what a CDL is, detail the types of careers you can pursue with one and offer tips for earning your CDL.
What is a CDL?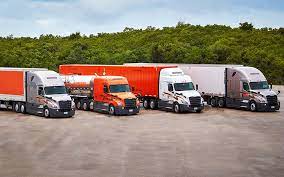 A commercial driver's license, or CDL, is a credential that shows a person's ability to operate vehicles other than standard personal vehicles. It's necessary for those who want to operate commercial motor vehicles like buses, box trucks, and dump trucks. For example, those who are interested in becoming commercial truckers earn their CDL before driving semi-trucks or 18-wheelers. By earning your CDL, you gain the skills necessary to operate large vehicles and keep yourself and others safe on the road.
8 types of careers you can pursue with a CDL
Here are eight types of careers you can pursue with a CDL:
1. Bus driving
With your CDL, you can operate many types of buses, including tour buses, public transit vehicles, and school buses. Bus drivers often use communication and organization skills besides their driving abilities to help passengers and ensure they adhere to safety rules. The national average salary for a bus driver is $43,615 per year.
2. CDL instructing
CDL instructors are professionals who help new drivers learn how to operate commercial vehicles. They can administer exams and provide training sessions in turning, braking, and maneuvering vehicles. The national average salary for a CDL instructor is $65,771 per year.
3. Construction
Construction projects often require the use of many large vehicles, including dump trucks. You can also use your CDL as a construction professional to transport materials for building. The national average salary for a construction professional is $39,585 per year.
4. Fire and rescue
Depending on the state in which you live, you may need a CDL to drive a fire truck or other emergency vehicles. Fire and rescue drivers use their driving skills to navigate safely during emergencies and arrive at the scene quickly. The national average salary for a firefighter is $47,392 per year.
5. Relocation
A relocation specialist is someone who helps individuals, families, and business move their belongings. A moving truck driver uses their driving skills to keep someone's belongings safe during transportation. The national average salary for a mover is $41,027 per year.
6. Waste management
Garbage truck drivers follow planned routes for garbage collection to help communities manage waste. They operate large waste management vehicles for the collection and reduction of garbage. The national average salary for a garbage truck driver is $55,505 per year.
7. Delivery
Delivery drivers haul packages and goods from manufacturers to those who order them. They can drive box trucks and other larger vehicles, operate scanning and tagging equipment and carry boxes. The national average salary for a delivery driver is $64,625 per year.
8. Trucking
As a trucker, you can choose to drive long haul or locally. Long-haul truckers often transport goods through many states and may leave home for weeks at a time to complete their tasks. Local truckers may complete many shorter deliveries and have the opportunity to spend more time near home. The national average salary for a long-haul driver is $79,978 per year. These are some types of trucking you can choose from:
Auto: Truckers who haul autos transport at least half a dozen cars or other vehicles at a time. They often perform deliveries for car dealerships.

Dry van: Dry van hauling is a very common type of trucking in which the driver hauls a rectangular trailer containing packaged, dry goods.

Flatbed: When truckers use flatbed hauling, they transport equipment or machinery by attaching it to a flat, open trailer.

Freight: This type of hauling includes most things that don't fit into or belong in dry van trailers. This may include oversized cargo and hazardous products.

Refrigerated: A refrigeration trucker understands the importance of delivering products on time, as any delay may result in a loss of goods.

Tanker: Tanker trucking is a more hazardous type of hauling because the tanks often hold hazardous liquids and gasses.
Tips for earning your CDL
These are some tips for earning your CDL:
Understand the requirements: CDL requirements for applying and earning the credential can vary depending on which state you reside in, and these requirements can include aspects like your age, citizenship and physical abilities. Ensuring you meet the requirements can help the process of earning your CDL proceed without delay.

Get a copy of the CDL manual: Each state offers its own CDL manual for prospective drivers, and you can often find copies online or at your local DMV office. The manual includes information about how to earn the credential and what you may encounter during testing.

Create a studying schedule: To commit CDL information to memory and avoid cramming before the exam, it's best to create a consistent studying schedule. Consider studying for at least one hour each day leading up to the exam.

Learn about the testing structure: The testing structure for CDL certification can vary depending on the state in which you reside, so it's important to learn about each component of the test. For example, some states may include vehicle inspection assessments and specific on-road driving maneuvers.
I hope you find this article helpful.