Finding ways to gain more consumers and benefit your current ones is an integral part of growing your brand. When consumers have an incentive to visit your store or website, you can get more foot or web traffic. This can ultimately help your brand make more sales and expand your profits. In this article, we explain what consumer promotions are, why brands use them and share several strategies you can use.
What are consumer promotions?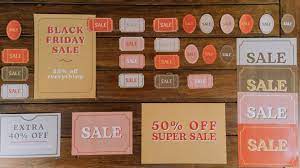 Consumer promotions are the strategies businesses use to gain more customers or develop brand loyalty among current customers. Common customer promotions involve sales tactics that make customers feel like they are getting a good deal or special value. Typically, consumer promotions occur during a specific period or are temporary, although many brands also offer special promotions to first-time customers. The consumer promotion your brand chooses depends on your business structure and how you anticipate your target audience will respond.
Why use consumer promotions?
Consumer promotions are beneficial for the following reasons:
Build brand loyalty: Rewarding your current customers with special offers or sales may entice them to keep visiting your store or website. Creating a promotion, especially for repeat customers shows your brand values its business.

Gain new customers: An exciting new promotion can influence consumers to try your brand out for the first time. This is your chance to get them to learn more about your products or services.

Boost profits: Consumer promotions can help your brand sell a lot of merchandise or services in a short period. This can be beneficial for brands that experience a sales slump during certain times of the year.

Clear out old merchandise: If your company has a lot of old merchandise sitting around, you can use a clearance promotion to get rid of these items. Along with helping consumers feel like they got a good deal, you can make room for new and exciting products.

Gain leads: When customers use your promotions, you can ask them for their contact information. This is a great way to get them into your sales funnel.

Make your brand known: Using consumer promotions can help your brand become more widely known among your target audience. By using the right advertisements, you can get people excited about checking out your promotion.
Types of consumer promotions
Here are some common techniques businesses use to bring in more consumers to their brand:
Sales
Lowering your prices during a limited period can influence customers to take advantage of your deals. Along with offering a certain percentage off your goods or services, you may choose to do a buy one get one free or half off deal. Some brands even do the same sales every year so that consumers look forward to shopping with them.
Contests
Contests and sweepstakes are a way to create buzz around your brand and get people excited. They're also a useful way to collect consumer information, which your sales team can use when generating leads. As more brands use social media for marketing purposes, brands are doing different contests where users need to tag a certain number of friends or share a post to enter the contest. This is a useful way to get people to essentially advertise your brand to their network.
Samples
Handing out samples of your product is a useful promotion tactic. Once people get a taste of what you have to offer, they may be interested in purchasing the full thing. Sampling can also help your brand gain recognition, especially if your brand is handing out samples at events like charity runs or corporate conferences. Brands can also give a sample of their services. For instance, fitness centers and gyms often let people try out their facilities for free.
Coupons and codes
Coupons and codes are some of the most common consumer promotions brands use. By sending out coupons in the mail or emailing digital codes, you can encourage people to shop at your business during a specific period. Along with giving consumers a good deal, coupons and discount codes help create a sense of urgency.
Rebates
A rebate is a type of discount where a customer can send in their proof of purchase and get money back. Brands can benefit from this tactic as they can make a sale now and payout discounts later on. While this requires more effort from the customer, many people may be willing to send in the applicable forms to get a good deal. This gives you the ability to advertise the regular and rebate price, showing consumers what a great value they're getting.
Reward programs
To boost brand loyalty, your company can come up with a reward program to incentivize current customers to keep coming back for more. Oftentimes, reward programs work on a point system, meaning that the more customers spend at your business, the more rewards they can redeem. Reward members may also gain early access to special sales or deals. Likewise, you can have reward-member-only sales.
Special discounts
Some brands choose to give special discounts to people depending on their occupation or stage in life. For instance, you may see brands that want to cater to young people offer student discounts. Brands that wish to attract an older audience may offer senior discounts. Finally, brands can build their reputation by offering discounts to noble professions such as military personnel or veterans, teachers and healthcare workers.
Free perks
As more brands build their online presence, perks such as free shipping and free returns can be a useful sales tactic. Online shoppers may appreciate the convenience and value of these deals. Some brands even offer free shipping to customers who partake in their rewards program. Another useful promotion is to have a minimum spending amount before customers qualify for these "free" perks.
I hope you find this article helpful.