Working in the nonprofit industry allows you to focus on furthering public good, like promoting the arts, empowering youth through education or helping the underprivileged. With a combination of passion, drive, education and experience, you can find a role in the nonprofit sector that matches your skill set and interests. If you want to pursue working for a nonprofit, it's helpful to know what educational background or degrees to have. In this article, we explore eight types of degrees that are good for nonprofit work and the various roles and positions you can hold.
Why work at a nonprofit?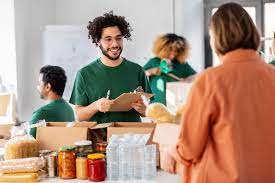 Working at a nonprofit organization (NPO) is a great way to make a difference in your community and know the work you do is meaningful, rewarding and invaluable.
By working with NPOs, you also can explore more responsibilities, roles and opportunities, particularly at smaller staffed nonprofits. Handling new tasks or duties can grow your skill set, expertise and knowledge in ways traditional roles sometimes cannot.
Nonprofits operate as various entities and can include:
Private foundations

Social clubs

Veteran organizations

Business leagues

Charities
8 types of higher education degrees for nonprofits
Here are eight useful degrees for working in a nonprofit to help you decide which is best for you:
1. Nonprofit management
Many colleges and universities offer a bachelor's degree in nonprofit management to help you build skills in finance, organizational governance, administration and entrepreneurship.
Coursework can include:
Nonprofit marketing

Fundraising

Capital development

Campaigns

Corporate philanthropy

Public relations

Event planning

Donation tracking

Ethics

Law
Earning this bachelor's degree often qualifies you for jobs in nonprofit management, social work and fundraising.
2. Business
A business degree is also a good foundation for work in the nonprofit sector and can lead to entry-level positions at many organizations. With a business degree, you learn organization, problem-solving and analytical skills.
Coursework can include:
Business administration

Business law

Communications

Finance

Economics

Marketing

Human resource management

Account and financial management
There are several options and concentrations for business degrees at every level of higher education, from certificate programs to doctorates.
3. Education
A degree in education can help students, parents, fellow educators and the public better understand the importance of learning, school programs, teaching techniques and the latest methodologies. Transferring skills you learn with an educational background is highly impactful, very common and can strengthen the reach of an NPO.
Nonprofit roles you can gain with an education degree include:
Education outreach coordinator

Preschool teacher or administrator

Education program leader

Director of Adult Education

Summer learning program coordinator

Camp program director
4. Health services
Much of the nonprofit industry is health-related, from hospital foundations to international relief organizations. These groups need people with health services and medical backgrounds to advocate and support patient care, research and outreach to help improve human lives around the world.
With a degree in the medical or health services field, you can get nonprofit employment positions in:
Nursing

Healthcare Administration

Medical assistance

Nutrition

Physical therapy

Psychology

Public health

Chemical dependency
5. Environmental science
A degree in environmental science teaches you about natural resource conservation, biodiversity, sustainable development and how nature and human life intersect. Nonprofit organizations often take up the work for environmental and wildlife causes and you can find jobs in protecting and researching endangered species, rainforest conservation, clean water initiatives and more.
Nonprofit jobs with an environmental degree can include:
Environmental project manager

Park ranger

Environmental policy analyst

Ecology camp supervisor

Animal rehabilitation specialist
6. Arts and culture
An art degree can lead to jobs like being a graphic artist, a painter, an instructor or an expert in technique and art theory. Like many private businesses, nonprofits need artistic talent and staff to help convey their organization's message through visual media or to work for nonprofits that are specific to the arts, like museums, art galleries, theaters or historical centers.
Some nonprofit roles you could hold with an art or culture degree include:
Production manager

Director of Visual Arts

Video and design instructor

Theater program director

Exhibition specialist

Gallery assistant

Photography curator
7. Social and legal
Earning a degree in any of the various social, legal, and criminal justice fields can help you secure positions in a nonprofit organization that works within the legal system, often supporting injustices, like the Southern Poverty Law Center, for example. Here are some majors to consider:
Criminal justice

Legal studies

Paralegal

Social work
8. Master's degree
A master's degree can help you enter the nonprofit workforce or advance in the field if you already hold a position. Here are four distinct master's programs and how they can influence your career working with NPOs:
Master of Public Administration (MPA): An MPA combines politics, sociology, economics, law and more to teach you a comprehensive understanding of the public sector which works well for administrative leadership roles.

Master of Urban Planning (MUP): This degree focuses on community and city revitalization, environmental concerns and aiding impoverished areas through organizations like housing agencies, homeless assistance programs and international organizations.

Master of Social Work (MSW): Earning a master of social work is a powerful way to qualify for jobs like managerial roles in child protection, adoption support, employment or unemployment assistance, hospice care, mental health counseling and school social work.

Master of Public Policy (MPP): An MPP covers advanced concepts in management, statistics, economics, communication and politics to show how public opinion can affect a nonprofit organization. With this degree, you can work as a policy advisor or analyst, government relations manager or director of research for organizations, often at local, state and national levels.
7 job roles for nonprofits
Here are seven career options to consider when finding work in the nonprofit industry:
1. Outreach Coordinator
National average salary: $41,343 per year
Primary duties: An outreach coordinator serves as the point of contact for an organization within the community it serves. They support programs and fundraising efforts of nonprofits and ensure community engagement, interest and volunteer recruitment. Outreach coordinators often work in nonprofit sectors that provide services to certain groups of people, like the homeless, at-risk youth, veterans and the elderly.
2. Administrative assistant
National average salary: $42,396 per year
Primary duties: An administrative assistant handles day-to-day tasks, communication and various duties for an organization and its leaders. They schedule meetings, respond to emails, answer phones and coordinate travel and schedules. Administrative assistants can also proofread reports, take meeting minutes and order supplies for the office.
3. Grant writer
National average salary: $42,837 per year
Primary duties: A grant writer researches, composes and submits proposals that help organizations receive financial help from institutions, charities, government funding and other donor opportunities. They ensure the grant's specifications align with the organization or agency to be eligible for funding and find strategies to write interesting and competitive proposals.
4. Fundraising manager
National average salary: $51,033 per year
Primary duties: A fundraising manager creates, supervises and coordinates an organization's money-generating efforts and operations. They work closely with leaders and teams to execute impactful, efficient and financially sound campaigns. Fundraising managers also cultivate and build relationships with external clients, donors, industry organizations and members of the community.
5. Accountant
National average salary: $54,201 per year
Primary duties: Accountants for nonprofit agencies help establish a budget and monitor expenses, salaries, income and fundraising dollars. They produce financial reports for the organization, often on a monthly, quarterly and annual basis. Accountants can help teams find cost-saving areas of opportunity and make estimated predictions to future spending and fundraising to best meet financial goals.
6. Communications manager
National average salary: $68, 012 per year
Primary duties: A communications manager creates, writes, designs and oversees all forms of communication on behalf of the nonprofit organization, like email campaigns, social media content, online websites, press releases and interaction with media outlets. They also assist with fundraising and engagement campaigns and frequently work with other leaders across the organization.
7. Executive director
National average salary: $83,700 per year
Primary duties: An executive director of a nonprofit organization oversees the operation, including hiring staff, approving budgets and spending, maintaining records, setting fundraising goals, ensuring good financial practices and other managerial tasks. They promote the nonprofit, give interviews and build and cultivate connections throughout the community and nonprofit sector.
I hope you find this article helpful.