Working as part of an organization that values and praises its employees can increase your motivation and overall attitude toward your job. Learning about employee recognition and the difference it can make helps in understanding how to motivate and maintain employees who feel satisfied with their jobs. In this article, we discuss what employee recognition is and why it's important and provide a list of eight types of employee recognition to try in the workplace.
What is employee recognition?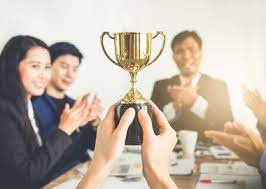 Employee recognition is the act of identifying and rewarding individuals in the workplace for their contributions, improvements and work ethics. Recognition provides motivation and reassurance for employees to meet and exceed expectations. Showing awareness and appreciation for employees and their work creates an environment that encourages improvement and communicates the value of individuals' contributions to the company.
Why is employee recognition important?
Employee recognition is important for motivating and maintaining employees. Individuals who feel that employers value their work gain intrinsic motivation to maintain and improve their performance. Recognizing and reinforcing achievements and efforts creates a positive work environment and promotes employee loyalty and satisfaction.
8 types of employee recognition
Here are eight types of employee recognition to motivate and uplift employees:
1. Bonuses
Bonuses and monetary recognition show an employee the value placed on their work. Giving small bonuses when an employee achieves a goal or shows a high level of performance can help create an environment of spontaneous praise and motivation. Seasonal bonuses and monetary rewards, such as commissions, also show appreciation and the value of an employee's work.
2. Written praise
Written praise such as a thank-you letter or email message offers a tangible and personalized note of gratitude and recognition. This form of recognition is easy to produce and offers words of affirmation that assure employees of the impact of their contributions. Written praise encourages employees who value encouragement and benefit from concrete and direct reassurance of their impact.
3. Verbal praise
Verbal praise is when an employee receives in-person praise for their work. Small recognitions, such as a thank you when submitting work or completing tasks, show employees that others see and appreciate their work. Verbal praise also includes a public or private declaration of appreciation, impact or improvement. Peers, leaders and supervisors may offer verbal praise of others in a group or one-on-one meeting. Verbal affirmation and recognition benefit individuals whose motivation comes from seeking approval and validation.
4. Formal recognition
Formal recognition occurs in many forms and typically follows a schedule or set structure. Awards, such as an Employee of the Month, an Employee of the Year, and work anniversaries, are formal forms of recognition. Knowing the structure and routine of these awards keeps employees interested in striving to earn these types of recognition. Formal recognition can benefit individuals who have competitive mindsets and motivation to earn awards.
5. Informal recognition
Informal recognition can occur sporadically and provides constant reassurance of the value and efforts that an employee offers. Informal recognition includes small and unplanned notes, messages, declarations or gifts for employees who exceed expectations or work on extra projects. Small and informal displays of appreciation convey to employees that their work impacts the company and creates a constant sense of gratitude between the employee and the employer.
6. Peer-to-peer recognition
Peer-to-peer recognition is when employees on the same level or in the same department offer praise to each other. A peer may publicly or privately praise a coworker for their work, help or general attitude. Knowing that your peers recognize your actions and attitudes motivates you to maintain and improve how you work with others. Peer-to-peer recognition encourages employees who wish to establish and maintain good relationships with their coworkers.
7. Leader-to-team member recognition
When a leader recognizes and praises the work of a team member, they create a positive environment and encourage their team to recognize each other's work and impact. Receiving praise and positive confirmations from a leader promotes an employee's desire to continue their work and to strive for even greater achievements. Team members often look to their leaders for encouragement and approval. Leaders who provide recognition establish a positive environment and relationship within their team.
8. Day-to-day recognition
Day-to-day recognition includes small but meaningful comments or messages that display appreciation and awareness of each employee's contribution. Ending meetings with a thank you to all participants or sending messages thanking individuals for completing their tasks shows you appreciate their work. Adding positive comments or messages when collaborating or offering feedback also creates an atmosphere of uplifting and constructive feedback rather than criticism. Small and simple messages expressing gratitude or highlighting exceptional performance keep employees constantly assured and motivated.
Tips for making employees feel recognized
Here are some tips you can use to ensure effective employee recognition:
Be specific: When recognizing employees, include as many details as possible about the specific actions or results being praised. Establishing these details personalizes the recognition and ensures the employee you're evaluating and recognizing their personal contributions.

Choose the correct type of recognition: Different employees may respond well to a specific form of praise. Knowing and identifying the motivating factors for the employee you're recognizing can help you select the right type of recognition to offer.

Use events as opportunities for praise: Birthdays, work anniversaries and promotions provide an opportunity to encourage and identify individuals who contribute to the company. Making announcements and recognitions for employees' life events shows your appreciation of them as both an employee and an individual.

Create contests or goals: Establishing a contest or specific goal for employees to earn an award or form of recognition motivates employees and creates an atmosphere of friendly competition. Employees with competitive mindsets or goal-oriented work ethics may enjoy having and earning recognition that matches their values or allows them to compete.
I hope you find this article helpful.