Physical therapists can help patients gain strength, restore independence and prevent injuries. There are many types of care that experts in this field may provide for their patients and they can specialize in treating a variety of populations. Understanding the different types of physical therapy and the patients whom physical therapists may support can help you determine if this is the right career path for you.
In this article, we define what physical therapy is, explore the different types of physical therapy individuals can specialize in and review why it's important.
What is physical therapy?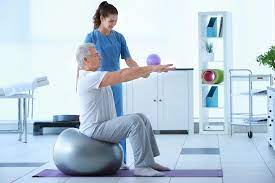 Physical therapy is a medical specialty that can help individuals develop, strengthen or restore body mobility. Patients often use physical therapy to recover from an injury or illness, manage chronic pain, prevent injury or achieve optimal ranges of movement.
Physical therapists treat patients in all stages, from young children to seniors to help improve their health, physical performance and quality of life. Therapists often work to design personalized treatment plans for patients depending on their age, medical background and health goals. They train patients on relevant exercises, administer physical examinations and monitor patient progress. Physical therapists can work in a variety of care settings, including:
Hospitals

Nursing homes

Inpatient programs

Outpatient clinics

Schools

Extended care programs

Offices

Sports facilities

Patient homes
Types of physical therapy
Understanding the various branches of the practice can help you find one that most aligns with your goals as a care provider. Here are some common types of physical therapist practices:
1. Pediatric
Pediatric care often differs from the care physical therapists may provide to adults. Physical therapists work on age-specific treatment programs that can help children improve their range of motion, flexibility, movement patterns and strength.
They can also help children improve their gross motor skills like sitting, walking, jumping and running and help develop a child's strength, balance, coordination and flexibility. Sometimes children's bones can grow faster than their muscles develop. In these cases, physical therapists can work with them to make everyday activities more accessible and prevent injuries.
2. Geriatric
As people age, they can naturally lose flexibility, muscle mass and joint function. Physical therapists can help patients learn compensation strategies for weak muscles, adjust their posture and help mitigate future complications. Therapists can work to restore the loss of function associated with conditions such as:
Arthritis

Osteoporosis

Balance disorders

Strokes

Cancer

Invasive surgical procedures
Geriatric physical therapists strive to restore basic functions, reduce pain and accommodate any physical limitations senior patients may have.
3. Sports
Sports physical therapists aid in treatment and injury prevention related to sports and exercise. Therapists can expedite the recovery time for patients who have suffered sports-related injuries. They may support athletes who are looking to improve aspects of their physical development.
Sports physical therapists use exercise science, nutrition, targeted exercises and sports psychology. Physical therapists can also help athletes to reduce pain, increase mobility, rebuild strength, and prevent recurring injuries.
4. Women's health
Physical therapists who work in women's health can help patients who are experiencing pelvic pain, lymphatic swelling, incontinence and pregnancy or post-pregnancy-related developments. They might treat certain musculoskeletal disorders that occur in women throughout their lifespans and help them adjust to hormonal changes that can affect their recovery both physically and psychologically.
An important area where physical therapists can help women is the management of the aging process. Physical therapy can help and identify risk factors for falls and fractures.
Physical therapists can help women strengthen their bones and muscles and slow down the process of reduction in bone density as they age. Physical therapists can help manage conditions like osteoarthritis, osteoporosis, and fibromyalgia and rehabilitation after breast cancer or breast surgery.
5. Orthopedic
Orthopedic physical therapists specialize in musculoskeletal therapies. They work with patients to help restore joint, tendon, ligament and bone functions. They use a variety of treatment strategies like strength training, endurance building and stretching to improve mobility and performance. Orthopedic therapists might use ultrasounds, electrical muscle stimulation and exercise aids to diagnose and treat patients with orthopedic conditions.
Muscle atrophy and long-term damage can continue even after a patient's injury superficially heals. Therapists can work on specific exercises to help patients regain their former strength. Because of frequent advancements in the field, there are often opportunities for continuing education in orthopedic physical therapy.
6. Neurological
Neurological physical therapists help patients who have decreased function because of brain or spine complications. These types of ailments can sometimes be difficult to see and some patients never fully recover. However, physical therapists work to improve the quality of life for individuals suffering from impairments like:
Cerebral palsy

Parkinson's disease

Spinal cord injuries

Strokes

Alzheimer's disease

Traumatic head injuries
Therapists work on treatment strategies that can help patients achieve their maximum level of autonomous function. Doing so can help them live independently and perform basic tasks for themselves they may not have otherwise been able to. Sometimes treatments focus on making visual, balance, mobility and impairment adaptations to help patients regain functionality for everyday activities.
7. Vestibular
Physical therapists who specialize in vestibular rehabilitation help patients who are experiencing complications with their inner ear canal. Vertigo, or sudden dizziness, is a common side-effect of inner-ear disruptions like benign paroxysmal positional vertigo (BPPV). This condition can be especially dangerous if patients experience an injury after a fall. Therapy works to strengthen muscles that can help patients' balance and steadiness.
8. Cardiovascular and pulmonary
Patients who suffer from cardiopulmonary conditions like heart attacks, pulmonary fibrosis and chronic obstructive pulmonary disease (COPD) might seek the help of a cardiopulmonary physical therapist who can increase their endurance and help restore their functionality following a traumatic health event. Other benefits that cardiopulmonary physical therapists can offer include regular monitoring of cardiac and pulmonary function, resistance exercises to improve muscle strength, breathing exercises to improve breathing efficiency, balancing and rest exercises and patient education.
Why is physical therapy important?
Physical therapy is important because it can drastically improve patients' comfort and mobility. Therapy can be a good option for individuals who are experiencing pain, recovering from a major health event, working to avoid future injuries, rehabilitating after surgery or adapting to an unfamiliar change in their physical capabilities. The benefits of physical therapy are numerous and patients often explore physical therapy options to:
Increase mobility: Physical therapists frequently work to help patients who are experiencing chronic pain or recovering from an injury improve their mobility. By addressing faulty movement patterns, therapists can offer pain relief, suggest corrections to prevent continuing issues and maximize recovery efforts.

Strengthen muscles: Stronger muscles can reduce some of the strain put on joints that cause pain. Exercises designed to support certain movements and body parts can help prevent muscle imbalances that could lead to further injury.

Prevent scar tissue build-up: Bodies naturally form scar tissue after an injury or surgery. Sometimes, scar tissue can cause pain and tightness in patients. Physical therapists use a variety of techniques including stretching, manual manipulations and exercise to prevent buildup and improve rehabilitation results.

Improve health outcomes: Physical therapy can help maximize health outcomes after surgery or an event. By working directly with patients, therapists can educate them on strategies they can use to reduce pain and scar tissue, improve strength and mobility and prevent future health issues.

Increase flexibility: It's important to stretch tight muscles and joints to improve patient flexibility. Physical therapists often work with patients to design stretching plans that can increase flexibility, reduce pain and improve body function.
I hope you find this article helpful,