The surroundings you work in can often positively affect your productivity. When you're composed and focused in your space, it's often easier to accomplish your daily goals. Understanding how creating an efficient and effective workspace can help you become more engaged and accomplished in your work.
In this article, we discuss what a productive workspace is, including its benefits and eight steps on how to create a productive workspace.
A productive workspace is a place that allows an individual to work freely without feeling distracted or overwhelmed. Being productive is critical when working to complete tasks and accomplish your goals. A good workspace provides plenty of space to disperse your work and set up any necessary equipment, including a computer, keyboard and monitor. Additionally, cleaning up excess clutter makes your workspace more productive. Working in an open space allows you to feel freer in your tasks..
Distractions may also present themselves in various ways, such as your electronic devices or unrelated tasks. Becoming distracted working remotely is especially challenging if there's a mess to clean up or someone comes into your space and talks to you about an unrelated work topic. Defining your workspace is equally important when working from home or an office, and creating a space where you can be productive is an important step in improving your chances of success.
Benefits of a productive workspace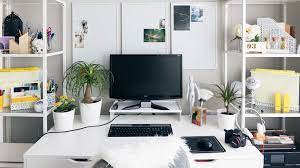 Here are some benefits of creating a space that helps you increase your productivity:
Increased focus: When you can clearly focus on your tasks without feeling distracted by what's around you, you're more likely to succeed. It's challenging to focus and refocus when you get interrupted, which can disrupt your tasks and increase how long each takes you to complete.

Improved work quality: Your work quality may improve when you have a dedicated, distraction-free space Whether you're at home or in the office, you have a place that encourages productivity and provides you with the tools to help you succeed at work.

Enhanced customer outcomes: Engaged professionals may have higher job satisfaction rates, which may translate to enhanced outcomes for customers interacting with these individuals. It's easier to have a positive, helpful conversation with a customer when you feel you have what you require to succeed.

Increased output:  Your output is often indicative of your workflow and success. When you have a space that allows you to focus fully on the details of your tasks, you can increase your output by minimizing or eliminating distractions.

Improved control: When you're in control, visualize what may challenge your productivity and require a creative solution. Maintaining control over your workspace also provides the means to overcome any challenges you may encounter, because you understand your work area and crafted it for your work needs specifically.
How to create a productive workspace
Here are a few steps you can follow on how to create a productive workspace where you can thrive:
1. Set up a comfortable and functional space
Setting up the space is key in creating an area where you can feel comfortable while working. Invest in high-quality ergonomic furniture that allows you to sit comfortably without physical strain. Ensure your workspace has good lighting to minimize eyestrain. A natural light source can also provide positive feelings when you're in the space, so keep windows uncovered.
A desk with the electronic equipment you require is also an important factor to consider. Make sure the desk offers plenty of storage space for you to store items away as you complete them, leaving a clean work surface.
2. Tidy up every day
When you arrive at your workspace each day, take a few moments to tidy up. Put away any loose papers, wipe off the surface and leave space for your work. At the end of your day, take another few minutes to complete this task again. A clutter-free workspace can help you focus, boosting your productivity. Consider adding an organizational system into your space to help maintain a tidy work area.
3. Keep refreshments within easy reach
Staying hydrated and well-fed during your workday can enhance your brain function while helping you maintain consistent blood sugar levels. If possible, keep an assortment of snacks and beverages within easy reach, such as in a desk drawer. You might also consider setting up a small refreshment stand near your workspace, allowing you to grab a snack and beverage quickly without becoming distracted.
4. Incorporate some greenery
Adding greenery to your workspace brings several key benefits. Greenery may enhance productivity, which multiple studies around the globe have proven.. Another benefit is better indoor air quality, which might help keep you healthier. When choosing plants to place in your office, select low-maintenance options, such as one that may not require a lot of natural light.
5. Add a subtle scent
Certain scents can trigger reactions in the brain, such as boosting productivity or promoting a peaceful feeling. For example, citrus scents can help people think more clearly, while peppermint and cinnamon scents can boost mental concentration, focus and energy. You can add a few drops of essential oil to a diffuser for a light scent in your workspace or swipe a roller ball of diluted oil on the back of your neck.
6. Place frequently used items within reach
Depending on your job, you may have items you use every day or even multiple times a day. If you're frequently getting up to get those items, you may get distracted in your workspace. Find a place for the most essential items on your desk or nearby. This way, you can get them when needed.
7. Minimize noise levels
Background noise is distracting, whether you're listening to the sound of your washing machine at home or the noise of coworkers talking in the office. Lowering the noise level around you can boost your motivation, lower your stress levels and increase your productivity. A pair of noise-canceling headphones is helpful in a productive workspace because you can slip them on and quiet the surrounding noise. If you prefer working in silence, simply wearing headphones can lessen your intake of background noises. .
8. Create space for movement
Creating space for movement can allow you to take breaks to re-energize yourself. For example, if you're losing momentum in your productivity, consider taking a break. If you're working from home, complete a short workout in between tasks to keep your mind focused and refreshed. When working from the office, visit the break room or have a quick chat with your coworkers to get yourself moving and clear your mind, which allows you to return to your work with improved focus.
I hope you find this article helpful.