One of the most important things to do during an interview is to make sure you are building a connection with the person you are interviewing. A strong relationship between you and the interviewer can help you stand out as the better candidate when your skills and experience are similar to other candidates. In this article, we discuss why it is important to build a personal connection during an interview and what you can do to make a better connection that leaves a lasting impression on your interviewer.
Why forming a connection with an interviewer is important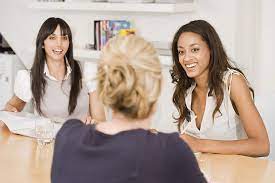 Building rapport during your interview is important because it leaves the interviewer with a positive impression of who you are and improves your chances of receiving a job offer. When you make a good connection, it can help you stand out as a better candidate than others who have similar or better skills and experience. It also gives the interviewer confidence that you will fit in well with their work environment and culture, making you the right candidate for their company.
How to connect with your interviewer
There are several things you can do during the interview to help you build a great connection with your interviewer. Follow these steps to help you make a lasting connection during an interview:
Prepare for the interview in advance

Remain calm and confident

Make a good first impression

Show interest in the interviewer

Be aware of your body language

Ask the interviewer questions

Use active listening skills

Follow up after the interview
1. Prepare for the interview in advance
The interview process begins before the day of your interview. When you have done your research and put thought into the interview questions before your interview, your interviewer will likely be able to tell you are well prepared. This shows the interviewer that you are interested in the position and their company. Preparing for the interview in advance can also help you display key skills and characteristics the hiring manager is looking for. For example, being prepared during an interview can show you are detail-oriented and organized.
There are several things you can do to prepare for the interview, including researching the company and the position, preparing answers to questions you expect to be asked or preparing questions to ask the interviewer. You can also print copies of your resume, decide what you will wear to the interview and take care of your personal health by getting plenty of rest and eating well.
2. Remain calm and confident
Confidence is essential to prove that you are knowledgeable and capable of the position you are applying to. It can also help you relax and remain calm throughout the interview. Doing this will help you answer the interviewer's questions clearly and thoroughly. Staying calm and confident during your interview assures the interviewer they can be confident in you as well.
If you are someone who finds speaking with new people to be a challenge, try practicing with someone you trust and are comfortable with before the interview. Doing this can help you eliminate nervousness and build your self-confidence. Remember, you made it through the first round to be chosen for an interview, which means they are already interested in you. Trust your skills and experience to show when you relax and are your true self during the interview.
3. Make a good first impression
It is important to know that the interview usually starts when you walk in the door, not when you first meet the interviewer. Upon your arrival, you may be greeted by a receptionist or secretary who will let your interviewer know you are there. It is just as important to make a great first impression with the person who is greeting you when you arrive as it is to leave your interviewer with a great impression. The interviewer or hiring manager may ask the greeter what their opinion of you was. To leave a great impression, make sure you smile, make eye contact and are friendly to everyone you encounter before, during and after the interview.
4. Show interest in the interviewer
One of the best things you can do to build rapport with anyone you meet is to show interest in who they are as a person, not just in what they can do for you. Try to take the time to show the interviewer you are interested in who they are and make them feel just as important as the interview is. Small actions, such as remembering the interviewer's name, asking them about their day and asking a question that relates to their position with the company can help show the interviewer you are interested in more than the position.
5. Be aware of your body language
Your nonverbal communication can be just as important as the things you say. Your body language can tell the interviewer a lot about how you feel about the position, the company and the interview without you saying anything. When the interviewer is discussing something about the position or their company, you may consider leaning in closer to use your body language to show your interest.
6. Ask the interviewer questions
While most of the interview will probably consist of the interviewer asking you questions to learn more about you, it is also important to make sure you ask any questions you have about the role or the company. At the beginning of the interview, you may want to ask questions about the interviewer themselves, such as "How long have you worked here?" or "What do you like most about working here?" Then continue to ask questions throughout the interview as they are appropriate. The key is to create a two-way conversation with the interviewer.
7. Use active listening skills
Throughout the interview, your interviewer will likely discuss important things about the position and the company, such as what your daily responsibilities would be or the type of culture the company has. It is important to show your interviewer you are interested in what they have to say and are actively listening. You can do this by paraphrasing things they say, repeating them back to the interviewer and taking notes of what was said.
8. Follow up after the interview
Once you have successfully made a strong connection with the interviewer, sustain it after the interview is over. Sending a follow-up email or card to thank the interviewer for their time is a great way to reinforce the connection that was made during the interview. You can use this follow-up to reiterate an important topic you discussed during the interview and why you are looking forward to working with them. Doing this reminds the interviewer of the connection that was built during the interview and leaves a lasting impression that can lead to a job offer.
Nonverbal communication is one of many tools that can help you make a good impression in interviews and in your professional life. However, candidate assessments should be based on skills and qualifications, and workplaces should strive to be inclusive and understanding of individual differences in communication styles.
I hope you find this article helpful.