A recognizable brand is integral to an organization's success. Customers often prefer to buy familiar products and services, so widening awareness of your brand in the marketplace can increase sales by appealing to more consumers. To determine if you're effectively marketing your business, it's necessary to regularly measure the methods you use to reach consumers and evaluate the results. In this article, we explore the concept of brand awareness, look at key metrics for assessing it, and offer several tips for choosing the right ones for your campaigns.
What is brand awareness?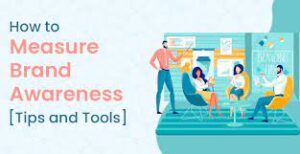 Brand awareness refers to consumers' familiarity with a particular product or brand. When consumers remember and recognize a certain company's product, they may be more likely to purchase it or recommend it to someone else. Brand awareness is categorized into two types, aided brand awareness and unaided brand awareness. Here is more information about each type of brand awareness:
Aided brand awareness
Aided brand awareness, also known as brand recognition, is when a customer can visually distinguish a company from a range of products. Style elements like the product logo, slogans and even impressions may prompt consumers to remember a brand. For example, if most laundry detergent bottles are blue, consumers may be more likely to notice a brand that uses red bottles.
Unaided brand awareness
Also known as brand recall, unaided brand awareness is when a consumer recognizes a product without external cues. Factors like brand loyalty, consumers' knowledge of the brand and even education level can affect recall. Unaided brand awareness is achievable through continuous and intensive marketing campaigns. For example, if a leading sports apparel company features prominent athletes, even if consumers haven't used the products, they might recall it the next time they need athletic apparel.
Why is brand awareness important?
Clients are more likely to seek services from a brand they consider trustworthy and relatable. Brand awareness can play a key role in success, especially for companies in their early stages because it can establish the company's and product's credibility. An effective marketing campaign can help customers recall, recognize and relate to your brand. These campaigns can then convert consumers into repeat customers which can increase sales revenue.
8 brand awareness metrics
Brand awareness metrics are specific measures or data used to gauge a brand's recognizability. They quantify whether your campaign is creating the desired outcome, such as increased sales or subscriptions. You can use this data to make informed decisions about whether a brand campaign should be modified and what changes you should make.
Here are some brand awareness metrics you can use to measure your brand awareness campaigns:
1. Brand impressions
On any digital platform, impressions show how many times consumers access your campaign content. If your impressions increase on any social media platform, it means more people are noticing your brand. While impressions may not tell what your target market thinks about your content, it shows how many have seen it.
2. Website Traffic
This metric shows how many people visit your website, whether through direct web searches or by engaging with ads. Website traffic plays a key role in tracking your customers' behavior and determining whether your content is effective. It can also help you pinpoint whether visitors interact with your site at a particular time, which can help you make decisions like when to schedule important posts.
3. Social media engagement
Using social media has a significant impact on a company's growth. While the number of social media users who follow your accounts is vital, focusing on engagement metrics like comments, the number of likes, shares, retweets, reposts, and video views is also important. This allows you to get insight into how clients feel about your brand and how often you're included in broader social conversations.
4. Industry keywords
Search engines use keywords to help users find the information they need. Your brand's search data comprises the number of consumer searches for a specific industry- or product-related keyword within a given time. These volumes show how much interest your brand and industry attract. You can use online tools to find out what clients search for and how well your brand matches important industry keywords. Using this data, you can develop a well-informed marketing campaign that increases brand recognition and recall.
5. Customer feedback
Knowing how customers feel about your brand is key in improving and making any adjustments to your brand campaign. Methods for gathering this information include providing surveys or speaking to clients directly. You can encourage people to participate in your information-seeking research by offering discounts, after-sale services and other special deals.
Some common questions you might use include:
What do you know about our brand?

What comes to your mind when you think of our brand?

What can you say about our brand?

Are you familiar with any of our competitors?
This direct customer data can help you make decisions that establish brand affinity between your company and your target market.
6. Mentions
Brand mentions are a great way to monitor who's talking about your brand and what they say about it. Mentions are unsolicited consumer promotions, such as articles reviewing your product or social media users who link to your website directly. An increase in mentions can show that your brand is becoming more recognizable.
7. Brand reach
This is the total number of clients who've seen or engaged with your marketing campaign. Brand reach uses information such as impressions to help you notice trends and market coverage. Brand reach also helps you determine whether to increase or modify your campaign efforts.
8. Referral traffic
This metric builds on your keyword effectiveness and your mentions by providing insight into how your target market arrives at your site. With this data, you can tell what type of content best relates you to your audience. You can then adjust your campaigns to capitalize on the most popular traffic channels, which can lead to increased sales volumes.
How can you choose the right brand awareness metrics?
When choosing which metrics to track, consider what data you want to collect. Below are some factors to help you choose an effective brand awareness metric for your brand:
Target market: Knowing your target market and its online behavior is essential for choosing an effective metric to track. For example, if your target audience is extremely active on social media, tracking your engagements is vital.

Key performance indicators (KPIs): Your KPIs are your desired outcomes for a campaign, so focus on metrics that can tell you whether you've reached your KPIs. If you're hoping to increase site visits, focus on metrics like website traffic, keywords and referral traffic.

Competition: If you're interested in comparing your digital presence to your competitors, consider what you want to discover. Tracking competitors' mentions or reach can help you determine ways to improve your campaigns.

Seasons: Comparing performance season over season allows you to see how you are trending over time. This provides a baseline to spot outliers, such as a high spike that coincides with a new marketing campaign.
I hope you find this article helpful.