There are many career options to choose from and different ways of pursuing each of them. When you've decided which career you're interested in, it's helpful to learn how best to pursue that path so you can reach your personal and professional goals.
In this article, we discuss the importance of pursuing the career you're interested in and explain eight ways to pursue the career you want.
Why is it important to pursue the career you want?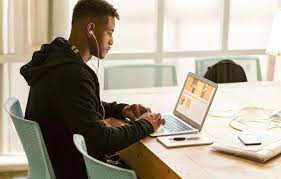 Pursuing the career you want is important because work comprises a significant part of many people's lives. You may spend a lot of time in your career field, so doing something you enjoy and excel at allows you to increase your skill set and reach your professional goals. Pursuing your desired career may also make you feel accomplished, which might contribute to happiness in other areas of your life.
8 ways to pursue the career you want
Here are eight ways you can pursue your desired career:
1. Demonstrate your confidence
Employers may respond positively to candidates who feel confident about their ability to succeed. When you begin your job search, you can identify your strengths and emphasize them on your resume in the objective or skills section. You can look for jobs that fit your qualifications and write strong cover letters that outline your relevant skills, education and achievements. By acknowledging your talents, you can show hiring managers you can help them achieve their organization's goals.
Interviewing with confidence might also help you get the job you want. Speaking in a self-assured way and using confident gestures, posture and facial expressions can show interviewers your professionalism and enthusiasm. Here are some other ways you can show confidence in an interview:
Speak with certainty

Answer questions clearly and honestly

Make eye contact with the interviewer

Sit up straight with your arms uncrossed

Lean forward when listening to the interviewer

Take large strides when walking
2. Minimize your stress
Many people experience anxiety about seeking a new job or interviewing for a position, but certain practices and habits may help minimize stress and make the process more pleasant. You may increase your confidence about pursuing the career you want by developing habits that help you feel relaxed and prepared to move forward with your goals.
Some ways you may find encouragement and self-assurance during your job search include:
Limiting caffeine: Non-caffeinated drinks, such as water and herbal teas, can help you feel relaxed.

Having patience with yourself: Taking your time in the job search process and being patient may help you feel positive.

Reciting affirmations: Saying encouraging phrases aloud can help you feel, act, and be more confident.

Taking deep breaths: Deep breathing delivers oxygen throughout your body and may help you release tension.

Writing your thoughts: Writing your thoughts can help you process them one at a time.

Exercising regularly: Frequent physical activity can provide benefits such as improved energy and better mood.
3. Create a plan
Consider creating a plan or to-do list before starting your job search. For example, you could write a plan on paper or make a spreadsheet so you can track your progress. You might begin your list with tasks you need to complete before your search, such as writing or updating your resume. You can also add reminders to follow up on applications or reply to emails you receive from potential employers. This practice may motivate you to continue pursuing your desired career.
Example: Jill's job search to-do list
Update resume to include college and internship information

Create a cover letter that highlights my skills

Search for nursing jobs in my area

Apply to jobs that fit my qualifications

Take tests or assessments if the employer requires it

Follow up on each application after a week

Check email daily for responses from potential employers
4. Search for entry-level jobs
Beginning a new career often requires starting with an entry-level position. These positions allow you to gain the skills to advance further in the field and seek higher-paying positions. When you're pursuing your desired career, choose jobs that appeal to you and give you opportunities for professional growth. This can allow you to pursue senior positions and earn a higher salary after you gain experience in the field.
5. Find industry contacts
When pursuing a career, it's important to connect with professionals who can help you in your job search. For instance, if you want to find a job as a financial adviser, talk with a professor or financial adviser about their experiences. You also might speak with professionals in the industry to gain insight about the career or industry. These people may also have their own contacts who can help you find a position.
6. Set SMART goals
Setting SMART (specific, measurable, achievable, relevant and time-bound) goals for your job search may help you to stay on schedule throughout the process, remain focused on your efforts and monitor your progress toward your objective. Here are some questions to ask yourself when creating SMART goals:
What specific goal do I want to accomplish, and what does it involve?

How will I measure my progress?

Do I need to learn additional skills to achieve my goal?

How does this goal relate to my overall career objectives?

How long should I give myself to accomplish this goal?
7. Consider an internal job
If your career plans involve advancing in a field you already work in, consider whether you might benefit from an internal move at your current company. Check company emails and newsletters for alerts about open positions and speak to your supervisors about specific jobs that interest you. They may keep your name on a list so they can contact you when a position becomes available, provide you with feedback about job duties and expectations or connect you with other managers to discuss potential opportunities.
8. Leverage social media
Employers often post job openings on social media, so following the businesses you want to work for can help you stay informed of new opportunities. You might also consider sharing your career plans on your own social media pages and asking your connections to contact you if they see a position that suits you. Posting on career-focused social media platforms might attract the attention of professionals who work in your desired field and help you pursue the career you want.
I hope you find this article helpful.