Welding is a technical process that allows you to combine metal pieces with precision for projects that span a wide range of industries. Professional welders who want to increase their job qualifications can benefit from earning welding certifications to prove their expertise. Learning about the potential certifications for welders can help you advance your career with targeted training and assessment.
In this article, we describe welding certifications and their benefits and list eight common welding certifications you can earn to help showcase your skills and training.
What are welding certifications?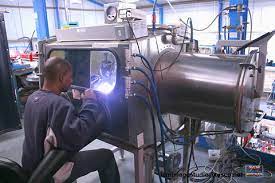 Welding certifications are formal assessments from professional organizations like the American Welding Society (AWS) that can verify welding skills and practices. You can earn these credentials by passing assessments that test your practical and theoretical knowledge. These tests can include computerized knowledge exams or practical demonstrations of welding expertise. Common processes that welding certifications asses include:
Flat, overhead, horizontal, and vertical welding positions

6G pipe welding

Gas tungsten arc welding

Gas metal arc welding

Flux core arc welding

Shielded metal arc welding
Why get a welding certification?
Here are some of the benefits of earning a welding certification:
Creates more job possibilities: Certifications can help qualify you for more welding jobs across different industries. In some cases, certain jobs may require certification to apply, or certifications may simply help you showcase your skills.
Proves your abilities: Welding certifications show other industry professionals, especially those in management positions that you have proven expertise in the field.
Shows versatility: Certifications demonstrate your abilities in different welding practices. This can be helpful if you have expertise in multiple areas.
Increases job stability: Certified professionals have the ability to earn more permanent positions due to their training and expertise.
Verifies quality: Certification tests have rigorous standards. When you earn a welding certification, it shows that you can produce aesthetically pleasing work.
Welding certifications
Here are the main welding certifications you can earn to increase your professional qualifications:
1. Certified Welder (CW)
You can earn the Certified Welder (CW) distinction through practical assessments that give you transferrable credentials. There are no prerequisites for the certification, and you can test to become a Certified Welder at American Welding Society facilities around the world. The Certified Welder program assesses welding skills in certain procedures used in different industries. These industries include:
Petroleum pipelines

Structural steel

Chemical refinery welding

Sheet metal
You can also test to a company-supplied or non-code welding specification.
2. Certified Welding Inspector (CWI)
Many industry professionals consider the Certified Welding Inspector (CWI) a sign of leadership and a high skill level within the welding industry. The CWI certification can give welders job security and more advancement opportunities including higher earnings. A CWI certification can add stability to your career as you work with project leaders to verify welding work. CWIs can also facilitate certifications for other welding professionals.
To qualify for the CWI certification, you may have at least a year of practical work experience depending on your level of education. The CWI certification exam consists of three separate computerized tests, each two hours long. The first assessment of fundamental welding knowledge consists of 150 questions with the following two tests made up of 46 open-book and inspection-based questions.
3. Certified Welding Educator (CWE)
A Certified Welding Educator (CWE) prepares welding instruction, conducts skill and technical training, creates instructional materials and determines educational requirements. CWEs must also be able to do the following:
Prepare and create reports

Read drawings

Understand the limitations of welder testing

Understand welder qualifications

Understand welding procedures and processes
To qualify for CWE testing, applicants may hold a minimum education of a high school diploma. They may have attended a welding training program and have at least five years of experience in the field.
4. Certified Resistance Welding Technician (CRWT)
Resistance welding is a high-demand industry, and certification gives welders proof of their advanced abilities in resistance processes. Resistance welding experience consists of application, operation, and design in the following products:
Sheet metal

Automobiles

Appliances

Wire products
The CRWT examination certifies a resistance technician's ability to use resistance welding techniques, their understanding of resistance principles and their knowledge of the industry.
5. Certified Radiographic Interpreter (CRI)
The CRI certifies a welder's ability to analyze radiographs of weldments, which are the units a welder can make by fusing two pieces together. Radiographic interpreters analyze indications from radiographic media throughout the process of evaluating both weldments and adjacent base metal. Applicants for the CRI have extensive background experience and meet the following minimum requirements:
Education: Applicants hold a high school diploma or equivalent GED.

Training: Candidates for the CRI undergo at least 40 hours of organized radiographic interpretation and examination. The American Welding Society offers seminars to cover this training.

Experience: CRI applicants have at least one year of experience working as a company or nationally certified radiographic interpreter. You could also work under the supervision of a radiographic interpreter who holds a company or national certification or earns six months of non-destructive testing (NDE) education.

Vision: Candidates pass a near-vision exam to qualify for the CRI certification.
6. Certified Welding Supervisor (CWS) h
The Certified Welding Supervisor (CWS) certification is the highest designation available to welding professionals. CWS certifications are recommended for those who have reached managerial positions in the field. The certification is ideal for welding leaders with experience in quality assurance and problem-solving.
To qualify as a candidate for the CWS, applicants may already hold a CWI certification for six out of eight previous years before taking the CWS exam. You may also have at least 15 years of relevant work experience, as defined by the American Welding Society, to be accepted for certification. The exam for certification consists of two parts that focus on both technical and administrative fundamentals.
7. Certified Welding Engineer (CWE)
Welding engineers who want to certify their expertise in the preparation of welded joints, assembly, and fabrication are ideal candidates for the Certified Welding Engineer exam. A certified welding engineer is part of the process for defining welding plans and processes and the actual welding work. The CWE exam consists of four parts covering the fundamentals of science and welding. Candidates may pass all parts with a score of at least 60% to earn the certification.
8. Welding Process Certifications
Welders can also earn certifications for specific processes. Some of these assessments may be required before a welder can find a particular job or in a certain industry. Welders can prove their skills by earning certifications in the following specific processes:
Laser welding

Stud welding

Plasma welding

Submerged arc welding

Resistance welding

Pipe welding

Plate welding

Brazing

Soldering
I hope you find this article helpful.