Preparing for a rewarding career as a welder means conducting necessary research on the types of welding specialty areas available, as well as related industries. For example, you may discover a love of working with aircraft, or you want to create outdoor projects or furniture. Each of these may require a different type of welding technique.
In this article, we define eight types of welding and discuss the job outlook for welders plus five potential career paths.
What is welding?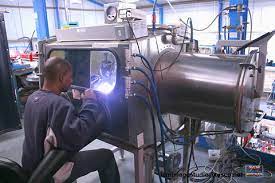 Welding is the process by which materials such as wood, metal or plastic are melted together by means of heat or pressure. Welders and those of similar occupations work with these materials and different types of machinery to construct pieces of infrastructure such as buildings, bridges, automobiles, pipelines, ships and even aerospace technology. In addition to helping build these structures, they are also employed to aid in their repair when needed.
Types of welding
There are multiple areas of specialty within welding that welders can focus on. The following section lists these specialty types and defines them:
1. STICK: Shielded metal arc welding (SMAW)
This welding method is extremely versatile and cost-effective. It employs the use of an electrode to create an electric current that can be applied to the shaping of metal. The STICK method can be used both indoors and outdoors and can be operated during adverse weather conditions.
2. MIG: Gas metal arc welding (GMAW)
This type of welding utilizes a welding gun to fuse materials together. It is considered a more simplistic method and is, therefore, suggested for beginners. Gas Metal Arc Welding can be found as a common type of welding used in the construction of ships and automobiles.
3. TIG: Gas tungsten arc welding (GTAW)
This type of welding is extremely useful in fusing thin materials. It is done by using a tungsten electrode to create a molten puddle which helps in the fusion of the materials. It is widely used, particularly in the construction of aerospace technology, pipelines and bikes.
4. Gas tungsten arc welding
Gas tungsten arc welding is popular for welders working on aircraft and bikes. It requires a small amount of space between a torch and the object being welded. For this reason, it is considered to be the most challenging type of welding and requires a great deal of skill, but the structures that are produced are expected to last for a significant amount of time.
5. Flux-cored arc welding (FCAW)
This type of welding uses a tube-like wire that has flux on it. Despite this method being high in cost, it is considered a clean welding method and can be used on projects outdoors, even in adverse weather.
6. Atomic hydrogen welding (AHW)
Atomic hydrogen welding is a method that is used as a solution to melting difficult materials such as tungsten. As tungsten does not react well to heat, using hydrogen provides a much more effective way to melt the material at much higher temperatures and achieve the desired shape.
7. Energy beam welding (EBW)
This type of welding can be used across multiple industries, including automotive, aerospace and aircraft industries. It uses electrons at a high velocity to create a sheet against the material that aids in its melting and shape.
8. Plasma arc welding
Like gas tungsten arc welding, this is a popular form of welding used in the construction of aircraft. Its use of a torch to target and melt small areas at high temperatures allows metals to fuse together considerably deeper than other methods and makes their fusion more secure.
Job Outlook
According to the United States Bureau of Labor Statistics, the job outlook for those who work as welders, cutters, brazers or solderers is projected to increase 5% by 2030. As job competition may become more prevalent, it is recommended that those considering a career in these areas obtain more advanced certifications and become skilled in more than one area to heighten their job prospects.
Welding careers and similar occupations
There is a multitude of careers that require one to have welding skills in order to complete their daily job functions. The following section reviews five career opportunities that involve welding or similar methods.
1. Brazer
National average salary: $14.18 per hour
Primary duties: A brazer is responsible for using metalworking tools and protective equipment to successfully fuse two or more metals together. Unlike welding, they first heat two metals before placing a filler-like substance between them and then applying further heat to fuse them completely. They are also responsible for inspecting the finished product to determine its quality.
2. MIG welder
National average salary: $16.36 per hour
Primary duties: An MIG welder is responsible for using a welding gun to feed a solid wire electrode into a molten pool of heated materials to further aid in the fusion of two materials. They are usually employed in the automobile or aircraft manufacturing industries.
3. Metal fabricator
National average salary: $17.08 per hour
Primary duties: Metal fabricators are typically employed in the manufacturing or construction industries. They are responsible for reviewing blueprints, selecting materials and using their skills in welding and other areas to fuse metals in order to create unique parts for the construction of buildings or equipment.
4. Ironworker
National average salary: $20.50 per hour
Primary duties: An ironworker is responsible for working with a team of professionals to interpret blueprints and further use their expertise to create iron structures and oversee their implementation in infrastructure. They are needed to help construct infrastructures such as buildings bridges and even ships. They are also expected to aid in repairs to old or damaged iron components.
5. Pipe welder
National average salary: $25.03 per hour
Primary duties: A pipe welder is responsible for using their knowledge of welding to help construct, measure, cut, and repair piping systems. They are typically employed as part of construction crews to install piping in commercial buildings. They can also be employed to help with the construction or maintenance of sewage or power plant piping.
I hope you find this article helpful.