Many aspiring yoga professionals may choose to earn one or more yoga certifications. Earning a yoga certification might improve your ability to find work as a yoga instructor. Learning about different yoga certifications can help you pursue an education in yoga principles and study how to teach yoga to others. In this article, we discuss what a yoga certification is, share eight yoga certification options and provide tips for pursuing certification effectively.
What is a yoga certification?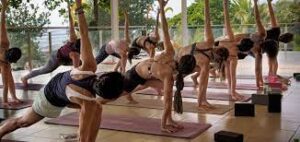 Yoga certification is a credential that demonstrates an individual's qualifications as a yoga instructor. Typically, this involves participating in a set number of course hours, including both classroom and practical education. Having a certification from a respected provider may establish your credibility when you're seeking work as a yoga instructor.
8 valuable yoga certifications
Earning a certification as a yoga teacher shows that you've studied how to lead a yoga class. This may help you find work as an instructor at a gym or work independently. Here are eight specific yoga certifications to consider pursuing:
1. Drishti Beats 200-Hour Yoga Teacher Training
This certification uses a platform with pre-recorded classes that students can access at their convenience. Instructors supplement this learning with live conference sessions during which students can ask questions to enhance their learning. The diverse set of classes included in the certification program provides students with an array of skills important to succeeding as a yoga instructor, ranging from technical training to how to manage a yoga instruction business.
2. My Vinyasa Practice Online Teacher Training
The My Vinyasa practice certification program offers students a 200-hour online yoga certification. The course teaches students through a series of pre-recorded lectures and written lessons. It also includes digital copies of multiple books on yoga to help students further their studies beyond the certification program.
3. Santosha Yoga Registered Yoga Teacher-200
The Santosha Yoga online yoga training program offers a 200-hour certification upon completion. This 10-week program includes a broad range of topics, from yoga anatomy and postures to yoga philosophies and business decisions to trauma-informed yoga. The program also features a changing schedule each month designed to fit the schedules of the students enrolled in the certification classes.
4. Uplifted Yoga 200-Hour Yoga Teacher Training
Uplifted Yoga offers a four-month structured training, supplemented by a 600-page physical manual mailed to each student. Live call sessions throughout the four-month certification program supplement the video learning and provide an opportunity for students to ask questions if needed. Subjects covered during the certification program include modules on extending yoga principles beyond class and meditation.
5. Yoga Alliance Registered Yoga Teach 200
This Yoga Alliance certification program emphasizes classroom learning for students. The Yoga Alliance RYT-200 certification includes instruction for students in these key disciplines:
Techniques, training, and practice

Anatomy and physiology

Yoga humanities

Professional essentials
Each discipline includes subsections that offer focused training and education.
6. Yoga Alliance Experienced Registered Yoga Teacher 500
This certification is an advanced option for yoga teachers who have more than 2,000 hours as an instructor. Candidates must complete a minimum of 1,500 hours of instruction after earning a 200-hour certification. They must also show that they've completed both a 200-hour certification program and a 300-hour advanced certification program to qualify for the certification.
7. YogaRenew 300-Hour Online Yoga Teacher Training
This 300-hour certification option is available to instructors who have completed a 200-hour certification program. The certification course offers an expanded study of the principles and concepts covered by a 200-hour certification course. The certification program includes study in yoga history, chair yoga, advanced teaching techniques and philosophy.
8. YogaWorks 200-Hour Teacher Training Program
YogaWorks offers yoga certification options for both online and in-person learning. Students may enroll in multiple different training program formats, including a weekday program, a weekend program and all-inclusive training retreats. Students in the YogaWorks certification program learn topics like alignment and posture, body mechanics, prop-based yoga and teaching techniques.
Tips for pursuing a yoga certification
Here are some helpful tips for earning and using a yoga certification:
Take yoga classes
Enrolling in yoga classes can be beneficial for an aspiring yoga teacher because it's beneficial to understand how other yoga classes run. Besides showing you how to structure and manage a yoga class, taking classes from a trained instructor can provide you with critiques of your yoga technique so you can improve your forms before teaching. This can be a valuable experience as you complete the yoga certification process.
Try different varieties of yoga
There are many forms of yoga, each with its unique traits and benefits. Sampling classes in a variety of yoga styles can help you understand the different types of yoga practices. Trying multiple different styles of yoga classes can also help you identify which is most appealing to you. When seeking a yoga certification, you can then customize your certification studies to match your preferred style of yoga instruction.
Assess your capabilities
Assessing your time availability and capabilities can help you decide what you can commit to earning your yoga certification. This can also help you choose the best yoga program for you. For instance, a more intensive yoga program may offer a higher level of certification or shorter program length, but it might require an increased time commitment. Alternatively, a lower-intensity program may require more time to complete and offer a lower level of certification, but it may better fit your schedule.
Research local opportunities
Researching yoga schools and instructors in your area can help you make a more informed decision. Understanding the competition for yoga availability and the types of yoga classes available in your market can show you the potential jobs you may apply to after earning your certification. This can also help you decide which certification is most valuable to you.
Create a career plan
Planning your desired yoga career can guide your certification decisions. For example, if you want to be a yoga studio owner, you might take a certification program that features business courses so you can learn how to run a successful yoga studio. If you want to be a yoga instructor, you may pick a certification that solely focuses on yoga practices and teaching methods. By knowing your career plan, you can search for a certification that best aligns with your professional goals.
I hope you find this article helpful.