As technological advancements become more prominent in the marketing field, advertisers are increasingly relying on tools to streamline their workflows. Marketing tools can perform tasks ranging from analysis and customer relationship management to search engine optimization. Implementing these tools can help you build an effective marketing strategy for an organization while reducing costs and saving time.
In this article, we explore marketing tools and discuss the different types, we list 85 specific programs to consider using in your advertising role.
What are marketing tools?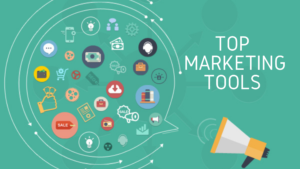 Marketing tools are techniques, resources, and digital programs that help companies promote their products and services effectively. These tools also help advertisers implement marketing campaigns and track their progress afterward.
Marketing campaigns allow a company to engage with customers directly, so organizations may use varied types of tools to collect and analyze key information. Each type of marketing tool serves a unique purpose, so businesses often use multiple options to implement their marketing strategies.
Types of marketing tools
Organizations can use multiple marketing tools for various purposes. Here are some common types of marketing tools with specific examples:
Marketing Analytics
Marketing analytics involves studying consumer and industry data to support a company's advertising campaigns. Modern businesses typically use digital tools that collect and categorize this data automatically, allowing marketing staff to observe new trends in real-time.
By using a marketing analytics tool, you can learn key information about a company's consumer base including its demographics and preferences. You can also review a competitor's business activities. This approach allows you to identify more leads and optimize marketing strategies for different campaigns.
Here are seven examples of marketing analytics tools to consider:
Improvado

Oribi

MixPanel

Heap

Semrush

Kissmetrics

Formisimo
Landing pages
Landing pages are optimized website forms a company creates for a specific marketing campaign. Customers can often access these web pages from external links on a promotional video description or email. Many modern companies create landing pages to build brand awareness, generate leads and optimize sales. By using a digital tool, you can create landing pages using templates and graphic designs optimized for online engagement.
Here are eight examples of landing page tools to try:
OptiMonk

Unbounce

ClickFunnels

Carrd

ConvertKit

KickoffLabs

Swipe Pages

GetResponse
Search engine optimization (SEO)
Search engine optimization (SEO) involves developing website content that ranks higher in major search engine results pages (SERPs), which algorithms curate. If a company's website ranks high in the search engine's algorithm, it's more likely to appear on the first few pages of a relevant keyword search.
Many digital tools can help you research these keywords and track any changes on one platform, which may increase a campaign's productivity overall. You can also use an SEO tool to review your website's current ranking in the SERPs, test new keyword options and develop your optimization strategies.
Consider these seven examples of common SEO tools:
Ahrefs

HubSpot

MozCast

Keyword Hero

Seolyzer

SplitSignal

Ryte
Social media marketing
Social media marketing involves using company profiles on social media websites to raise brand awareness, engage with customers and advertise products or services. Social media marketing tools allow you to optimize key tasks, such as creating posts, sharing links, researching tags and commenting on customer replies.
For example, you might use a social media tool to schedule one advertisement to post on multiple platforms simultaneously. These programs can also help you locate a company's target audience, generate reports and track engagement metrics.
Here are eight examples of social media tools to try:
Hootsuite

BuzzSumo

SocialPilot

Brandwatch

Social Champ

Buffer

clincher

Socialist
Influencer marketing
Influencer marketing refers to official product or service endorsements by online celebrities with multiple followers. These individuals may also represent a specific community or interest areas, like makeup or video games.
Influence marketing tools can help you identify online celebrities whose follower base matches a company's target audience. They can also allow you to maintain business relationships with these individuals and identify the most distinguished users in your market.
Consider these six examples of influencer marketing tools:
BuzzStream

Upfluence

NeoReach

Influencity

Mavrck

HYPR
Video marketing
Video marketing typically refers to paid commercials that play before an online video hosted by a streaming service. Companies may also post video advertisements on their websites and social media profiles.
Using specialized tools for video marketing can help you edit raw footage and optimize content for both desktop and mobile browsers, which may increase your viewership. They can also help you set a posting schedule and identify relevant keywords to tag for different streaming platforms.
Here are eight common examples of video marketing tools to try:
Vidgeos

Vimeo

TubeBuddy

Hippo Video

Wistia

Biteable

Animaker

Video
Customer relationship management
Customer relationship management (CRM) describes any techniques or programs that help you cultivate positive relationships between businesses and their customer base. Using a CRM tool during a marketing campaign allows you to review key customer data, including their personal information and purchase history.
Many tools allow you to analyze their purchasing trends and segment them into different consumer groups. As a result, you may better identify which advertisement strategies can help a company entice its customer base. CRM tools can also help you manage rewards for customer loyalty programs and track interactions.
Consider these five common CRM tools for marketing:
Zendesk

GreenRope

Nutshell

SugarCRM

Intercom
Brand reputation management
It's often important for companies to establish and maintain their brand's reputation. Brand reputation management involves reviewing any discussions of a company so you can better understand consumer points of view on a product or service. Specialized programs allow you to search for relevant keywords in a database, streamlining the process overall. By using a brand reputation management tool, you can learn which marketing campaigns have positive reviews. These efforts help enhance brand strategies and protect a business from unexpected public relations (PR) incidents.
Here are six brand reputation management tools to try:
Brand24

Reputology

Brandwatch

Digimind

YouScan

SentiOne
Event marketing
Event marketing involves building awareness through online and offline promotional events. Common examples of promotional events include conferences, seminars, speaker presentations, workshops, trade shows, awards shows and pop-up shops.
Specialized tools allow you to plan each step of an event successfully and organize these work efforts. They can help you develop a registration form, post advertisements on different platforms and track attendance. By using event management tools, you may increase a company's brand awareness and learn new information about its target customers.
Consider these eight examples of event marketing management tools:
Bizzabo

Webex Events

Cvent

Attendease

Asana

Judgify

BrightTALK

Social Tables
Lead capture
Lead capture occurs when an online visitor becomes a potential customer. Many companies add a form on their website or landing pages that causes lead capture. These forms ask for information about a company's customers, including their names and email addresses, in return for a discount or reward.
Specialized programs often provide aesthetically appealing forms you can customize, and then host on a company's website. Using this type of tool may help you convert more leads and better identify target customers. Here are seven common examples of lead capture tools:
Typeform

Gravity Forms

Turnstile

ConvertFlow

Leadformly

Hello Bar

Leadpages
Email marketing
Email marketing involves promoting a company's products or services by emailing advertisements to target customers, including subscribed members. Specialized tools can help you organize a company's email marketing campaigns, develop new messages and maintain lists of addresses.
They also allow you to schedule emails according to a campaign timeline and track inquiries from customers who reply to messages. By using email marketing tools, you can optimize an email marketing process and better communicate with a consumer base.
Consider these seven examples of email marketing tools:
Mailchimp

Sender

Benchmark Email

Saleshandy

Sendinblue

Respona

Omnisend
Marketing graphic design
Marketing graphic design involves adding visual elements to promotional content. Some common examples include infographics, memes, illustrations and social media banners. Marketing graphic design may also describe a webpage's layout and other elements, like font types and color schemes.
Specialized software can help you develop aesthetically appealing content that best appeals to your target audience. You can also use these programs to store designs for multiple projects and share them with your colleagues or supervisors.
Here are eight common examples of marketing graphic design tools you can use:
Canva

Design Pickle

Adobe Spark

Venngage

Blender

DesignWizard

Adobe Color CC

GIMP
I hope you find this article helpful.