There are a wide variety of job positions that contribute to film crews and successful film projects. These job roles allow professionals to use their specialized expertise for creative projects. By researching the film crew job opportunities available to you, you can focus your career goals on a role that aligns with your interests. In this article, we define film crew jobs, review 11 jobs in-depth and provide 76 additional film crew positions to help you guide your job search.
What are film crew jobs?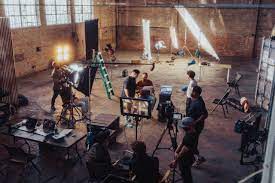 Film crew jobs include any job positions relating to casting, location management, production, lighting, camera operations, hair and makeup and other areas that support filmmaking. Also, film crew jobs differ from one another because they require different education levels, specialty expertise and professional backgrounds.
86 film crew jobs
Here are 86 film crew jobs with a few highlighted to show the salary expectations and job duties you can expect for a role:
1. Production designer
National average salary: $30,742 per year
Primary duties: The production designer makes sure that every aspect of a film aligns with the producers' vision. This includes determining the right filming locations, customer design needs, props and set design elements that support the theme of the film. To become a film production designer, individuals can enhance their skills by earning a bachelor's degree in cinematography.
2. Choreographer
National average salary: $31,347 per year
Primary duties: On a film set, choreographers help stunt-doubles and actors mark a variety of different scenes. This can include an intense fighting scene that requires specific choreography and the right techniques to appear real. However, film choreographers can also work with actors to mark more relaxed scenes as well. This ensures that actors have time to rehearse their marks so they can maximize their performance during filming. To work as a choreographer individuals may need to have background experience in stunt work or stage fighting.
3. Camera operator
National average salary: $33,052 per year
Primary duties: Camera operators have the responsibility of using professional camera equipment to capture film scenes in real-time. They may also need to move or adjust cameras throughout scenes to aide with the producers' vision. For those considering camera operator careers, they should complete a bachelor's degree program in an area like film or videography.
4. Caterer
National average salary: $39,802 per year
Primary duties: Film sets need a well-stocked food buffet for the crew and actors to make use of throughout the day. Because of this, production staff typically hire a catering business to provide a constant supply of snacks and meal options. Caterers usually pre-prepare meals along with a team of the kitchen staff at an offsite location before bringing food to the set. The minimum education for caterers is a high school diploma. However, they can also benefit from attending a culinary arts program.
5. Stylist
National average salary: $46,457 per year
Primary duties: Stylists work with the wardrobe team and film directors to determine the right hair styles, makeup looks, and clothing combinations for actors. For individuals looking to achieve jobs as fashion stylists, they should consider an associate degree or bachelor's degree in an area like fashion or fashion design.
6. Security officer
National average salary: $47,588 per year
Primary duties: On film sets, security officers monitor the perimeter to make sure there isn't anyone taking photos or videos of the production. On film sets with high-profile actors, security officers may provide crowd control to ensure that fans and onlookers stay behind barriers. To work as a security officer, candidates need a minimum of a high school diploma.
7. Lighting technician
National average salary: $52,868 per year
Primary duties: Lighting technicians work as part of the lighting crew on a film set to ensure each scene has adequate lighting. They set up lighting equipment, make repairs, and test out different lighting options and how they appear on camera. To become a lighting technician, candidates don't need to earn a degree as long as they have the right technical skills and experience. However, they may decide to earn an associate or bachelor's degree in electrical engineering.
8. Video producer
National average salary: $54,737 per year
Primary duties: Video producers work as part of film crews to finalize scripts, hold casting calls, schedule filming dates or locations and provide guidance to directors about their vision for a film. They also review videos and assist with editing decisions for a film. Video producers can enhance their professionalism by attending bachelor's degree programs in areas like cinematography or film production.
9. Set manager
National average salary: $57,076 per year
Primary duties: Set managers oversee all activities on-set including equipment set-up, wardrobe, set design and call times for actors. They may also make sure that the crew respects the area when filming on private property. For those considering a job as a set manager, they can benefit from earning a bachelor's degree in an area like film production.
10. Director
National average salary: $61,160 per year
Primary duties: The film director works under the guidance of executive producers to oversee the production of a film. They work with film crew personnel to determine casting decisions, budgeting needs and filming locations ahead of production. Their goal is to oversee acting scenes and review scene footage to determine whether they have the material they need to move onto the next scene. To become a director, individuals should complete a bachelor's degree in an area like cinematography or film.
11. Makeup artist
National average salary: $74,253 per year
Primary duties: On film sets, makeup artists do makeup for actors ahead of filming activities. This typically includes applying primers, foundation, and other makeup products to help actors achieve the right look for their roles. They may also complete touch-ups in between scenes as needed. To qualify for a position, candidates need a minimum of a high school diploma and extensive experience with makeup tools and techniques. They can also attend cosmetology programs if they want to refine their skills.
Additional crew film jobs:
Here are 76 additional examples of crew film job opportunities for specialty areas:
Casting
Casting director

Casting producer

Voice casting agent

Casting assistant

Casting researcher

Talent agent

Extra casting agent

Casting recruiter

Audition screening camera operator

Casting office production assistant
Production
Production assistant

Executive producer

Associate producer

Location scouter

Location manager

Production manager

Production coordinator

Production financial consultant

Director of photography

Line producer

On-set editor

Associate director

Special effects manager
Set activities
Set designer

Set design assistant

Set decorator

Greensperson

Set landscaper (outdoor scenes)

Stunt manager

Stunt coordinator

Prop master

Caterer

Script supervisor

Child actor teacher

Animal caretaker

Food stylist

Set safety manager

Actor personal assistant

Prompter
Clothes, hair and makeup
Hairstylist

Costume designer

Body double costume designer

Period costume designer

Prosthetics designer

Wardrobe manager

Makeup artist trainee

Makeup artist assistant

Special effects makeup artist

Wound makeup artist
Lighting and electricity
Lighting and grip department manager

Lighting maintenance technician

Assistant lighting operator

generator operator

Gaffer

Key grip

Dolly grip
Camera operations
Cinematographer

First assistant camera operator

Second assistant camera operator

Steadicam operator

Camera equipment technician
Sound operations
Sound mixer

Sound designer

Boom operator

Foley artist

Music director

Soundtrack engineer

Sound supervisor

Sound assistant

Dialogue editor

Composer
Transportation and set up
Production equipment truck driver

Equipment loader/unloader

Talent and crew transportation coordinator

Transportation captain

Film loader
I hope you find this article helpful.