An effective performance review should discuss an employee's strengths and areas of improvement in a way that's constructive and motivating. Knowing the best phrases to use during a performance review can help you efficiently communicate feedback to your employees.
In this article, we discuss the best performance review phrases to use during your next employee performance review.
Effective performance review phrases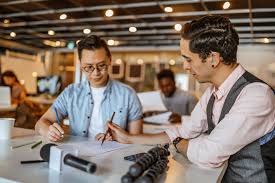 The 12 common skills usually incorporated into performance reviews are listed below along with effective phrases for positive feedback and cases where employees need improvement.
Creativity and innovation
Creativity is essential in the workplace for problem-solving.
Positive feedback:
1. "Applies creative thinking to implement a vision for the company"
2. "Continuously suggests new ideas in meetings and on projects"
3. "Shows initiative in developing new ways of thinking to improve projects or company performance" 
4. "Offers creative solutions to project challenges"
Needs improvement:
5. "Could improve in areas where creative solutions are needed"
6. "Could benefit from thinking outside the box" 
7. "Could offer alternative solutions to challenges" 
8. "Could show initiative in developing new projects"
Adaptability
It is important that employees show the ability to adapt to change processes.
Positive feedback:
9. "Willingly adapts their schedule to changing needs."
10. "Quickly adapts to changes in the performance of required duties"
11. "Responds well to change in various situations" 
12. "Is adaptable to changing deadlines"
Needs improvement:
13. "Could be more flexible with changes in job responsibilities" 
14. "Could be more adaptable with schedule changes" 
15. "Could show more flexibility with deadline changes" 
16. "Could be more flexible with last-minute requests and changing deadlines."
Communication
Communicating effectively with supervisors, colleagues and clients is essential.
Positive feedback:
17. "Effectively communicates with colleagues, supervisors, partners and customers"
18. "Clearly communicates ideas and thoughts in team meetings and conferences"
19. "Is a constructive communicator and is capable of discussing difficult issues effectively and to the point" 
20. "Does a great job not only communicating issues but also practices active listening when given direction."
Needs improvement:
21. "Could improve with communicating issues in assignments before missing deadlines" 
22. "Could improve with fully listening to instructions before asking questions" 
23. "Could improve communicating progress updates to supervisors" 
24. "Could improve by offering constructive feedback on new projects"
Accountability
Employees should strive to own up to the mistakes they make and do their best to learn from them.
Positive feedback:
25. "Takes ownership in the company's success and accepts responsibility for oneself and contribution as a team member"
26. "Admits mistakes and errors and informs others when unable to keep a commitment" 
27. "Takes responsibility for meeting deadlines" 28. "Owns their portion of project management"
Needs improvement:
28. "Needs to take ownership of meeting deadlines" 
29. "Needs to take responsibility for mistakes" 
30. "Needs to offer solutions to project errors" 
31. "Needs to communicate when running into project delays"
Attendance and punctuality
Attendance and reliability are important factors in evaluating individual performance
Positive feedback:
32. "Exceeds expectations in arriving on time for work, including meetings and conferences"
33. "Has good attendance and doesn't violate the standard attendance policy"
34. "He begins each day organized and prepared for meetings and deadlines."
Needs improvement:
35. "Needs to improve attendance record and review the attendance policy" 
36. "Would benefit from starting each day reviewing the daily schedule and expectations" 
37. "Should practice arriving on time for meetings and conferences"
Productivity and quality of work
It's important to give feedback on work quality and efficiency.
Positive feedback:
38. "Positively contributes to the overall performance of the company through consistent and high-quality work"
39. "Continuously strives to improve profits, productivity and performance targets"
40. "Shows strong time-management and organizational skills"
Needs improvement:
41. "Should strive to maintain consistent work quality" 
42. "Should improve time management skills" 
43. "Should work on organizational skills"
Achievement
It's helpful to acknowledge employee achievements, as well as shortcomings.
Positive feedback:
44. "Sets well-thought-out goals and continuously strives to achieve them"
45. "Improved xx by xx%"
46. "Made an effective system to streamline xx work processes by doing xx"
Needs improvement:
47. "Would benefit from setting professional goals" 
48. "Would benefit from reflecting on their own progress toward goals" 
49. "Would benefit from analyzing their own wins and losses each quarter"
Collaboration
Collaboration is important for team-based projects and meeting deadlines.
Positive feedback:
50. "Collaborates well with colleagues, vendors and external partners."
51. "Promotes cooperation well to ensure colleagues work as a team to meet deadlines" 
52. "Always willing to coordinate tasks with other colleagues" 
53. "Always offers to help with tasks outside their role"
54. "Works effectively within a team environment to achieve specific tasks or projects"
55. "Develops constructive working relationships with internal and external partners"
56. "Is an effective team player as demonstrated by their willingness to help out and contribute as required" 
57. "Offers constructive and respectful feedback to colleagues"
Needs improvement:
58. "Could improve teamwork skills" 56. "Could improve collaboration skills" 
59. "Could offer to help colleagues on deadline" 
60. "Could offer to train new employees when a need arises for guidance"
61. "Could benefit from learning stronger team building skills" 
62. "Could strengthen working relationships with third-party vendors" 81. "Could offer to help other colleagues with projects" 
63. "Can sometimes be too blunt in feedback"
Coaching and training
Employees should be receptive to coaching and training to continuously grow in their roles.
Positive feedback:
64. "Accepts coaching in various job duties and applies training to improve ability"
65. "Asks for more training when processes aren't clear or understood" 
66. "Always willing to learn new processes" 
67. "Always eager to learn new software and improve efficiency"
Needs improvement:
68. "Could benefit from seeking more training in various tasks" 
69. "Could benefit from asking more questions when not sure of expectations" 
70. "Reluctance to learn new processes is a hindrance" 
71. "Could improve adaptability to learning new software and procedures"
Areas for improvement
Employees typically have an opportunity for improvement.
Positive feedback:
72. "Successfully overcomes new challenges" 
73. "Continuously works to maintain and develop professional relationships" 
74. "Constantly looks to improve processes and increase efficiency" 
75. "Sets realistic goals and tracks own improvement"
Needs improvement:
76. "Struggles to effectively overcome new challenges and find solutions to new issues"
77. "Should work on developing and maintaining professional relationships"
78. "Tends to focus more on what can't be done instead of what can be done" 
79. "Would benefit by setting own goals and tracking progress"
Problem-solving
Problem-solving defines a problem to determine its cause, identify possible solutions and choose the correct solution.
Positive feedback:
80. "Displays the capability to independently solve complex problems"
81. "Breaks a problem down before analyzing it in a more detailed manner"
82. "Collaborates well with others to find solutions to project challenges" 
83. "Offers multiple solutions to complex problems"
Needs improvement:
84 "Could improve brainstorming solutions to challenges" 
85. "Could benefit from thinking of creative solutions to challenges" 
86. "Could strengthen collaboration skills when working to solve challenges" 
87. "Could ask for assistance with problem-solving challenges"
I hope you find this article helpful.