Journalism is a rewarding career that utilizes many valuable skills that can also apply to roles outside of this field. Exploring these roles can help you identify a similar position that uses the same skill set and enables you to perform tasks that interest you.
In this article, we provide examples of journalism skills that are transferable to other roles and a list of alternative careers for journalists.
Skills for alternative careers for journalists
Other professions in the communications industry may require the same skills that journalists use to be successful in their roles. Identifying transferable soft and hard skills can make it easier for you to transition to a new position with your journalism background. Here are examples of competencies to consider building:
Writing: Alternative careers may require you to write for audiences on different platforms, such as websites and social media. Understanding how to explain complex topics and write in a client's brand voice can be beneficial for your career.

Research: Whether you're writing an article or analyzing competitors, research is an essential skill that allows you to collect accurate information. You can also stay informed about industry trends that you might use to appeal to a target audience or promote products and services.

Search engine optimization: For the written content you develop, it may be important to make sure readers trust the information you're including and click the link that you wrote when they're searching for topics online. With SEO, you can master keywords and linking strategies to help your work rank high on search engines.

Communication: Besides written communication, your position may require you to be competent in verbal and interpersonal communication, including public speaking. You can build relationships with media experts, clients, and customers.

Time management: Careers that are similar to journalism may also have fast-paced work environments. With time management, you can prioritize tasks and produce high-quality work under strict deadlines.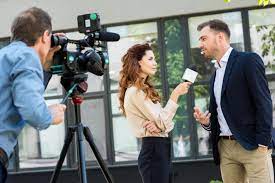 9 alternative careers for journalists
If you want to pursue a career in an area other than journalism, consider the following professions. For the most up-to-date salary information from Indeed, visit indeed.com/salaries.
1. Blogger
National average salary: $43,347 per year
Primary duties: A blogger is a writer who composes and posts articles about particular topics, such as food, fitness, and travel. Striving to attract new readers and subscribers, bloggers publish content on a regular basis, often weekly or monthly. They also promote their posts on social media platforms and use keywords to increase their website's visibility on search engine results pages.
2. Social media manager
National average salary: $56,545 per year
Primary duties: A social media manager is a digital media expert who manages the creation, publishing, and performance of content on social media platforms. To raise brand awareness and engage target audiences, the social media manager strategies content to post and monitors the number of likes, comments, and shares it generates. After online campaigns end, the manager gathers and interprets the results in social media reports.
3. Communications Specialist
National average salary: $56,612 per year
Primary duties: A communications specialist is an individual who handles the communication between an organization and the public. Representing the client, communications specialists spearhead promotional efforts that protect the organization's reputation, and they orchestrate special events, such as fundraisers, to generate publicity. The specialists also manage the organization's social media presence.
4. Copywriter
National average salary: $57,700 per year
Primary duties: A copywriter is an individual who writes short- or long-form copy to inform, entertain, or persuade readers. Working closely with clients, editors, and project managers, copywriters conduct research and develop pieces that reflect their clients' brand and core values. Examples of content that copywriters compose include social media captions, landing pages for websites, and blog posts.
5. Editor
National average salary: $58,910 per year
Primary duties: An editor is an individual who reviews written content to determine accuracy and quality before submitting it to clients. Often working with copywriters and project managers, editors read articles, blog posts, or product descriptions to correct grammatical and spelling errors. They also make sure the work meets the client's expectations.
6. Technical writer
National average salary: $61,724 per year
Primary duties: A technical writer is an individual who develops written content on an organization's behalf to inform readers. Examples of content technical writers produce include instruction manuals, case studies, and white papers. Technical writers strive to make long processes or niche topics easier for audiences to comprehend.
7. Content marketer
National average salary: $64,001 per year
Primary duties: A content marketer is an individual who develops content, such as graphics, blog posts, and videos, to raise awareness about a brand and promote its products and services. Content marketers aim to inform potential customers about goods to encourage them to make purchases. With promotional campaigns, content marketers distinguish the brand from its competitors, target consumers on different platforms, and use search engine optimization to enhance the brand's visibility in online spaces.
8. Public relations specialist
National average salary: $73,344 per year
Primary duties: A public relations (PR) specialist is a media expert who upholds the reputation of an organization, company, or public figure. To keep internal and external stakeholders informed, the PR specialist distributes press releases and represents the client at press conferences by responding to questions. They also write speeches for clients, prepare them for interviews, and evaluate news coverage to determine public opinion.
9. Marketing manager
National average salary: $73,601 per year
Primary duties: A marketing manager spearheads projects that promote products and services to prospective customers. As the leader of a marketing department, the marketing manager designates a budget for promotional campaigns, tracks conversions and sales targets throughout campaigns, and determines effective strategies for appealing to key audiences. Marketing managers also establish prices for products that reflect competitors in the industry and the current demand among consumers.
I hope you find this article helpful.