In the United States, a full-time job typically requires a five-day, 40-hour workweek. As technology advances and employees become more productive, some workplaces are beginning to offer employees the opportunity to work a 32-hour workweek.
In this article, we explain the concept of a 32-hour work schedule, some of its advantages for both businesses and employees, and tips on implementing this structure.
What is a 32-hour workweek?
A 32-hour workweek is a full-time work schedule where employees earn benefits and a full salary but only have to work 32 hours per week instead of the traditional 40. The theory behind the switch is that giving people more free time while maintaining their earning potential motivates them to be more productive with the time they spend at work.
The primary structure of the 32-hour workweek is to have people work eight hours a day for four days. Some businesses may prefer a slightly different structure with staff working 32 hours over five days.
While the term "four-day workweek" can be used to describe a 32-hour workweek, it could also be used to describe a 40-hour workweek with four days of 10 hours each, therefore, it is important to be specific when discussing this topic.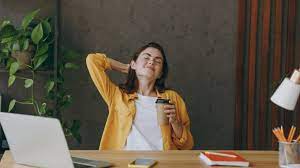 9 benefits of a 32-hour workweek
Here are nine main benefits of shorter workweeks for full-time employees:
1. Higher job satisfaction
When people don't have to spend as much time in the workplace, they may be more appreciative of their position and experience more satisfaction at work. If you're working fewer hours, you can be more engaged in your position when working. Having a long weekend can also encourage you to look forward to a new workweek instead of feeling rushed after a short two-day break.
2. Better work-life balance
Reducing the time commitment for a full-time job can make it easier to invest in your personal growth such as pursuing higher education, caring for a family, or spending time on hobbies. When you have a good work-life balance, you can take care of your personal needs and improve your mental health, which can have a positive impact on workplace performance.
3. Boosted morale
Shorter workweeks have the potential to improve morale for everyone in a workplace while promoting individual satisfaction. Employers reduce hours because they care about the needs and well-being of their employees who then see it as a gesture of support and goodwill. Giving everyone shorter full-time schedules can also promote a fair distribution of responsibilities, encouraging a positive culture of teamwork and collaboration.
4. Consistent attendance
Giving people more time for their personal commitments with shorter, flexible weeks can also increase attendance. People who work 32 hours a week have an extra day to schedule appointments and manage other responsibilities, allowing them to actually spend weekends relaxing. When you have a long weekend to look forward to or know that you have a shorter workday, you may feel more motivated to show up on time and reduce unnecessary breaks.
5. Fewer distractions
One of the main reasons employers adopt the 32-hour week is to reduce wasted time and distractions at work. Coworkers may spend time chatting, browsing the internet, or engaging with other distractions when they know they have extra hours on the time clock. By shortening your workweek, you have external encouragement to stay focused and avoid distractions during the limited time you are at work.
6. Increased efficiency
In some cases, people who work 32 hours a week full-time still have the same responsibilities as those who work 40 hours, which can require them to become more efficient. This can improve the way you prioritize tasks, allowing you to focus on meeting goals instead of completing tasks simply to meet your hourly requirements. When employers value each employee's time by offering shorter weeks, those employees may value their own time more and be more productive.
7. Greater innovation
The 32-hour work schedule can promote creativity and drive innovation. As employees switch to a short workweek, they need to find unique, innovative ways to complete tasks faster and save time. This encourages them to explore strategies to improve their work and develop new best practices for their roles. Because the 32-hour workweek is a recent innovation in the workforce, organizations that use this schedule also show that they value creativity as an institution.
8. More engaged leadership
For 32-hour schedules to work, company leaders need to be engaged with their teams to track and promote productivity. Businesses that use this model often have highly committed, active leaders who mentor and support the individuals in their departments. This is because employees on a 32-hour schedule are usually good at self-regulating and meeting goals so leadership has extra motivation to invest in their development and check in about the progress regularly.
9. Decreased turnover
Companies that offer 32-hour workweeks often benefit from lower turnover rates. When people appreciate their jobs, have support from managers, and enjoy time off to relax, they're more likely to stay with that company long-term. This benefits both the business and the employee with a consistent, sustainable working relationship.
Tips for switching to a 32-hour workweek
Here are a few ideas for initiating a 32-hour workweek at your workplace:
Ask for a trial period. Approach management by suggesting a short-term switch to a 32-hour schedule. This gives you the opportunity to see if it's right for you and your employer and gather evidence that you can provide just as much value to your employer in less time.

Coordinate with colleagues. Work as a team to cover all necessary shifts and responsibilities. Consider staggering shifts and days off to provide consistent service to clients and customers while still enjoying more time off.

Record your progress. Set clear goals for what you want to achieve and track your growth each week to make sure you're meeting expectations and output from a 40-hour week.

Maintain accountability. Find a partner to talk to every day about your objectives to stay accountable and on-task with new productivity habits.

Find a flexible company. If your company is firm about a 40-hour week, you might consider looking for a job at a company that prioritizes flexible work and might be open to a 32-hour workweek.
I hope you find this article helpful.